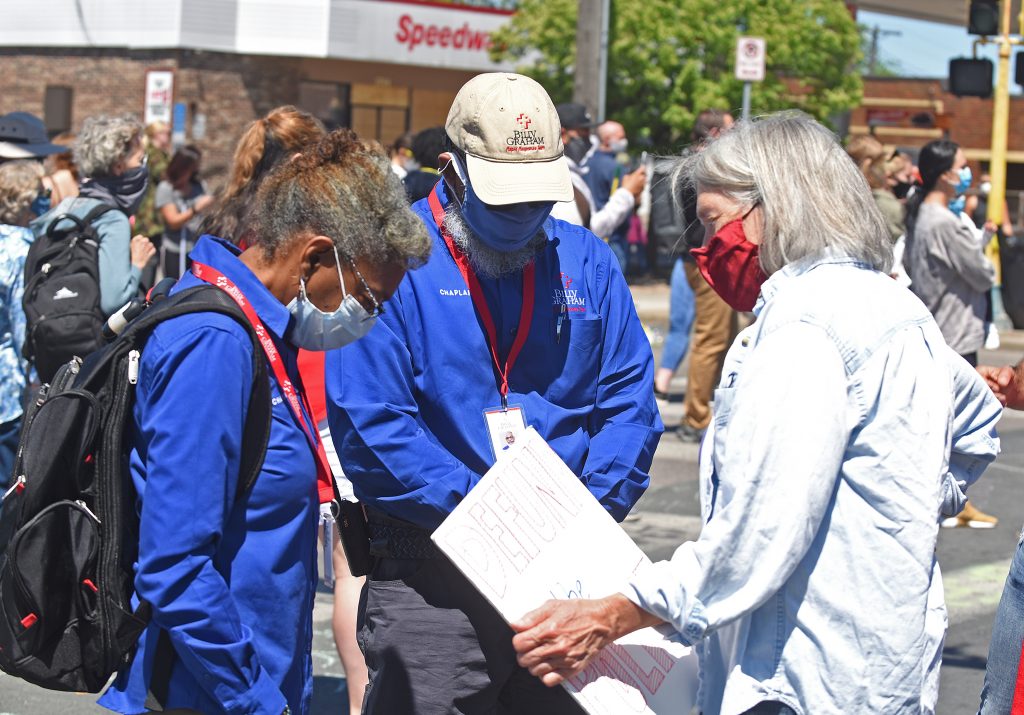 Frieda Roulds, a chaplain with the Billy Graham Rapid Response Team, was near the intersection of 38th and Chicago Avenue in South Minneapolis on Saturday when fire apparatus and military humvees rolled through.
The pass-through disrupted an expanding memorial for George Floyd, the African American man who died after being held down by a Minneapolis Police officer last week. For Roulds, the moment transported her mind back decades to Birmingham, Alabama. She grew up there during the civil rights movement.
Helping Your Children with Fear:
A retired first-grade teacher, Roulds shared the following ideas for helping children during this time of crisis:
Keep things as normal as they remember them being.
Maintain structure, a daily schedule if possible.
Think up things that take their minds off the situation: a plastic pool for outdoor play, for instance.
Remind them, and maybe yourself, that it's not always going to be like this.
"When I saw the fire engines and heard the sirens, it stirred all of that up inside of me," said Roulds, an African American serving as a chaplain coordinator alongside her husband. "My heart just breaks for this because that's still a part of me, and it's just a tough place to go to, what, 50 years later? It was so much hostility."
The loud sound triggered associated memories. She remembered how every day for a month toward the end of the year, her school had a bomb threat. Her father worked nights, driving a bread truck until he wasn't allowed to enter certain neighborhoods. Every evening, her family slept together on the floor of the living room just in case they had to make a mad dash for safety.
Those times were terrifying, yet Roulds said they shaped her—as did her mother's Friday and Saturday night family Bible studies. Roulds went on to become an elementary-age educator. And on Saturday, God prompted her to lean on her experience to reach two children.
Roulds approached a mother and her young boys, who were around 6 and 8 years old. The mother told Roulds her boys were scared. With permission, Roulds asked them: "What scares you the most?"
The rioting.
They were afraid it was going to come to their home since they live only up the street.
"So I told them, it's OK to be afraid," Roulds said.
"I just pray that God will give them some comfort, some peace and just calm their little spirits because this is a lot for grown-ups, so you know what it's going to be for children," Roulds said. "They're afraid of everything right now.
"I really understand that because I remember being so scared. I was terrified. I was terrified that my dad wasn't going to come home. I was afraid that our house was going to be set on fire or bombed because the bombing that took place in the church with the little girls probably wasn't even two miles from where we lived," she explained, referring to the Birmingham church bombing that occurred in 1963.
"It was a very scary time," she continued. "And this is probably the first time all of this has come up inside of me."
The moment is never completely forgotten. But relying on Christ helps Roulds focus on the future and reach others.
"We're living in a broken world, and this is the result of living in a broken world," she said. "But the God that is in me is bigger than all of that, and that helps me to move past it."
Please join us in praying that the God of all peace will comfort those hurting during these tumultuous times.