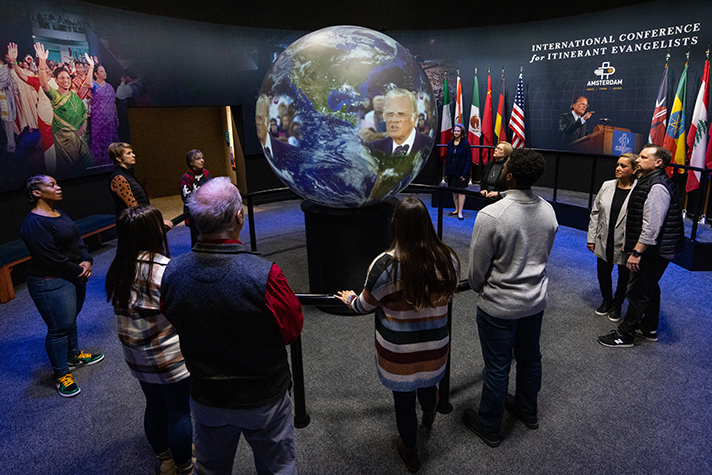 Each month, thousands of visitors to the Billy Graham Library in Charlotte, North Carolina, learn how God used Billy Graham to share the Gospel with millions.
But what many don't know is that God gave the evangelist a passion for equipping and training others to win souls for Christ.
"He had a heart for international training, for galvanizing the church—pastors and evangelists—to take the Gospel message throughout the world," said Dr. David Bruce, vice president of the Billy Graham Library and Archive and Research Center.
Over the years, Billy Graham led the way for several international evangelism conferences, including three in Amsterdam, Netherlands, in 1983, 1986, and 2000.
Thousands of itinerant, or traveling, evangelists—many from developing nations—were greatly encouraged through the training and fellowship with others who shared this calling.
The Library's Journey of Faith tour shares the story of these gatherings. In the World Aflame gallery, visitors can watch videos featuring attendees projected onto a large globe. These personal testimonies help share the magnitude of these conferences and their impact on the world for Christ.
Passing on the Torch
July will mark the 40th anniversary of the first Amsterdam conference—the International Conference for Itinerant Evangelists—a massive event that culminated in 4,000 attendees from 133 countries.
Humbled by meeting countless evangelists around the world who served under difficult and dangerous circumstances, Billy Graham yearned to encourage and equip them in their Gospel work.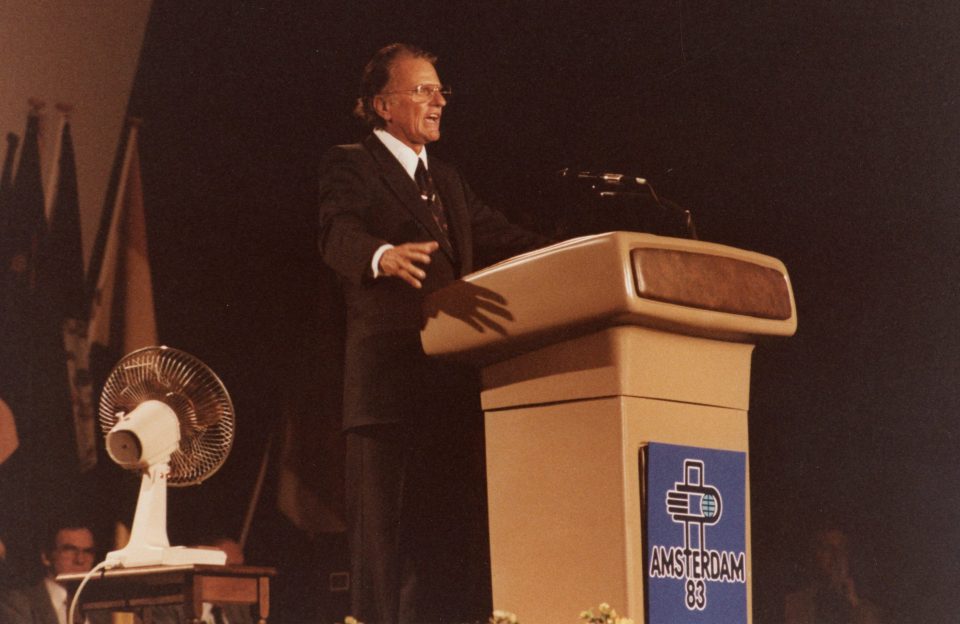 Recently, at the Billy Graham Archive and Research Center in Charlotte, North Carolina, a number of people who served as staff members at the conference decades ago reflected on what they refer to as "Amsterdam '83."
Elizabeth Carlson came on staff as office manager. Her boss was tasked by Billy Graham to get the ball rolling on the conference.
Smiling, Carlson recalled Billy Graham's heart behind the event and its humble beginnings. Her boss had simply been handed a shoebox one day that was full of names and addresses of evangelists around the world. The box belonged to Billy Graham. "That's how it all started," she said.
Looking back on the three-day event, Carlson remembered how Billy Graham shared personal, heartfelt words with attendees.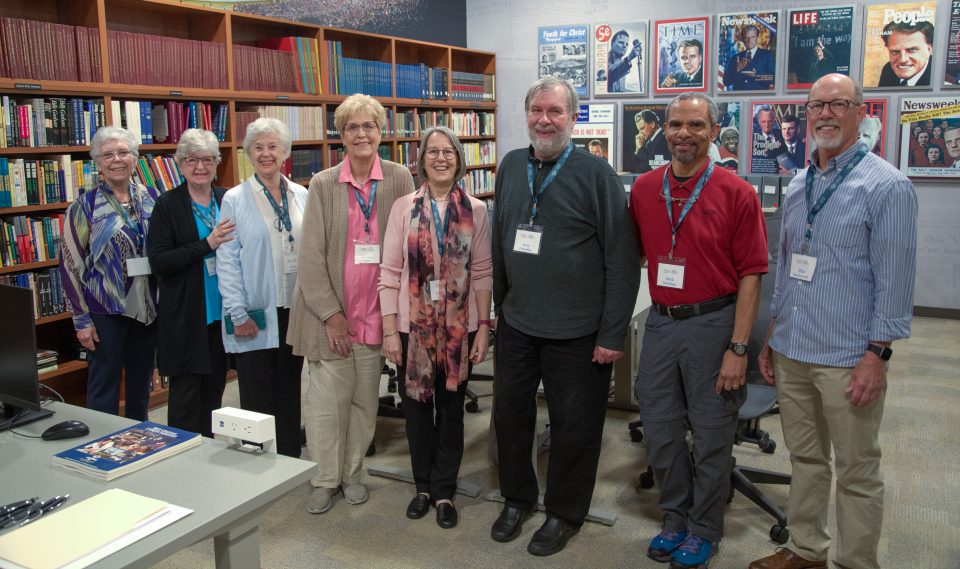 Every Tribe, Tongue, and Nation
The Amsterdam conference was one of the largest international gatherings of its time.
"It wasn't just a big conference to show the world that evangelism is a priority," Carlson stressed. "He was really passing on the torch at that point to the small, unknown, unrecognized evangelists around the world, and that really was his heart."
>>VIDEO: Billy Graham was often asked who would take his place when he died. Here's how he responded during Amsterdam '83.
Altogether, 120 staff members from 20 countries served at the event, many as interpreters.
"It was such an intense time," said Carlson. "Just the enormity of the task, the enormity of the work, the shortness of the time to prepare."
All that time spent together cemented their friendship and led them to reunite at the Billy Graham Archive and Research Center. "We were in the trenches together," she laughed. "You don't forget your buddies. They became like family, especially while living in a different culture."
Mike Southworth agreed. "This was our community," he said. Southworth went on to work for the Billy Graham Evangelistic Association (BGEA) in the U.S. and abroad for 22 years.
"Nearly every place I went, a large number of leaders pointed back to Amsterdam '83 and '86 [another BGEA conference for evangelists] as being foundational in their roles as leaders within their countries."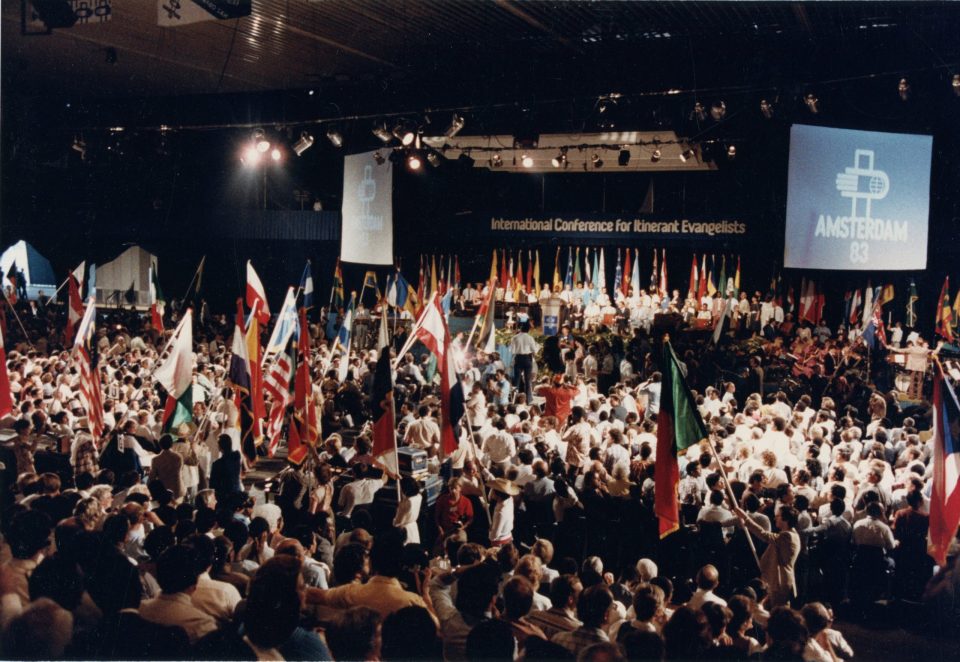 Attending these conferences gave them credibility, he added, allowing them to take on major leadership roles within their churches.
As they reminisced about the conference's opening session, staff members vividly recalled the cultural diversity, the sheer number of people, and all the colorful flags.
They especially remembered the awe on the faces of God's messengers. Some had never traveled outside their villages before. Some from extremely remote areas had never seen a modern bathroom, and a number of attendees came without shoes. One man sold all his pigs—his livelihood—to help pay his way to the conference.
Up until then, we had only seen the evangelists' names on paper, said Adriane Carr. "We had worked so hard, so just seeing it all come together, the emotion was too much and we just started bawling," she said.
"For me, it was [realizing] what we were a part of—one man's vision, and God bringing the people together from all over the world," Adriane added.
Southworth likened it to Revelation 5:9, which says: "For You were slain, and have redeemed us to God by Your blood out of every tribe and tongue and people and nation" (NKJV).
"You felt like that was what you were looking at," he said.
It was a sight the planning team will never forget—and one they probably won't experience again this side of Heaven.
Please pray for evangelists around the world whose heart is to share the hope of Jesus Christ with those around them. Pray for wisdom, protection, and boldness as they further the Gospel.