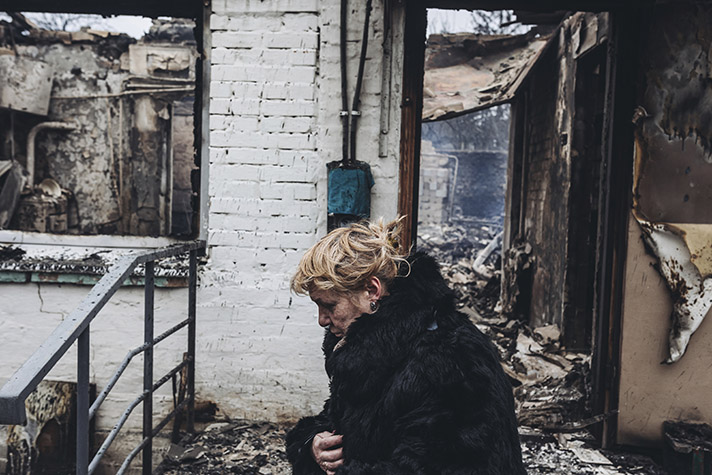 Kristy Graham serves as the host of the "On the Ground" podcast with Samaritan's Purse, covering ministry updates from all over the world. When she's not overseas documenting stories, she and her husband Edward—the third son of Franklin Graham—are busy raising their four children in Boone, North Carolina. Before the couple transitioned to careers in ministry, Kristy was a military wife for 16 years while Edward served in the army. 
Q: How do you feel as a Christian about the war happening in Ukraine?
I am devastated. War is horrible, dark and tragic. It is one of the many effects of the brokenness of this world. War, conflict and death are unfortunately inevitable on earth and the result of sin. My heart is heavy for Ukraine and the innocent people caught in the crossfire. Although this conflict, complexity, and tension has been happening for years, this invasion is truly devastating, and it's heartbreaking to watch.
When I'm at a loss for words, I turn to Scripture. God's Word gives me the ability to voice prayers and petitions to the Lord. I pray for the people in Ukraine Psalm 64:1, which says, "God, hear my voice when I am in anguish. Protect my life from the terror of the enemy."
>> Kristy Graham's most recent podcast episode includes prayers for Ukraine. Listen to the full 9-minute episode.

Q: What gives you hope in times like these?
God gives me hope. Psalm 62:5-8 says, "Rest in God alone, my soul for my hope comes from him. He alone is my rock and my salvation, my stronghold; I will not be shaken. My salvation and glory depend on God, my strong rock. My refuge is in God. Trust in Him at all times, you people pour out your hearts before him; God is our refuge."
What helps me in dark times is remembering that my hope does not come from this world. My hope does not come from man—not from leadership, presidents, or authorities—my hope comes from the Lord Jesus Christ. "For God loved the world in this way; He gave his one and only Son, so that everyone who believes in him will not perish but have eternal life.  For God didn't send his Son into the world to condemn the world, but to save the world through him (John 3:16-17)."
Because of our sin, we are separated from God. Our world is beautiful, but it is broken. Jesus came to make a way. He came so that we can have life and have it abundantly. But that doesn't mean we are free from suffering and sadness. In John 16:33, Jesus said, "I have told you these things, so that in me you may have peace. In this world you will have trouble. But take heart! I have overcome the world."
I love Corrie Ten Boom's quote that says, "If you look at the world, you'll be distressed. If you look within, you'll be depressed. If you look at God you'll be at rest."
Q: What Scriptures can we turn to for guidance and encouragement?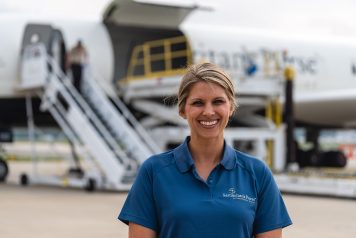 I often read passages that remind me of the greatness of God, and how He created this earth. He created us. We were made in His image, and He knows, sees and loves us all.
The Bible is filled with hope and encouragement. There are so many passages of Scripture that are comforting me right now. I love the honesty of people like David, Isaiah and Habakkuk. When they were in the midst of despair, danger, and uncertainty they found their hope and strength in the Lord.
Isaiah 40 is one passage I always come back to for encouragement. Verse 11 is my favorite because it shows how He shepherds us. It says, "He protects his flock like a shepherd; he gathers the lambs in his arms and carries them in the fold of his garment. He gently leads those that have young." This entire passage reminds me how big God is. When powerful nations threaten, attack or cause fear, they are considered a speck in God's eye. He is in control, and He is our Good Shepherd.
Here are a few others I have been turning to:
1. Psalm 23:1-6
The Lord is my shepherd; I have what I need.He lets me lie down in green pastures; he leads me beside quiet waters. He renews my life; he leads me along the right path paths for his name's sake. Even when I go through the darkest valley, I fear no danger, for you are with me; your rod and your staff- they comfort me. You prepare a table before me in the presence of my enemies; you anoint my head with oil; my cup overflows. Only goodness and faithful love will pursue me all the days of my life; and I will dwell in the house of the Lord as long as I live.
2. Psalm 18:6
In my distress I called to the Lord; I cried to my God for help. From his temple he heard my voice; my cry came before him, into his ears.
3. Habakkuk 3:17-19
Though the fig tree does not bud and there is no fruit on the vines, through the olive crop fails and the fields produce no food, though fields produce no food, though the flocks disappear from the pen and there are no herds in the stalls, yet I will celebrate in the Lord; I will rejoice in the God of my salvation! The Lord my Lord is my strength; he makes my feet like those of a deer and enables me to walk on mountain heights!
Q: As Christians, how can we pray over this crisis?
1. Pray for an end to the conflict.
2. Pray for peace in Jesus Christ.
Peace I leave with you; my peace I give to you.Not as the world gives do I give to you.  Let not your heart be troubled, neither let them be afraid. —John 14:27
3. Pray for decision makers—presidents, leaders, and authorities. Pray for wisdom and discernment, and that they would make decisions that are good for the people they represent.
First of all, then I urge that petitions, prayers, intercessions, and thanksgivings be made for everyone, for kings and all those who are in authority… —1 Timothy 2:1-2

A king's heart is like channeled water in the Lords hand He directs wherever He chooses. —Proverbs 21:1
4. Pray for the people of Ukraine. Whether they are sheltering from bombs or escaping to neighboring countries, they are suffering tremendously. Everything is uncertain, their lives are at risk, and they need our prayers.
5. Pray for the church. Pray that the believers will be strengthened and united in their faith, and that they would proclaim the Gospel of Jesus Christ.
6. Pray for Samaritan's Purse as we respond in Jesus' Name. Pray that God will lead and guide our disaster response specialists, and that every individual that we help will experience God's love through the hands of those who serve them. Go to SamaritansPurse.org for more details.
My son @EdwardG1911 is in Greensboro, NC, where our @SamaritansPurse DC-8 is set to deploy in just a few minutes. Watch this short update from him and pray for the people of #Ukraine. pic.twitter.com/hWJogL7Vz0

— Franklin Graham (@Franklin_Graham) March 4, 2022
Q: What is one Bible story that has been brought to your mind with this crisis?
I'm reminded of the story of Jehoshaphat in 2 Chronicles 20.
In this passage, He is surrounded by a vast number of armies. They've all come to fight, and he is surrounded by his enemies.
Jehoshaphat was afraid when he heard this. But it says that he was resolved to seek the Lord [verse 5]. He didn't let fear rule his life, but he turned to God. He proclaimed a fast for all of Judah to seek the Lord, and then he prayed.
In his prayer [2 Chronicles 20:5-12], he first acknowledges God for who He is. Then he acknowledges God for what He's done for His people. Next, he closes with these really powerful words:
"For we are powerless by this vast number that comes to fight us, we don't know what to do but we look to You," [paraphrase of 2 Chronicles 20:12].
This is my prayer in these uncertain days.
I pray that this comforts you. It's okay to not know what to do. It's okay to not know the right answer. We don't know what is going to bring peace to these nations, but we can rest in the peace of God. Let this be your prayer: "We look to You, Lord."