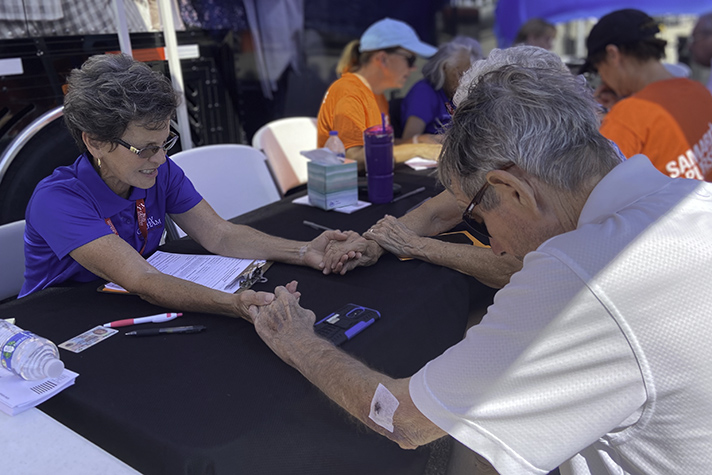 Disheveled and trying to hold it together, hundreds of Hurricane Ian survivors visited Calvary Baptist Church in Englewood, Florida.
Many sat under a tent's shade outside the church talking with blue-shirted chaplains from the Billy Graham Rapid Response Team (BG-RRT), who offered warm smiles and gently greeted them.
Billy Graham chaplains are also ministering in Florida's Ft. Myers and Punta Gorda communities.
Some residents haven't had power or water since Ian made landfall last Wednesday as a Category 4 hurricane on the nearby island of Cayo Costa. The traumatizing storm with maximum sustained winds around 150 mph and a record-breaking storm surge killed at least 100 people, and more than 1,600 have been rescued in southwest and central Florida.
Of the dozens of people chaplain Norma Jean Spellmeyer spoke with, she noticed "the sentiment is the same," Spellmeyer said. "They're thankful they survived. Everybody felt like their conditions were not as bad as somebody else's."
Just a short drive through the coastal community shows tarps covering gaping holes in clay tiled roofs, uprooted palm trees, and furniture lining streets—signifying flooded homes.
For hours on Monday, Spellmeyer and several other chaplains helped locals fill out Samaritan's Purse work orders—through which they could request help with tarps, mud outs, and debris clean up. As they did so, stories circulated in between check boxes and signatures.
A woman talked about how a pole came halfway through her hurricane-proof window. If it had fully pierced it, the shrapnel would've likely killed her mother who was sitting nearby. An exhausted couple from New York shared how they had just made it to town to sort through what was left of their mother's home.
A retired veteran and police officer told how he survived shootouts over the years and now a hurricane, but was grieving the upcoming anniversary of his wife's death.
During their conversation Spellmeyer said, "You're going to weather this storm. You're going to get beyond this storm. Help is here."
As chaplains' encouragement washed over the weary and anxious, many Floridians responded with a brief smile that appeared to be a glimmer of hope. And before they left, chaplains individually offered prayer to each passersby.
If accepted, the chaplain reached across the table and took their hands. While the chaplains were lifting their burdens up to God, some residents blinked back tears or nearly broke down.
"They're all just wounded and sad and upset. And they've just lost a lot," said another chaplain, Jeanne Slater. "Having somebody to pray with is essential. … And I think they really appreciated us being there."
As Samaritan's Purse fulfills work orders in the coming weeks by sending out volunteers, Billy Graham chaplains will come alongside crews and residents to offer emotional and spiritual care, helping Floridians process this tragedy.