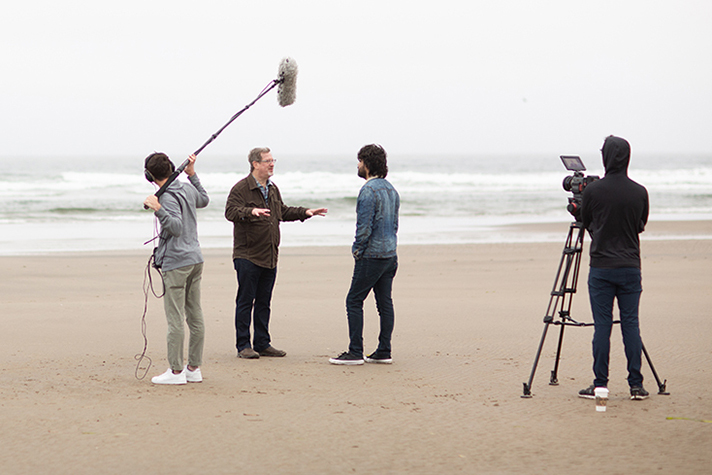 Two brothers from a humble upbringing credit their parents' unwavering faith and God's goodness to seeing their dreams come true. Their film The Case for Heaven, based on Lee Strobel's book by the same name, is in theatres April 4-6.
Two border patrol agents pointed their bright headlights into the brush in a barren area of the Arizona desert. The agents got out of the car with flashlights in hand. They thought they saw movement.
No, there was nothing. They were walking back to the vehicle when suddenly they heard a baby's cry.
Nearly 20 undocumented immigrants were caught in the thickets and taken to a detention center—among them, a mother and her child.
Little Gil Sandoval was not even 1 year old.
Looking back, Mani and Gil Sandoval thank God that their mother was sent to the detention center instead of being deported. Their father, who had been living in the United States for a few months, managed to get them out and move his family to Los Angeles.
So began a new stage in the Sandovals' lives.
Brothers Mani and Gil Sandoval now have a successful career in the U.S. film industry, and their documentary The Case for Heaven—based on Lee Strobel's book of the same name—will be showing in theaters April 4-6.
But the Sandoval brothers don't claim the glory for their success.
"It all started with our parents' faith," Mani asserts.
"Our father came walking into this country without any clarity about his future or ours," he recounted. "But the day he accepted Christ, everything changed.
"My mom had been praying for years that he would repent and come to the feet of Jesus. And one day the miracle happened."
Gil, who produced the documentary, nodded and continued the story.
"We lived in the slums of Los Angeles, but ever since I was a child, I always saw God's hand at work in my parents' lives. I always saw them praying.
"I would see my mom cleaning toilets and bathrooms, but always saying, 'Thank God we have jobs. Thank God we have a family. And I know God is going to take care of us. You will see that God will get us out of this.'"
While the brothers grew up attending a Christian church in Los Angeles, they had to decide for themselves to make that faith their own.
"I didn't become a Christian because of something someone told me in a church," shared Mani, director of The Case for Heaven, in his Guatemalan accent in Spanish. "I saw God in my parents' faith and I was able to see evidence that God is real.
Mani offered an example:
"One day, we came home to find that we had been robbed. They had taken the few things we owned, and also the money we were saving to visit Guatemala. They robbed us even of our dreams.
"But at that moment my father told us, 'We are going to make a circle here on the floor, hold hands and we are going to forgive those who robbed us and we are going to pray for them.'
"That day I said, 'Wow, my parents' faith is real. This is beyond any human comprehension. The God who is at work in my parents is real.'"
Sometime later, the family managed to get out of the Los Angeles slums and move to a safer city. In their youth, the Sandoval brothers established a marketing company with the dream of one day getting involved in the film industry.
"Only God could have taken this very poor family from Guatemala and bring us to where we are today," Mani said.
"We've been through some very difficult things, but our faith has given us really incredible strength and hope, and by seeing it, people know it must come from somewhere else and not from us."
The opportunity to work with Lee Strobel came unexpectedly.
Lee Strobel tells the story of his conversion in his first bestseller The Case for Christ. Originally an atheist, he became a Christian after undertaking an exhaustive effort to uncover the falsehoods of this faith. On the contrary, he found an overwhelming amount of scientific evidence in its favor.
Strobel later authored The Case for Heaven in which he interviews experts and scholars—such as a neuroscientist, philosopher and researcher—about the afterlife and offers credible answers to questions about death, heaven and hell.
"Lee Strobel and I had forged a friendship over the years, and we had a dream of working together on a film," Mani said. "When he finished his book The Case for Heaven, we knew this would be the opportunity."
The number of people of Hispanic origin who have managed to get involved in Christian filmmaking in the U.S. is very small, the Sandoval brothers said.
"We want the children who perhaps today live in the slums where we once lived to see what God has done through us, but it's not just about dreaming; it's about working for those dreams," Mani said. "We want them to see and believe that nothing is impossible for God."