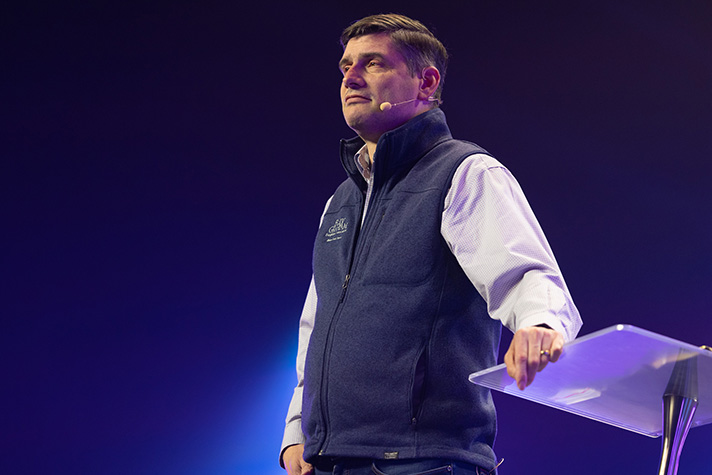 Unbeknownst to Amy*, God had something special in mind for her Saturday night.
She came alone to the second night of Will Graham's Tasmania Celebration in Launceston, but was surrounded by hundreds of others in the Silverdome. Some were returning to the three-night event, while others—like Amy—were there for the first time. Many were eager to hear what the evangelist had to say.
"Sin can be enticing, until it comes to the place where you need to pay the bill. It'll lead you down a path so far that you realize you can't get back," Will Graham said.
"But now we have Jesus' blood, His righteousness covering us. Our sin has been wiped clean. And God looks at us and says, 'You're perfect. You can come into My place.'"
>>Want to know more about what Jesus did on the cross for you? Watch the replay of Saturday night's message. 
Hearing that Jesus could help her change her life around gave Amy the push she needed to walk forward.
Even though she grew up in the church and gave her life to Christ as a teen, she said, "I've felt a bit off the rails a bit lately, with my job and the people I've hung around.
"And I was just sitting there praying. I was thinking to myself, 'Well, if I keep going the way I'm going, where will I be in two years?'"
She didn't like her answer.
"I was like, I need to stop. I need to change. And I guess the only way I can do that is through Jesus."
So, she got up out of her seat and walked towards the front, and when Will Graham led the audience in a prayer of repentance, she prayed along with him.
"[It was] definitely life-changing," she said, beaming.
A Personal Savior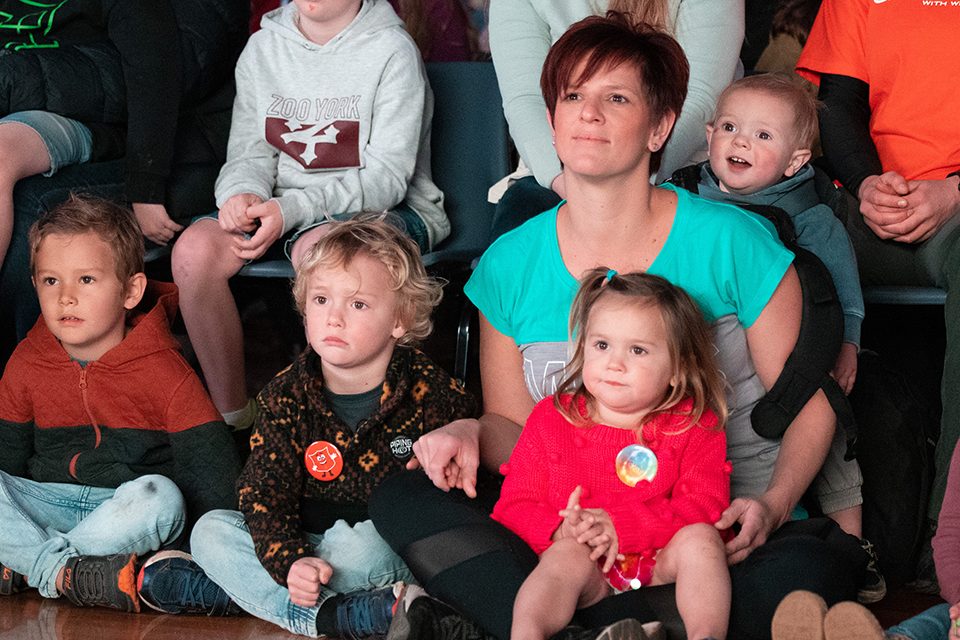 Earlier that day, KidzFest brought over 600 children into the Silverdome, laughing and wiggling in their seats. The program geared just toward them included a puppet show, the Gospel-centered short film—The Quest—and a short message from Will Graham.
Eight-year-old Malita watched it all—and when Will Graham asked kids to come forward to receive Christ, she did. She had decided to follow Jesus.
"Children can come to know about Christianity from a young age. … It's very important that the younger generations know about Jesus," her father said, happily holding the hand of his son, who had also gone forward.
Later, Malita and her father sat on the gym floor, chatting with Joanna, a volunteer who was there to pray and help people understand the decision they had just made.
As a mother herself, watching the kids come forward brought tears to Joanna's eyes. And now she had the chance to talk with one of them.
"Jesus is with you all the time and He's living in your heart," she told Malita.
Then Joanna reached out and gently put her hands on either side of the young girl's face and looked directly at her. "God looks at you like this all the time," she said, reminding the young girl of how present the Father is. "And He never sleeps."
Malita looked back at Joanna's face with wide brown eyes. "Wow," she responded.
'The Street Just Got a Whole Lot Brighter'
Amy and Malita weren't the only ones who felt that way. After Saturday night's event, Paris Ferguson stood in awe of how God was moving among the young people in Launceston.
She talked to two sisters who hailed from Nepal—and had given their lives to Christ Saturday night.
"I was so encouraged to know that God is so big," Ferguson said. "It's not about us to lead people to Him, but [we're] just to be there for people when they're ready, when they're touched. And I felt honored to do that for two beautiful girls."
Ferguson, who was also in attendance the previous night, has been amazed at what God is doing within the curved walls of the arena.
"I've seen, last night especially, how many people gave their lives to Christ or recommitted," she recounted. "I teared up. In human hands, we couldn't have done that. … I was in awe of Him.
"And I can see the impact that it would make, just every day. Here and now, a lot more people [are] walking around with hope than there were before. The street just got a whole lot brighter, is what I can say."
That's because young adults like Amy and even young children like Malita have come to know a hope that can only come through Jesus Christ.
*Name changed