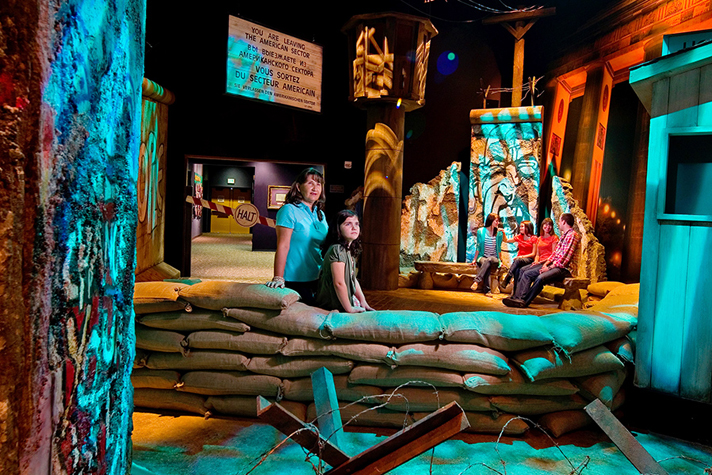 Billy Graham has preached all over the world for more than 70 years, but some younger generations will discover him for the first time through new student curriculum offered by the Billy Graham Library.
"I bring a group of students here every year, and I have for years," said Mika Edwards, leaning forward in a wooden booth at the Library's Dairy Bar.
Edwards is a curriculum developer and teacher at Metrolina Christian Academy outside Charlotte, North Carolina. In a few weeks, she will bring another group of students to the Library, and this year, she'll have a new resource to help guide them through The Journey of Faith tour, a string of interactive exhibits that recount the life of Billy Graham and how God has used him to spread the Gospel.
That resource is free curriculum provided by the Library to teach students about the Cold War and Mr. Graham's influence during that time period. It's part of an initiative to offer lesson plans to schools and homeschooling parents.
"Our goal by the end of year 2015 is to have at least three very different lesson plans for each grade level," Library promotions coordinator Sarah Lewallen said.
The curriculum being developed is broken into four grade levels: 2nd-5th, 6th-8th, 9th-12th and 12th + (which includes young college students).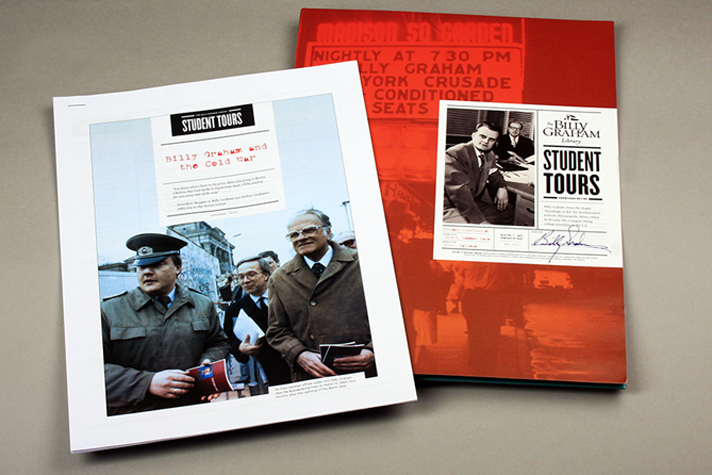 So far, lesson plan ideas include the Civil Rights era, evangelism through technology, Crusade ministry, compassion outreach and "pastor to presidents," a lesson focusing on Mr. Graham's ministry to multiple U.S. presidents.
Edwards has been to the Library many times with various groups of students—many from her Christian leadership class—and is familiar with The Journey of Faith tour. She knows what verses, quotes and pictures she wants students to see, but said a tangible resource to go along with the exhibits will provide more concrete guidance.
"What I'm excited about is that someone gets to actually give me curriculum to use instead of just kind of, from experience, pointing out things," she said.
Edwards has taught teenagers for 17 years—and has two teens at home—so she knows that age group is used to learning things quickly and moving on.
"I think the curriculum will help them slow down," she said, adding that she doesn't want them to miss significant points in history.
Each lesson is divided into three segments: pre-visit activities, things to do during the Library tour and post-visit activities. For the Cold War curriculum, for example, students might watch a video clip from Mr. Graham's visit to Romania in 1985, read a section of his biography, Just As I Am, or review major Cold War themes before going to the Library.
Regardless of the lesson, parents or teachers can customize it to fit their needs. The curriculum fits federal common core standards, as well as national history and social studies standards.
Students get something to take home, too: student passes they can wear during their tour. Each pass features a photo and questions about someone in particular, like Billy Graham, BGEA photographer Russ Busby or gospel singer Ethel Waters, who sang at some of Mr. Graham's Crusades. It's one more way for students to get more out of their Library experience.
One parent eager to use the Library curriculum is Lisa Metzger, who home schools nine of her 10 children. She's all about visuals.
"We're very eclectic in our homeschooling," said Metzger, an outreach coordinator for Charlotte-based ministry Cities4Life. "I think this (curriculum) will educate our kids on Church history and about people who impacted the world for Christ."
"Our family is big on evangelism," she continued, so she's always on the lookout for lesson plans that will inspire and equip her kids to share their faith. Metzger is also happy that the Library curriculum is self-guided so she can weave it into whatever her children are learning and go at her own pace—"one of the beauties of homeschooling."
And with lesson plans split into grade levels, all of her children can learn the same lesson, but at their own level.
No matter what the age, Lewallen said, "I'm hoping that they would get the same inspiration that we hear from adults." She hopes students are inspired to minister to people in their own way, whatever that may look like.
To access the Library's free student curriculum, contact Sarah Lewallen at 704-401-3263 or email LibraryEvents@bgea.org. Group leaders who use the curriculum for grades 9-12 by the end of the year will receive a complimentary gift of appreciation.
Check out upcoming events at the Billy Graham Library.
Learn how to effectively share your faith through online training opportunities from BGEA.