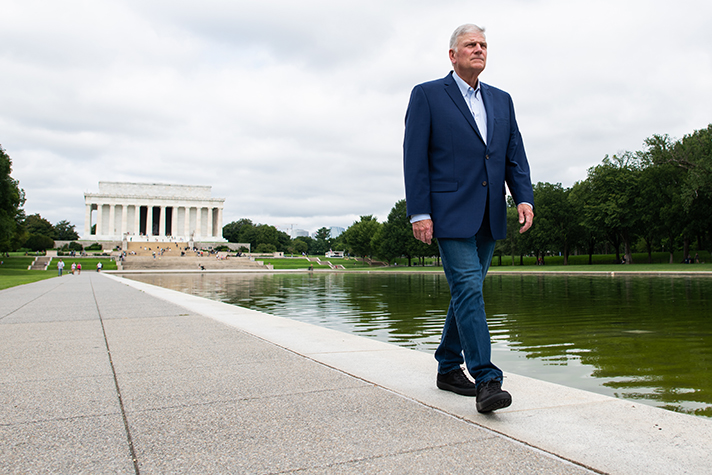 Dear Friend,
Our nation is in trouble—morally, politically, racially, spiritually. This is the most critical time for America that we have seen in our lifetime. Violence and rioting are devastating many of our cities, we are dealing with an unprecedented global pandemic, landmark court cases have shifted our cultural landscape, and some in government are attempting to whittle away at our religious freedom to assemble and worship. Secular forces are hard at work to take God out of everything, but we need more of God—not less—in every aspect of life. Many people are concerned and wonder what they can do. Well, we can do something powerful—we can pray!
The Prophet Elijah lived during years when his country had turned away from God, allowing idolatry and sinfulness to run rampant. Yet when he prayed, God heard his prayers and responded to godly people like him. The Bible says that Elijah "prayed earnestly that it would not rain, and for three years and six months it did not rain on the land" (James 5:17, HCSB).
On Saturday, September 26, I'm going to hold the Prayer March 2020 in Washington, D.C. I'm asking Christians from across the country to join me to fill the National Mall with prayer. We will meet at the Lincoln Memorial at noon and march down to the Capitol, stopping at several points to pray. It will take about two hours. We're not having music or speakers—we're going to pray. We need to pray in repentance and ask God to heal our land. As we disperse after the march, I hope people will lift up each building and person they pass, blanketing every street with prayer. Let's ask God to turn our country back to Him. The Bible tells us, "the Lord was moved by prayer for the land" (2 Samuel 24:25, NASB).
I want to invite you to come, bring your family, and gather with other Christians. Churches and pastors, fill a busload and join thousands to pray. Go to PrayerMarch2020.com for more details and to register to let us know you're coming.
Even with the COVID-19 pandemic, the Lord has continued to bring incredible opportunities to share His truth through the Billy Graham Evangelistic Association (BGEA).
Throughout the Bible, we see God's people between a rock and a hard place many times. The Israelites were hemmed in with their backs to the Red Sea—with apparently no way out. That's no problem to the mighty God who created everything. He just opened the sea—and His people marched.
Centuries later, the Jews found themselves in Babylonian captivity. The Lord reminded them of their past before promising deliverance for their future:
"I am the Lord, your Holy One, the Creator of Israel, your King. Thus says the Lord, who makes a way through the sea and a path through the mighty waters… 'Do not call to mind the former things, or ponder things of the past. Behold, I will do something new, now it will spring forth; will you not be aware of it? I will even make a roadway in the wilderness, rivers in the desert'" (Isaiah 43:15–16, 18–19, NASB).
Again and again, in seemingly impossible situations, the Lord calls His people to put their trust in Him, adapt to new opportunities, and watch Him work.
For 70 years—and we celebrate that anniversary in September—BGEA has proclaimed the Gospel all over the world through Crusade events, radio, TV, Decision magazine, and many other ministries. Your prayers and gifts have taken the unchanging message of Jesus Christ to millions in places like London, England; Budapest, Hungary; Cúcuta, Colombia; Durban, South Africa; Belleville, Ontario; Goldfields, Australia; Novosibirsk, Siberia; Fukuoka, Japan; and dozens of other cities and countries.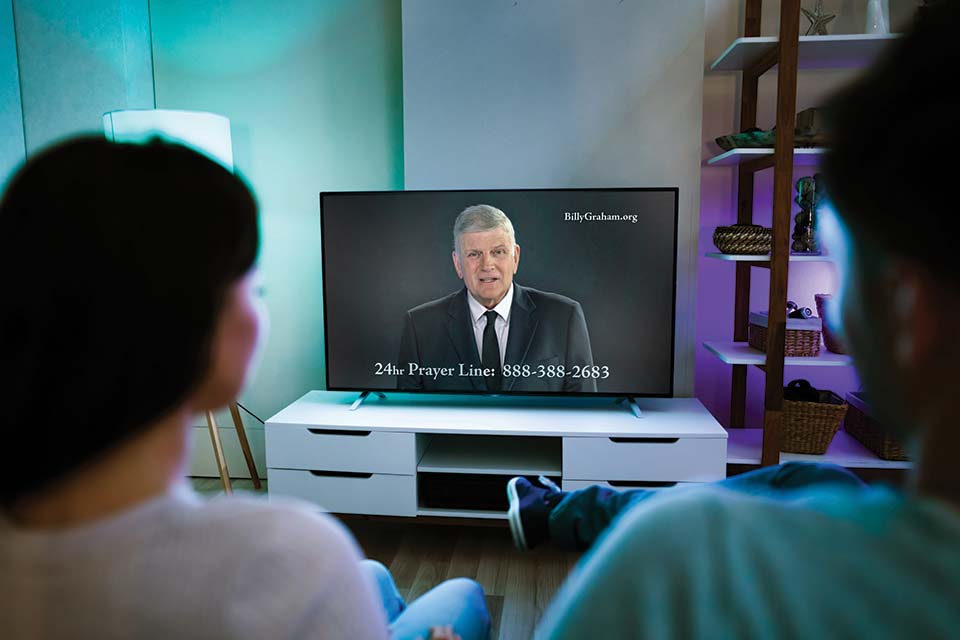 With the pandemic, BGEA has not been able to host Crusade events as in the past. However, that limitation is no problem to the Lord. He always makes a way.
We have purchased time on television where I take 60 seconds to share how someone can put their faith and trust in Jesus Christ, and we have seen an overwhelming response. We've also placed these "Gospel Minutes" on radio, the internet, and social media. I invite people to surrender their lives to Christ and to call our 24-hour prayer line where someone is waiting to talk with them, encourage them, and pray for them. We have had over 180,000 calls, and we give God the glory for each life touched and changed by His power.
There are many similarities to reaching people with the Gospel through our traditional Crusades, such as the training and follow up. We have trained hundreds of BGEA staff members and volunteers to answer these calls, and thousands of people have called in and have received Jesus Christ into their lives as Lord and Savior. Tens of thousands of others have called in for encouragement and prayer.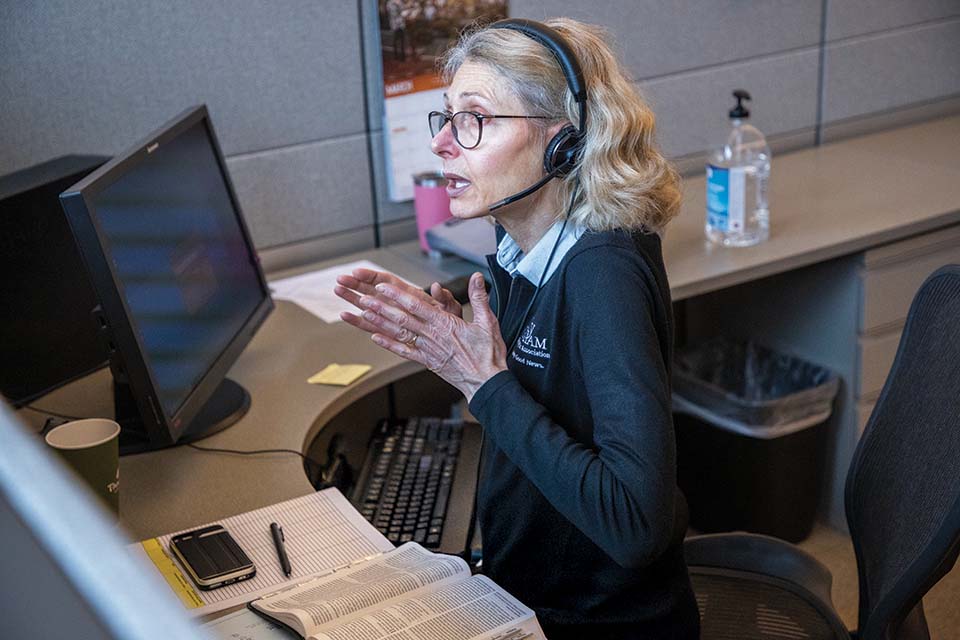 Tom,* a man in his 70s, called after viewing our ad and praying with me to receive the Lord into his life. He had been a religious person but had never had a personal relationship with the Lord. He said he knew God was calling him and that he needed to respond. Tom was also excited that BGEA would be sending him a Bible. Before getting off the phone, he said with conviction, "I love Jesus!"
George,* an elderly man whose wife struggles with Alzheimer's, called after he saw me on TV. He asked for help to better understand salvation. Our volunteer shared several Scripture passages and walked him through the plan of salvation. George prayed to accept Jesus Christ as his Savior and Lord and was encouraged when the volunteer explained Jesus will never leave him. He shared he was going to call his son, who is a Christian and has been praying for him to come to know the Lord.
Mary* wrote to us and shared she had given her life to Christ at one of my father's Crusades decades ago. Her husband, Edward,* of 43 years has resisted the Gospel all of their married life, but she has prayed for him all of those years. They recently saw my evangelistic spot on television. When she tried to talk to him, Edward said, "Be quiet a minute. I want to listen to this." To her surprise, Edward quietly prayed along with me to receive Jesus Christ into his life. Mary wrote, "Thank you for all your diligence and all you do for God and for all the souls on this Earth. I wanted you to know God is using your message!" There are likely thousands more like Edward who have prayed to receive Christ but have not called in.
Just in the month of July, we received over 10,000 calls from hurting cities like Chicago, Seattle, Portland, New York, and over 200 others. And we are continuing to release new evangelistic spots to air nationwide.
If you or someone you know could use comfort and prayer during this time, have them call us at 888-388-2683. We want to share with them that there is hope for the future, and they can find that through a relationship with Jesus Christ.
The current spiritual environment in our country has shown us the increasing need to have more of our Billy Graham Rapid Response Team chaplains trained and ready to deploy. We are holding our Sharing Hope in Crisis training in Lima, Ohio, in September and in Dayton, Ohio, and Lynden, Washington, in October. Pray for God to raise up many workers who will extend His love and truth.
Thank you for your partnership with us in this urgent hour. Even in trying times, your prayers and gifts are sharing the Gospel around the world!
May God richly bless you,


Franklin Graham
President