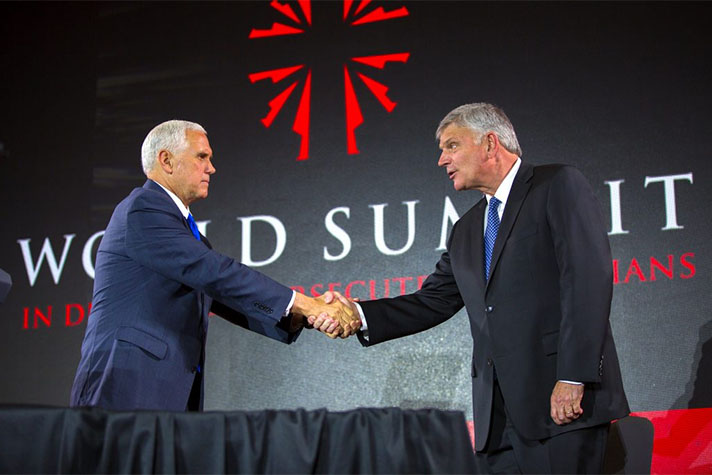 The 48th vice president of the United States, Mike Pence, will be at the Billy Graham Library in Charlotte, N.C., today for a two-hour book signing, as well as a Library expansion dedication ceremony.
At 11 a.m., Pence will join Franklin Graham, Rev. Billy Kim, and Dr. David Bruce for a ribbon cutting and dedication at the Library. Built onto the wing of the dairy bar, the Billy Kim Hall will be used for training and events held at the Library, which has seen more than 1.7 million people come through its doors since opening in 2017.
Rev. Kim was Billy Graham's interpreter during his largest Crusade, which drew more than 1.1 million people to Yoido Plaza in Seoul, Korea, on June 3, 1973. Rev. Kim is also the chairman of the Far East Broadcasting Company—Korea, former president of the Baptist World Alliance, and former pastor of Suwon Central Baptist Church in Korea.
"We are honored to welcome Vice President Mike Pence back to the Billy Graham Library. I have known him for many years, and I appreciate how he has never shied away from telling people how much he relies on his relationship with Jesus Christ," said Franklin Graham, president and CEO of the Billy Graham Evangelistic Association. "Mr. Pence's place in history through his personal and political endeavors is highlighted by his commitment to his faith in God, which is evident throughout his new book."
The author of So Help Me God, Pence will be signing up to two copies of his new book for each person who comes to the 1:30–3:30 p.m. book signing.
"For me, it's always been clinging to that faith," Vice President Mike Pence said. "He knows the plans He has for us. Plans to prosper us, not to harm us. It's grounded in the belief that whatever life throws at us, if we lean on Him, we'll hold firm to our family, we'll hold firm to our convictions, our ideals—that we'll see our way through."
So Help Me God shares the events and people who shaped his character and—most importantly—the faith that guided his every decision. Books will be available for sale at the Library today.
Both Pence and Rev. Kim were in attendance at Billy Graham's memorial service held on the grounds of the Billy Graham Library on March 2, 2018.