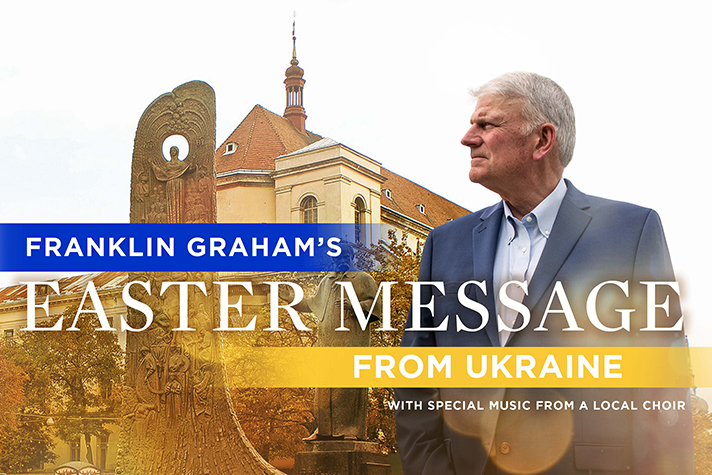 After recent trips to Ukraine, Franklin Graham's Easter message from Lviv is airing on Fox News today at 12 noon ET.
He visited the war-torn nation last month to see firsthand the work of two ministries he leads, the Billy Graham Rapid Response Team (BG-RRT) and Samaritan's Purse. The BG-RRT has crisis-trained chaplains in Lviv, where Samaritan's Purse medical staff are tending to people in need.
The ministries have been adding staff and volunteers to expand their reach—including training more than 100 Ukrainians as chaplains—and moving hundreds of miles closer to the front lines to help more desperate people.
During the Easter message, two Ukrainians will offer prayer. The uplifting event will include music from the 80-person Ukrainian Easter Choir, many of whom have been displaced by the conflict.
As Franklin Graham prepared to head back to Eastern Europe, he posted on Facebook, "My deepest gratitude to my father Billy Graham's friend, Mr. Rupert Murdoch, who is providing the television air time for this. I hope you'll mark your calendar and plan to watch as we celebrate the reason for our hope—JESUS IS ALIVE! Remember to pray for the people of Ukraine."
Since the conflict in Ukraine began on February 24, Franklin Graham has repeatedly encouraged people to pray for the nation, even calling for a ceasefire from April 15-24 in observance of the Easter holiday around the world. His Easter sermon will include not only corporate prayer, but will give people an opportunity to personally know a loving Savior in the midst of a dark world.
"I will be sharing a message the whole world needs to hear: Jesus Christ, the Prince of Peace, conquered sin and death 2,000 years ago when He rose victoriously from the grave," Franklin Graham said. "This Good News changes everything—for individual hearts, for communities and for entire nations."
>> See Photos: Franklin Graham visited an emergency field hospital where Billy Graham chaplains are serving.
He shared a similar message of hope during the height of the pandemic on a special Fox News Channel broadcast recorded from Central Park in New York City, one of the nation's COVID hotspots.
Ahead of this Easter message, he's asked for Christians to "pray that God will open hearts to the Gospel and that He will draw many to salvation in Jesus Christ."
And, "let's keep asking the Lord to intervene and bring an end to the conflict in Ukraine," he said.
"Blessed be the God and Father of our Lord Jesus Christ! According to his great mercy, he has caused us to be born again to a living hope through the resurrection of Jesus Christ and from the dead." —1 Peter 1:3
Watch Video: Franklin Graham walks alongside Billy Graham chaplains in Ukraine.