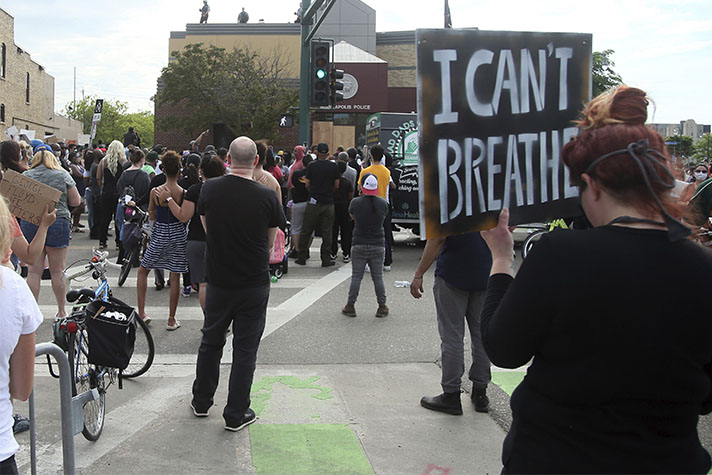 "For God shows no partiality."
—Romans 2:11
Franklin Graham, president and CEO of the Billy Graham Evangelistic Association, has reacted strongly to the death of 46-year-old George Floyd, a black man who passed away after being restrained by a Minneapolis police officer on Monday.
A graphic video shows one officer hold a handcuffed Floyd down by keeping his knee on Floyd's neck while other officers stand by. Floyd said he couldn't breathe, and he died while in custody.
The release of recorded footage has sparked national outrage and social media coverage, along with the firing of the officer and his colleagues who were at the scene. President Trump has called for the FBI and Department of Justice to investigate the incident.
Franklin Graham shared the following in a Facebook post:
This makes me sick to my stomach. What took place Monday on a Minneapolis street, by the Minneapolis Police Department should deeply concern each and every American. It's inexcusable.

To watch a police officer kill an unarmed black man—with no concern on his face, his hand in his pocket, indifferent to the bystanders begging for something to be done to help the man—is so disturbing. He and the other officers on the scene refused to listen and refused to respond. I hope they have deep regret and remorse for their actions. Police are not the judge and jury. These officers will have to stand before God and the authorities on this earth for what they have done.

Thankfully, this is not the story of every police department. Most men and women who work in law enforcement are tremendous servants who put their lives on the line every day to protect their communities. We need to pray that God will give them wisdom and grace to face the storms that they encounter.
I hope every police department will learn from this and make the changes needed to never let something like this happen again. Pray for George Floyd's family, loved ones, and friends, that God will put His loving arms around them and comfort them during this tragedy.
Franklin Graham follows in his father Billy Graham's footsteps for repeatedly calling for racial equality. In fact, Billy Graham tore down the ropes that divided black and white people during a Crusade in the 1950s, saying there was to be "no more of this." That action led to a deep friendship with Martin Luther King Jr.
"There is no excuse ever for hatred. There is no excuse ever for bigotry and intolerance and prejudice," Billy Graham shared during a Crusade. "We are to love as God loved us!"
That love was demonstrated in the Bible when Jesus died for all sinners (Romans 5:8).
"Jesus was not a white man; He was not a black man," Billy Graham once said. "He came from that part of the world that touches Africa and Asia and Europe. Christianity is not a white man's religion and don't let anybody ever tell you that it's white or black. Christ belongs to all people; He belongs to the whole world."
Although Billy Graham is now in his heavenly home, Franklin Graham is continuing his mission of sharing the Gospel message through evangelistic events across the world. In addition, his ministry's Rapid Response Team is offering emotional and spiritual care to the Minneapolis community.
Read 5 responses from Billy Graham on race and inequality.