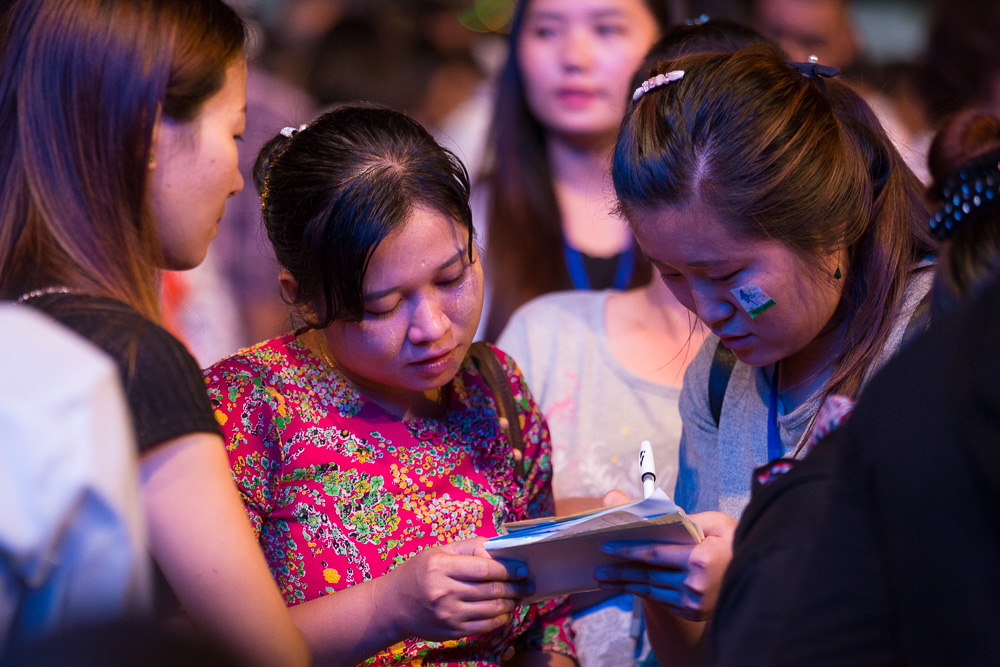 Franklin Graham first visited Myanmar in the early 1980s with his mentor Roy Gustafson, one of Billy Graham's associate evangelists. On that trip, Franklin met a pastor in Yangon named Tin Maung Tun. The two have kept in touch through the decades, and that pastor, known affectionately as Uncle Ronnie, is serving as one of the patrons of the Yangon Love Joy Peace Festival.
On this warm, sunny Saturday morning, Franklin Graham visited his old friend's church, the Hebron Brethren Assembly, as it hosted 200 children through Samaritan's Purse's Operation Christmas Child (OCC) ministry. Some of the children live at an orphanage in which every child is HIV-positive; the others come from a very poor district of Yangon. At the OCC distribution, they heard a simple message about Jesus and received gift-filled shoeboxes.
Franklin Graham explained, "We've got a gift for you to celebrate God's gift," the gift of His Son, Jesus Christ.
The children laughed and shouted back and forth as they explored the contents of the boxes. And many of them, after their initial perusal of the box, spent time reading the Gospel picture book that was distributed to each child.
In the afternoon, thousands came to the Myanmar Convention Center grounds for the second of three Festival meetings. As amazing as the first night's crowd was, this one was even larger—more than 52,000 crammed into the grounds. They filled the plastic chairs that covered the large, outdoor square in front of the convention center building.
Thousands more watched on large screens in overflow areas beside and behind the building. People filled the steps and outdoor balconies of the convention center itself, and still others stood or sat in grassy areas outside the fences surrounding the property.
Franklin Graham taught about the parable of the Prodigal Son—a young man who was running from both his father and God as he looked for something to fill the emptiness in his life.
Some who have responded to the invitation the first two evenings have told their counselors that they have never been inside a church building before. It seems that many in Yangon are spiritually hungry, and even people who know nothing about Jesus are hoping to find fulfillment at this Christian Festival.
Others are very familiar with the Christian message but have never before asked Jesus to be their Savior and Lord. One teenage girl said she has attended church every Sunday, but today she finally committed her life to Christ. More than 2,400 others also indicated decisions for Christ during the second day of the Festival.
A 20-year-old woman said she has struggled with doubts about her salvation and so has prayed many times to receive Christ—without knowing if she was really saved. After praying and talking with her counselor today, she said she finally understands that she really does belong to Christ.
Please be in prayer for this Festival as it enters its third and final day on Sunday.