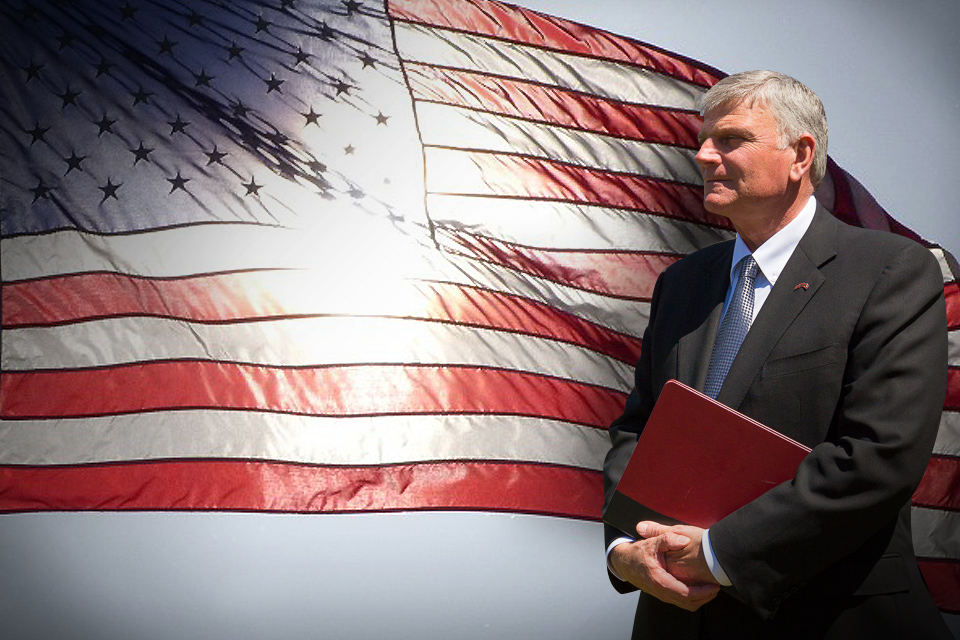 "Therefore I exhort first of all that supplications, prayers, intercessions, and giving of thanks be made for all men, for kings and all who are in authority, that we may lead a quiet and peaceable life in all godliness and reverence." —1 Timothy 2:1-2
Franklin Graham is holding his second Facebook Live prayer event at the start of the Democratic National Convention on Monday, July 25, at 2 p.m. on his Facebook page.
Last week, Franklin held his first live prayer event, praying for the United States as the Republican National Convention began. That event drew tens of thousands of people who watched live. To date, the video of the prayer has received more than 2 million views.
Franklin spoke to viewers, then prayed for America's presidential candidates, the convention, the upcoming elections and the U.S.
Watch a Replay: Franklin Graham Leading Prayer Before RNC
"Our country is in trouble, and I don't have a whole lot of faith in the political parties," Franklin Graham said in a video posted on his Facebook page last week.
He also referred to the tragic events of the past several weeks: "Shootings, riots and protests now claim the headlines about America, and that's heartbreaking," he said. "We are in desperate need of Divine intervention. We need healing. Prayer is what can make a difference in America."
Franklin Graham is urging people to join his second Facebook Live prayer at 2 p.m. EDT on Monday, July 25, prior to the DNC.
"Be a part of this," he said. "Wherever you are, … I hope you will set your reminder to join us via your phone or your laptop. The Bible says that the prayers of one righteous person avails much (James 5:16). So if there are thousands of us calling out to God on behalf of our nation, can you imagine what He might do?"
Franklin Graham is in the midst of his 50-state Decision America Tour, where he's encouraging people to pray for America and get involved politically. He is not endorsing any candidates but is asking people to vote for those who uphold biblical values.
"I'm not telling you who to vote for," he's said on the tour. "If you pray, God will do that."
At his stop in Olympia, Washington—the 31st stop on the tour since January—he urged the crowd of thousands not to give up on our country.
"I've had people tell me, 'Franklin, it's too late for America.' Oh, really? Let me tell you what God can do through His people. Walls can be rebuilt. Gates can be rehung. The impossible can take place when God is in it and God's people pray."
Most recently in Juneau, Alaska, he challenged Alaskans to sign the Decision America Tour pledge and become "community organizers for God."