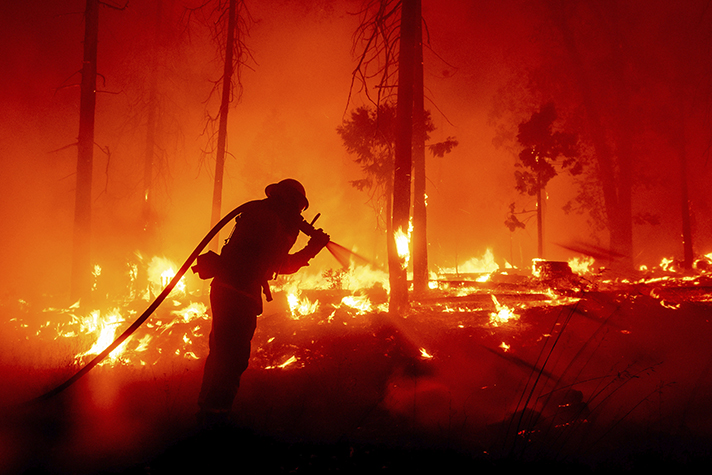 As record-breaking wildfires rage along the West Coast, dozens have died and thousands have evacuated from various parts of California, Oregon and Washington.
"There's been 2.5 million acres burned so far and the Santa Ana winds out of the Northeast haven't even started yet," said Billy Graham chaplain Chuck Bender, referring to the dry, high-speed winds that usually spread California wildfires from September until December.
While many residents have posted images of the ominous red skies across social media—comparing the apocalyptic experience to Mars—Bender said the smoke-filled sky is raining ash everywhere near his home in Southern California.
But after serving with the Los Angeles Fire Department for 33 years, Bender is no stranger to fires—or their aftermath. He knows what it's like to be evacuated, suit up to fight the blaze, lead firefighters as captain, and to share hope with those who have lost everything.
Thinking back to his days of fighting wildfires, he recalled when he and his crew had to wear heavy gear and protective clothing while hiking up and down hills for miles with hoses or chainsaws. Other times, he'd be on truck duty, sometimes having to hide behind the engine to escape the heat of the blaze. Then, he'd return back to camp where rest was challenging, staying in his dirty clothes while sleeping on a cot or the ground.
Even so, Bender said he's never seen such a large area scorched by wildfires until this year.
Franklin Graham, president of the Billy Graham Evangelistic Association and disaster relief ministry Samaritan's Purse, recently posted about the infernos:
Wildfires in California, Oregon, and Washington continue to ravage hundreds of thousands of acres of land along the West Coast. Millions have received warnings that they may need to evacuate. Small towns have been wiped out, and some of the blazes are so strong that firefighters have had to retreat.

Many people have lost their homes, and some have tragically lost family members. We learned this morning of parents in Washington who were severely burned as they tried to flee the fire and their one-year-old toddler was killed.

Please pray for the many devastated families and for protection for the dedicated firefighters battling these blazes day in and day out. Imagine if these fires were at your own back door.
Bender knows just how real the threat of infernos can be—right now, a fire is threatening his family's cabin located in Springville, California.
"We've given it to the Lord and said, 'You're in control,'" said Bender, who goes on Rapid Response Team deployments with his wife, Sandy.
"Bad things are going to happen and we're not to fear," Bender said. "Working in the fire department, I knew God's got my back. Right now as a chaplain, I know God's got my back. If my house burns down, God still has my back."
He chooses to look on these days as an opportunity to share Christ.
"Everyone is frightened," Bender said. "Everything is different [in 2020]. As a Christian, it's an honor and humbling to be here."
Bender believes with the world in upheaval, people are questioning what is constant and true.
"Jesus said, 'I am the way, the truth and the life,'" Bender said, quoting John 14:6. "We have an opportunity to give light to the world and share God's truth, and people are listening because [the world] is so messed up now."
As people evacuate from fires to seek refuge, Bender is ready to tell people the peace they can find in Jesus Christ.
Are you able to rely on Jesus during difficult circumstances? Turn to Him today.