As her horses rested in the shade of lemon and live oak trees to escape the blazing afternoon sun in Perry, Florida, Bry invited Billy Graham Rapid Response Team (BG-RRT) chaplains onto her front porch.
She was excited to tell the chaplains about her family's miracle.
Just days before, Bry and her family decided to ride out Hurricane Idalia, a Category 3 storm that ravaged her small community.
Her brother, sister-in-law, niece, and nephew had taken shelter from Idalia's violent 125 mph winds in a home across town where they thought they would be protected.
As the storm progressed in the middle of the night, her elementary-age niece, Sarah,* left her bed to go to the bathroom. Moments later, a pine tree above the house broke and pierced through the roof and into her bedroom.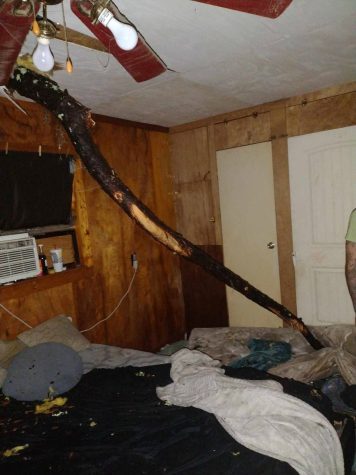 The tip of the tree ended up planted in Sarah's bed, directly where her head laid just minutes prior.
"That wasn't luck," Bry said, confident that God spared her niece's life for a reason. "Only God could do something like that."
She has been praying for Sarah and her family to know God for years—wanting them to experience freedom and hope through a relationship with God's Son, Jesus Christ.
"The peace that we have when we go through storms as Christians—they don't have that," Bry told the chaplains.
A decade ago, she didn't fully understand that peace. "[God] was the last thing on my mind then," the former drug addict said.
But in the midst of her addiction, God ultimately got ahold of her heart, and she surrendered her life to Him. "I threw the drugs down the toilet. That was a miracle," she said.
She hopes her family will experience the same miracle of salvation in the days to come.
Bowing their heads, chaplains Sheril Keeler and Kathy Stickney paused to pray for her family to have a relationship with the Lord. They're among eight chaplains serving in Perry, Florida. Two more chaplain teams are offering emotional and spiritual care in Pasco County, Florida, and Valdosta, Georgia.
Bry noted how God was faithful through the storm to both believers and unbelievers.
"He still takes care of us," Bry said, adding enthusiastically, "Now that's my God!"
'I Know My Time on Earth Is Short'
Surrounded by the hum of generators and chainsaws, Allen recounted how Hurricane Idalia swept through his property and home of 58 years.
"You could hear what sounded like a freight train coming," he told BG-RRT chaplains, describing the driving wind that sent raindrops flying horizontally.
"It just got to where you could see nothing but rain," he said. It took four days for cleanup crews to clear layers of debris on the road to his house.
Many pine trees in the surrounding area are slanted or snapped in two because of severe storm gusts, which left Allen's brother-in-law and sister-in-law homeless. Their disheveled trailer home sits torn apart and uninhabited in Allen's backyard.
His faith in God has helped him through the many storms in his life, including a two-year battle with stage 4 lung cancer and 12 rounds of chemo.
Thankful to be in remission, he realizes the brevity of life and the importance of "being ready" for eternity. The hurricane served as another reminder.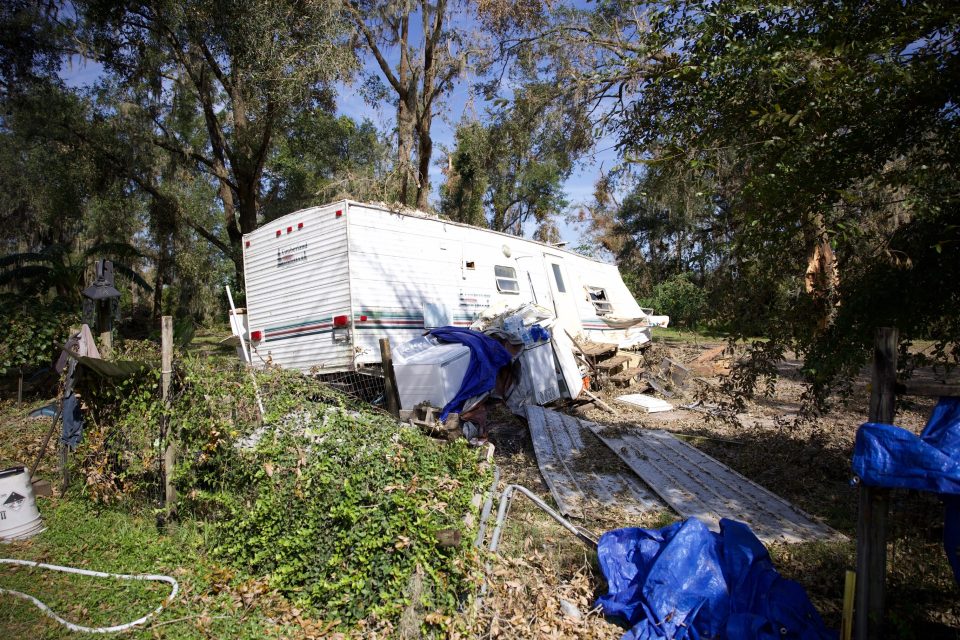 "I know my time on Earth is short. I want to be as close to God as I can," said Allen, who starts every morning with the Lord's Prayer and talks to God throughout the day.
Burdened for his wife and grandchildren who don't have a close relationship with God, he is hopeful his family will come to know Him.
"Pray for all my family," Allen asked of the chaplains. "There are a whole bunch of empty seats around me when I go to church. I want this [person] here and this one here."
As chaplains prayed for his family, tears filled his eyes.
Afterward, the chaplains passed along a Billy Graham Training Center Bible for Allen's wife, who didn't have a copy of God's Word. They also gave him a Billy Graham Evangelistic Association "Steps to Peace With God" booklet—which explains the Gospel—to equip him to share his faith with loved ones.
"I feel God's presence," Allen said. "He's brought people to me. He gave me help."
 *Name changed for privacy.