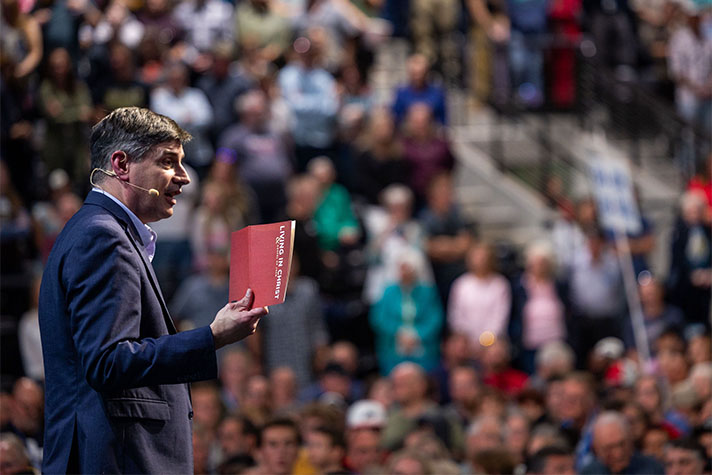 A brave 8-year-old girl stood up in front of her small church in the tiny town of American Falls—about an hour south of Idaho Falls—with an announcement on Sunday morning.
"I gave my life to Jesus last night!" she excitedly told those in attendance. Everything changed for her Saturday evening when she heard Will Graham share the Gospel during youth night of the Look Up Tour.
Todd Wood was there and started tearing up. As one of the local leaders who began praying for this tour back in 2019, the reality of its widespread impact welled up inside him.
"What's so great about this Look Up Tour is you can see the Gospel rippling out to the smallest places," Wood said. "She did exactly what Will Graham told her to do."
In just over 24 hours, Will Graham gave new believers the same assignment at the end of three different evangelistic events: Tell someone of your life-changing decision to accept Jesus Christ.
"I can't wait to hear the conversations in the coming weeks," Wood said.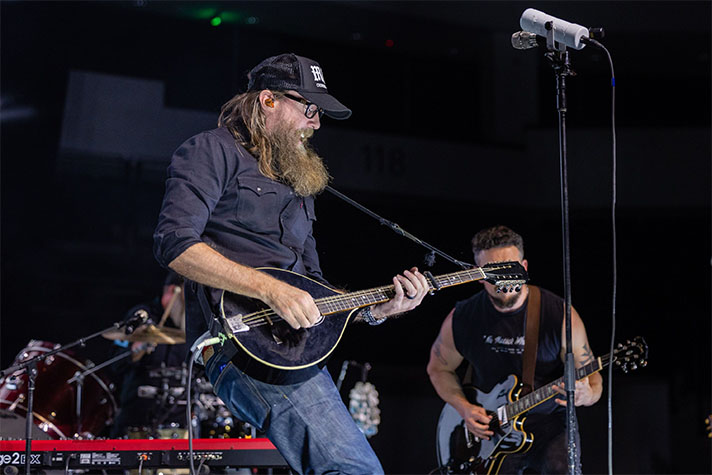 'Moving in a Mighty Way'
Believers from more than 100 churches—over two-thirds of the congregations in this area—came together for the two-day evangelistic event. In total, over 5,500 people heard the Gospel, and more than 500 people surrendered their lives to Jesus Christ.
"For those of you watching online, we're seeing a great response in Idaho Falls," Will Graham said to those tuning in to the livestream, where another 150 viewers indicated decisions for Christ. "God has been moving in a mighty way."
Here are some of the stories that came from inside Hero Arena at the Mountain America Center on Sunday night.
Families Stirred by the Gospel
In the span of three days last month, Priscilla lost her 15-year job and nearly lost her 12-year-old son to a fall from a tree that required multiple surgeries in Salt Lake City. Stuck in a "low and broken place," she accepted an invitation from her sister to the Look Up Tour.
In response to Will Graham's Gospel invitation, Priscilla walked to the front of the arena with her sons, Alex, 12, and Decklan, 8, who both gave their lives to Christ. Priscilla rededicated her life to the Lord after being away from church for years.
"I was hanging by a thread," she said. "But I feel God just pulled me through."
Another mother and her three elementary age children also went forward, looking for the peace they had never found before. Laura, a prayer counselor, spoke to the family about how to begin their new life with Christ.
"He was so eager and excited," Laura said of the 7-year-old boy.
Nearby, a family of five prayed to accept Christ as Lord and Savior, including two daughters—ages 6 and 13—and a 10-year-old son. Prayer counselor Debbie Davis described the experience as "tears-in-their-eyes" genuine.
"They were huddled together like a team," she said. "They were just so excited to be able to come together as a family to surrender to God."
A New Identity, a Fresh Start
A 42-year-old woman living out of her car came to the outreach at the invitation of a friend.
"I haven't really been around this kind of thing," she said after deciding to surrender to Jesus Christ.
The same evening, a 17-year-old girl struggling with her gender identity came to a crossroads. The teen repented of her sins and found true identity in Christ—along with her 12-year-old sister who also asked Jesus into her life.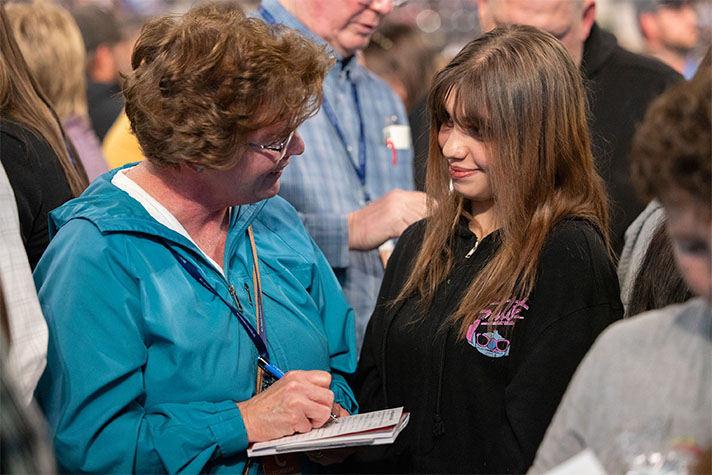 'That's What's Lacking'
Debbie Davis, one of more than 1,300 Idahoans who completed training on how to effectively share your faith, was excited about the Look Up Tour coming to Idaho Falls. The entire region is home to roughly 157,000.
"I'm just so appreciative that this ministry teaches the pastor and layman how to share the Gospel because that's what lacking in so many of our churches," said Davis, a pastor's wife. "We need to get off the pew and hit the pavement."
"We are so excited and thankful that the [Billy Graham Evangelistic Association] comes in and invests in our community."
Todd Wood, who recalls seeing Will Graham preach in Helena, Montana, echoed Davis' sentiment.
"I think this is the first time in eastern Idaho history to have this many churches working together," he said. "We're just so grateful for the BGEA to partner with us in our small town."
Recounting how God moved in so many people's hearts at all three weekend events, Wood was overwhelmed, especially after hearing the sweet girl's testimony in church that morning.
"Just for that one girl this morning, this was all worth it."