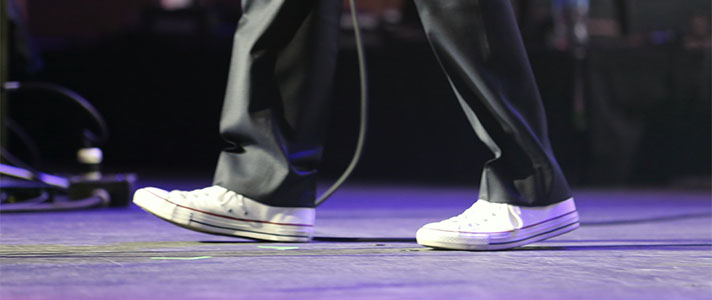 Q: What singer is standing in these sneakers?
A: Here's a clue: He's the artist who produced songs like "The Giving," "How to Say Goodbye" and "Hibernia."
Still nothing?
OK, well, you probably know his work from hits like "Healing Rain," "Agnus Dei," "Friends" and "Draw Me Close."
Yes, it's Michael W. Smith, whose relationship with the Billy Graham Evangelistic Association dates back to 1994, when he performed in the first unofficial youth night at a Billy Graham Crusade in Cleveland, Ohio.
For over two decades, he's been instrumental in bringing people to Christ at Crusades and Franklin Graham Festivals, including last weekend at the Greater Birmingham Festival of Hope (see shoes above).
If you missed last weekend's concert, don't worry. You can catch Michael W. Smith this Sunday anywhere around the world—on any computer or mobile device—streaming from the Oklahoma City Good News Festival.
Simply log into BillyGraham.org/Live, beginning at 4:30 (ET) Sunday.
Want a reminder? Join the Good News Festival Facebook group.
Watch Video: Check out Michael W. Smith singing "Agnus Dei" with a Spanish choir at the Barcelona Festival earlier this year.