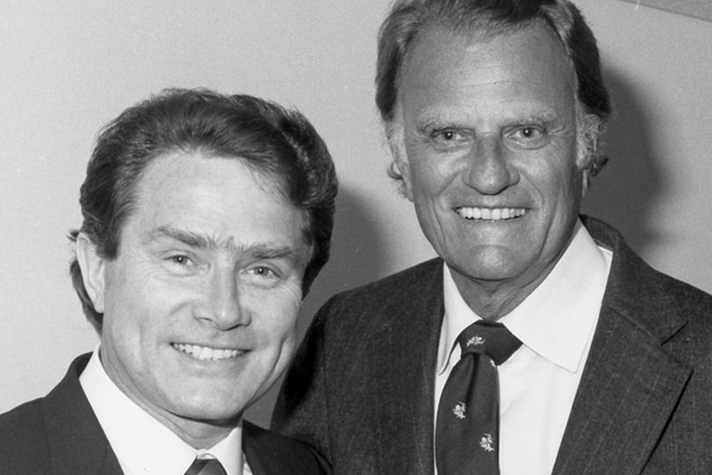 "We all have but one life. And of course, we never know when it will end. I pray that we all make the most of it." —Luis Palau
Discipleship has always been key to the Christian faith. Peter followed Jesus' footsteps. Timothy learned from Paul. And Luis Palau modeled his ministry after Billy Graham.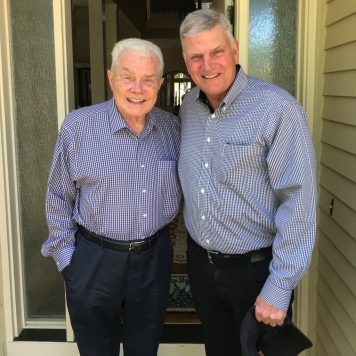 On Thursday morning, the Argentina-born evangelist passed away after battling lung cancer for more than three years. He was 86 years old.
"Luis was a passionate evangelist who faithfully preached the Gospel of Jesus Christ—His birth, His sacrificial death on the cross, His burial, and His resurrection," said Franklin Graham. "I thank God for his life and the example he set. Luis was a close friend of my father Billy Graham's throughout the years, and he was my friend as well. His voice will be greatly missed."
Will Graham also honored Palau in a Facebook post: "Luis Palau was one of the best communicators of the Gospel I have ever known. He had a humble spirit, a genuinely kind soul, a true servant's heart, a love for his Savior, and a deep passion for the lost. He was exactly the type of person that God delights in using for His Kingdom."
The Beginning of Luis Palau's Friendship With Billy Graham
A teenage Palau first heard Billy Graham preach on the radio in the 1950s. The brand-new Hour of Decision program sparked a passion for evangelism in the young man's heart, who was working at a bank in Córdoba, Argentina, at the time.
Ten years and one Bible degree later, Palau volunteered as a Spanish interpreter at Billy Graham's 1962 Crusade in Fresno, California. The pair sat across from each other at a team breakfast, and the 20-something Palau told the 40-something Graham about his dream of mimicking the citywide evangelistic model in Latin America.
That casual conversation was just the start of a decades-long mentorship.
"Billy Graham opened more doors for me than anybody in the world," Palau wrote when Mr. Graham died in 2018. "[He] always stayed in touch, writing me letters, affirming me, encouraging me, and giving me opportunities to preach."
As the Billy Graham Evangelistic Association (BGEA) held evangelistic events around the world, the Luis Palau Association did the same—particularly in Spanish-speaking countries. In total, Palau preached to an estimated 30 million people in 75 countries.
"We copied [Billy Graham] shamelessly in the early years," Palau once said. "I once told him that I had preached his sermons many times, which was true. Now my son Andrew preaches my sermons, and they're Mr. Graham's, too."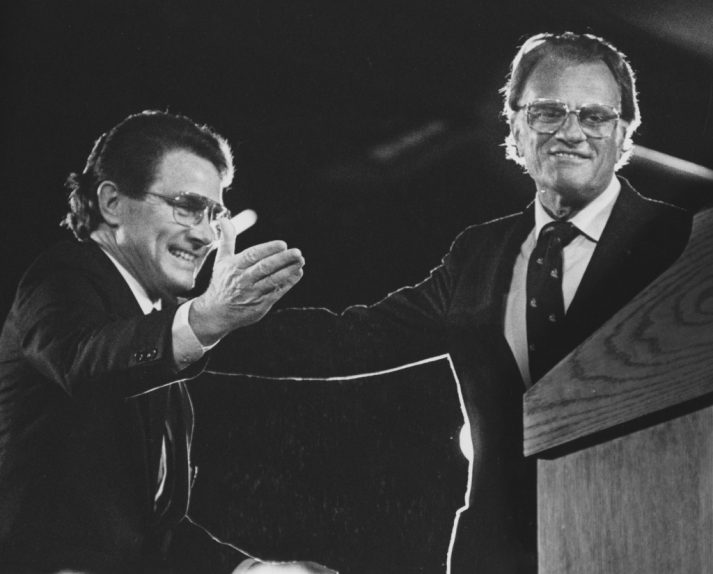 A Faithful Witness to the End
After a 2017 ministry trip to the United Kingdom, Palau's doctors discovered stage 4 lung cancer.
The 83-year-old evangelist publicly announced his diagnosis soon after, taking the opportunity to urge others to carry the Gospel message forward.
"As long as I have breath," he wrote, "I will preach. I will raise high the banner of Biblical evangelism. I will do my part. And I'm praying you continue to do yours, as well."
Over many months of cancer treatments, Palau inspired believers with his unwavering trust in God. And even though he's now in his heavenly home, the men and women who benefited from his ministry will pick up where he left off. The disciple became a disciple-maker.
>>Hear Luis Palau talk about his cancer battle with Billy Graham Radio in 2019.