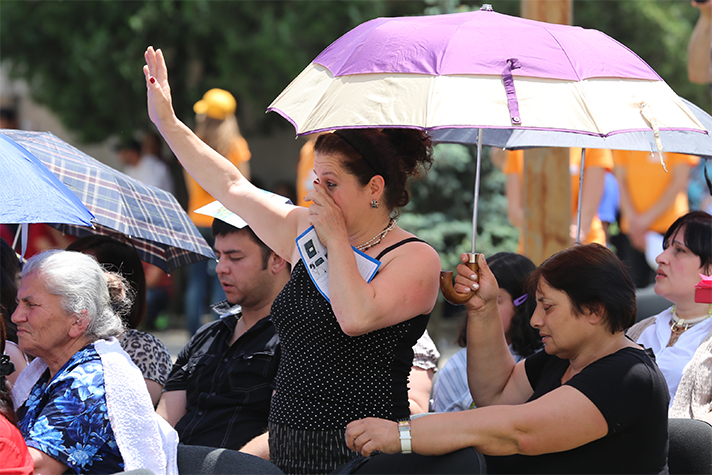 So many things about the Festival of Hope weekend raced through Natia Gabroshvili's mind and yet so few made sense.
As the twilight sky finally succumbed to pitch darkness in the church courtyard in Tbilisi, Georgia, Natia, 56, could only smile.
The Festival counselor had just led Katie, a 31-year-old Tbilisi woman, to Christ and for the first time in her 14 years as a believer she dared to talk about the possibility of "revival" in the country she grew up in.
Natia used the word "excited" at least a half dozen times. She talked about how for the second straight night the ominous clouds parted as the prayer team gathered and petitioned God to intervene.
She watched a Festival weekend that was supposed to be held in the spacious, easy-to-get-to downtown Sports Palace be forced out last-minute because of an early-morning Tuesday fire.
Yet, she was a witness to the power of God working in a place like Georgia.
She was there when more than 15,000 shoehorned their way into every nook and cranny of a church courtyard and inside overflow areas.
She heard Franklin Graham boldly proclaim the hope of Christ, asking the tough questions about eternity, night after night: "Are you willing to bet your life on it?" he asked Sunday night.
She saw him give an open invitation to follow Jesus, accepted by hundreds each night, reaching their hands high into the sky.
Finally, by Sunday night, she really understood the power of God.
"We had been praying for a year to go to the Sports Palace," Natia said. "But God had other plans. This is what He wanted.
"We've had so much resistance. But when you tell people you can't do something, they want to do it even more."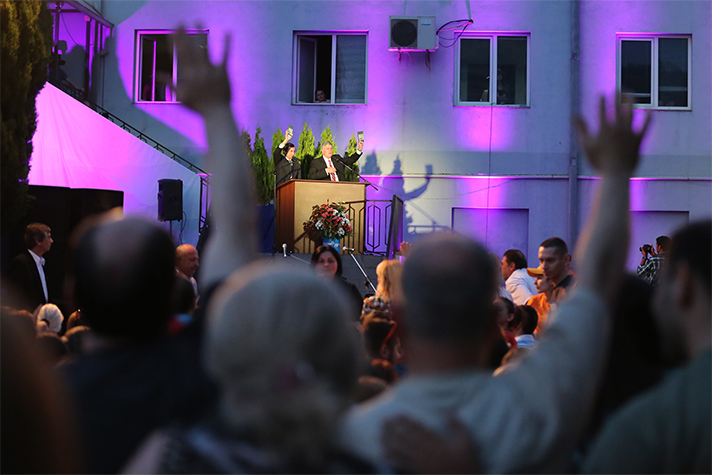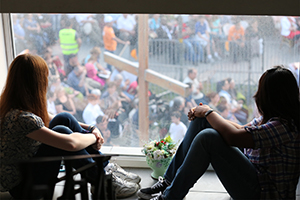 Many thought the disappointing venue change actually lit a fire under the 150 participating churches. With less than 36 hours notice to get the word out about the change of plans, the well-planned Festival of Hope turned into a grassroots effort. Suddenly, the city newspaper and TV stations were interested in this story, wanting to interview Franklin Graham.
"The media have told us there are strong and powerful forces working against us," Franklin Graham said. "Well, guess what, we've got a very strong and powerful God working for us."
And that was clear, not just from the overflowing crowds—packed in elbow-to-elbow in many places—but also from the response to the Good News. With a traditional invitation logistically impossible, Georgians were asked to stand and raise their hands if they wanted to make a decision to receive Christ.
In a country that's less than 1 percent evangelical Christian, having more than 1,000 indicated salvations was proof to Natia that indeed God is bigger than fires and rain.
"I felt God was with us," she said, before turning slightly melancholy. "I'm very sad it's already over. It only lasted three days. We need to have a Festival here every year."
Tell that to Festival director Vasily Gherasimciuc, who was finally breathing a sigh of relief Sunday night. Looking back, he can now see God's hand in all of this, and the move to the smaller courtyard venue turned out to be the final piece to solidify the churches.
"The fact that we held a Festival in this place," he said, looking around from the corner of the courtyard. "It really united the churches as one."
It's the 22nd year working on Crusades and Festivals for the Russian-speaking Gherasimciuc, whose first event was the 1992 Billy Graham Crusade in Moscow. But in some ways, he felt like it was his first all over this weekend.
"I saw many people with tears in their eyes, standing on their feet and waving their hands," he said. "And every time I witness that, I can't hold back my own tears."
SUNDAY AFTERNOON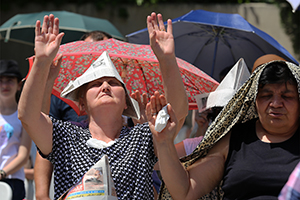 During a rare noon Festival service, a sweltering overhead sun and cloudless sky had people looking for shade anywhere they could find it. Many used their program or choir music. Some improvised, making hats out of newspaper.
But despite the heat, the Festival went on and it turned out to be a divine appointment for many, including Zaira, a 53-year-old woman from Tbilisi.
A friend from the local Word of Life church had been telling her about Jesus for some time, and as the Festival approached, she invited Zaira and even primed her on exactly how it was all going to shake down.
"She was prepared for what she was going to hear," said Lida, Zaira's counselor. "She said  'All the words from Franklin Graham seemed like they were meant for me.'"
Franklin Graham preached out of John 3 on the Pharisee Nicodemus, challenging people that religion alone won't save you. Ultimately, it was the hope of Jesus that made Zaira "decide to open my heart to God."
Lida left the Sunday afternoon event almost as excited as Zaira. "This is a great joy for me. I repented 22 years ago and I love to share in other people's joy."
For full coverage of the Festival of Hope, including photos, stories and videos, click here.
For information on the Warsaw Festival of Hope on June 14-15, click here.