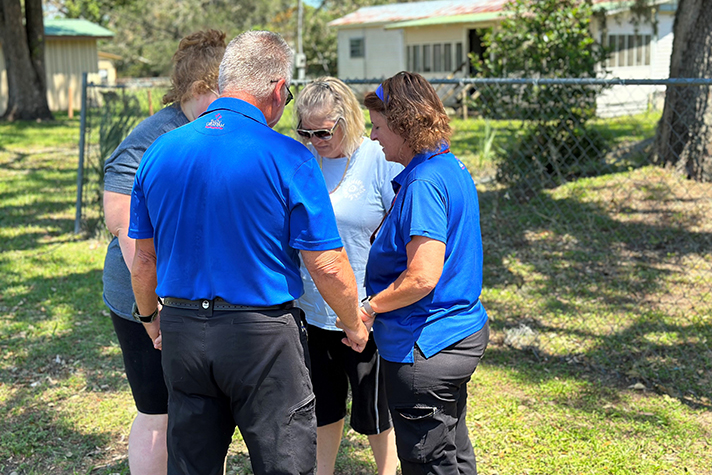 As the driving rain and forceful winds of Hurricane Idalia ravaged her neighborhood, Latricia Sadler could barely open the back door of the house she was sheltered in. The wind was so severe that she believes a tornado also swept through her street that night, ripping furniture out of a house a block away.
Six families rode out Idalia together, just down the street from her home.
Sadler has been checking in on her neighbors since the hurricane, trying to help any way she can. In fact, that is what she was doing on Wednesday morning when she decided to take a break and stop by her own home.
There, she spoke with Mike and Michelle Gawlinski, chaplains with the Billy Graham Rapid Response Team (BG-RRT), while her 14-year-old daughter, CarrieBeth, waited in the air conditioning of their truck.
The chaplains are deployed in the area to offer emotional and spiritual care in Jesus' Name to those affected by the hurricane.
"There were quite a few of us in there praying [the night of the hurricane]," Sadler said.
"[God] is giving me strength," she said as tears began to flow from her eyes, "and sending the right people."
The 125 mile-per-hour winds left Sadler's house—her late husband's childhood home—with tree limbs covering the roof and yard and water damage to the porch and spare bedroom.
"We don't have much," she said, sobbing as she pointed to the small, bright blue house sitting in the shade of a huge oak tree. "But this was our home."
The Gawlinskis prayed with Sadler as chainsaws buzzed and local power line crews worked in the background.
Afterward, Mike made his way to the nearby pickup truck to ask CarrieBeth how she was holding up. CarrieBeth opened up about her activities in her local church, adding that she believed these good deeds could save her from her sins and make her right with God.
Mike took her through "Steps to Peace with God"—the ministry's small booklet that shares how we can have a relationship with God through His Son Jesus Christ. He gently explained that there is nothing we can do to earn God's gift of salvation.
It was exactly what CarrieBeth needed to hear, and she prayed with Mike to repent of her sins and begin a relationship with Jesus Christ.
"You could call this a divine appointment," said Michelle as the foursome gathered to pray together, rejoicing over CarrieBeth's decision.
"It was all God's timing."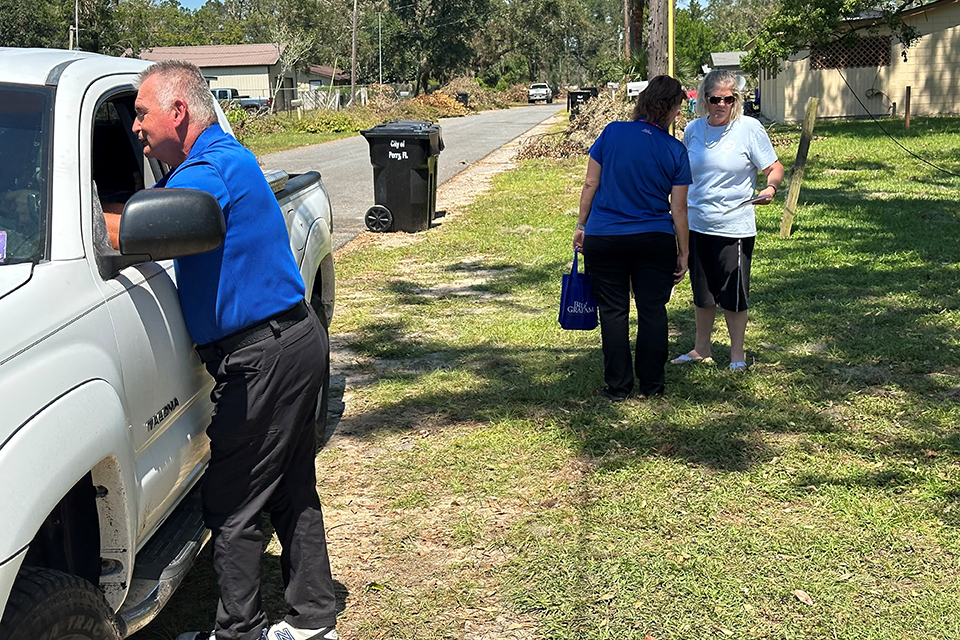 The Storm Before the Storm
Chaplains greeted a Pasco County, Florida, homeowner as she was cleaning debris outside her home.
She began to tell the chaplains about how she had asked God for help as she contemplated the enormity of the damage to her property. Shortly after, volunteer clean-up crews stopped in her driveway to see if she needed help.
She began to share how hopeless she was and told of other traumas that had happened in her life, including the death of her 5-month-old son. She explained she knew about God but didn't know how to connect with Him or ask Him to heal her pain and grief.
The chaplains told her of God's love and how He sent His Son Jesus Christ so that she could have a personal relationship with Him. When she heard God's plan of salvation, hope flooded her heart, and she prayed with the team to put her trust in Christ as her Savior.
Will you join us in praising God for these changed lives and continue to lift up all those still impacted by Hurricane Idalia? Please pray for strength as BG-RRT chaplains continue to minister there.