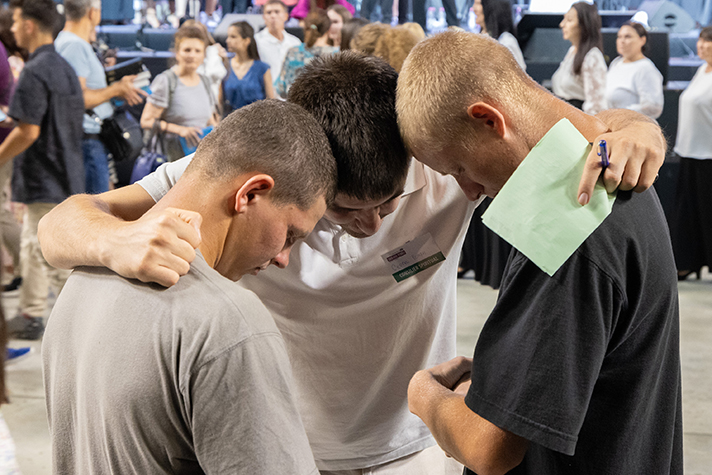 Fifteen-year-old Alexandru* was one of the first people to walk toward the stage when Will Graham invited those who wanted to commit their lives to Jesus Christ to come forward.
He held a tan baseball hat in both hands with his head bowed, standing still as a crowd grew around him.
Several minutes passed as people filled the space in front of the stage at Chișinău Arena on the second night of the Celebration of Hope in Moldova. Will Graham then led them in a prayer to ask for God's forgiveness and express their faith in His Son Jesus Christ.
Alexandru prayed along as the words were interpreted into Romanian, then into Russian.
"I feel very happy. I know God forgave me," he said afterwards.
>>See photos from the Celebration of Hope in Moldova.
The teen came to the event with his mother and sister. He said he goes to church but had never repented of his sins until tonight.
"I wanted to come home," he said.
The idea of returning home ran throughout Will Graham's message as he preached from Luke 15:11-24. It's a passage about a young man who left home and wasted his father's inheritance looking for fulfillment through extravagant living.
Once the money ran out, the man found himself alone, miserable, and far from home. He realized the reckless life he had pursued brought only emptiness and hopelessness—and he longed to return to his family.
While the prodigal was approaching home, his father spotted him from afar and ran to embrace his son, overjoyed to welcome him back.
"Tonight I'm asking you to come home to Jesus," Will Graham said. Only in Him can we be complete, content, and fulfilled, he explained.
"If you don't have that joy or that peace in your life tonight, you can have it."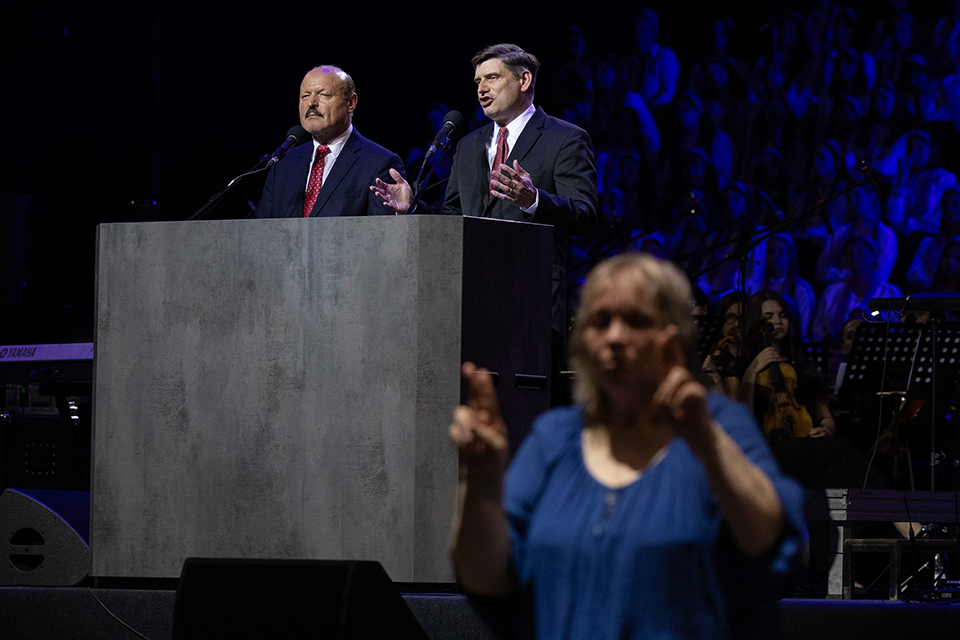 A husband, wife, and their teenage son were also among the crowd who walked forward and together they surrendered their hearts to Christ. Each received a Bible in Romanian. The wife described a feeling of freedom and said she wants this decision to influence every part of her family's life.
For another group in the crowd, no words were exchanged at all. They communicated instead through sign language.
Sixteen-year-old Stefan* was one of them. He sat in the front row throughout Sunday's Celebration, watching an interpreter share Will Graham's message through sign.
Stefan said he doesn't want sin to take root in his life but wants to live for God. He decided to renew his commitment to Jesus Christ and repeated Will Graham's prayer through sign language.
Over 19,000 people attended the two-day Celebration, with more than 1,100 of them making decisions for Jesus Christ. Pray for all those in Moldova like Alexandru and Stefan who made a decision for Christ—that their faith would grow stronger and impact generations. Will you also lift up local churches that will be discipling new believers?
*Names changed to protect privacy