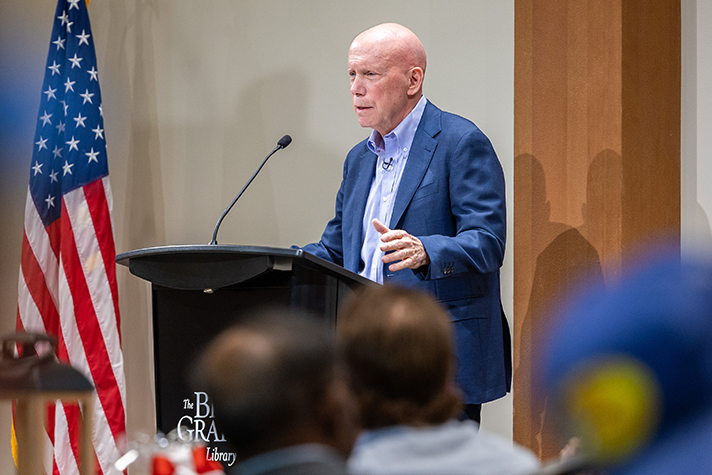 "I believe that one of the next great moves of God is going to be through the believers in the workplace." —Billy Graham
Frank Harrison wasn't sure what questions were going to be asked. But he wasn't expecting this.
Interviewed by a business magazine 15 years ago, he was caught flat-footed.
So much so, he still remembers it today.
"The two questions were, 'What is your purpose?' and 'What is the legacy you would like to leave?'" Harrison said.
Chairman and CEO of Coca-Cola's largest U.S. bottler, Harrison had been successful by most of the world's standards.
But purpose and legacy? He didn't have an answer.
"I asked them, 'Why did you ask me those questions?' and they said, 'Because we thought you would give us a good answer,'" Harrison said.
Today, purpose and legacy are the heart of his book, The Transformation Factor, and the essence of his talk on Wednesday afternoon at the Billy Graham Library's men's lunch.
"In your company, what are you going to be accountable for? For good? For growth?" Harrison asked. "Ultimately, it's for God."
More than 100 men filled the new Billy Kim Hall training room at the Library to hear Harrison's wisdom, a challenge to live boldly and generously in the workplace, and a simple Gospel message—all over a delicious lunch and, of course, a bottle of Coca-Cola.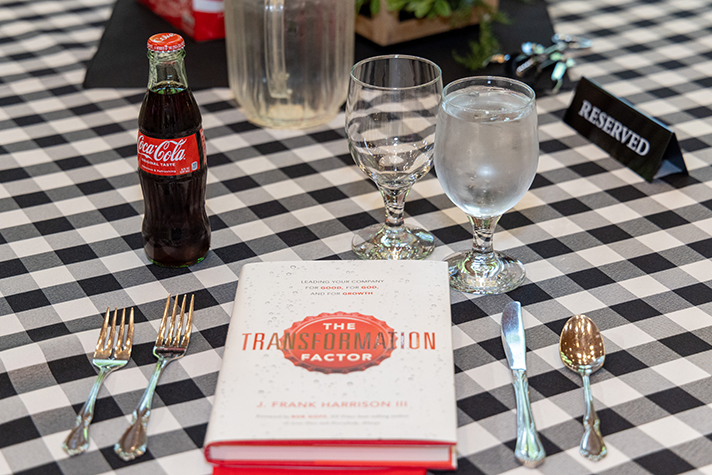 "I was recently talking to a friend who turned 90, and I asked him, 'If you died tomorrow, do you know where you would be?'" Harrison told the crowd. "He said, 'I have no idea.'"
Harrison shared how to live out your faith at work and closed with an invitation to receive Christ as your personal Savior after the group of men recited John 3:16 in unison.
"This is the boldness that God talks about in the Bible," said Keinde, who's originally from London, England, and now lives in Concord, North Carolina. "It's simple, real talk for real men. What good is your faith if you can't share it?"
Harrison also spent time talking about the legacy of his son, James, who died at the age of 27 in 2010 of natural causes while serving the Lord in Sudan. James was helping the poor and working with pastors in Africa through a ministry called With Open Eyes. He played a video that captured James' boldness.
"I was amazed by the purpose and legacy of James," Keinde said. "A father talking about the legacy of his son that's no longer here, that's huge. It's usually the other way around."
Harrison finished with a charge to the businessmen in attendance—not just to live boldly, but to think about how God could use them.
"Billy Graham basically said the next revival in America is going to be in the workplace," Harrison said. "And I believe he's right."
>> 4 Steps to Share Your Faith with Others