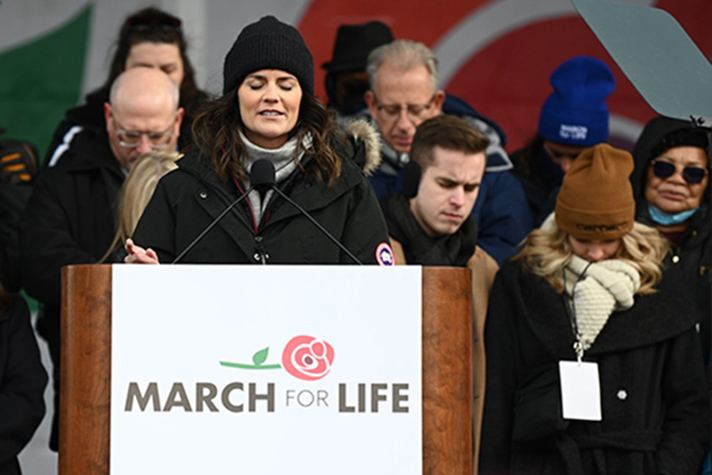 "I chose you before I formed you in the womb; I set you apart before you were born." —Jeremiah 1:5, HCSB
They came by bus, car, plane and train to walk less than two miles. From the National Mall to the steps of the U.S. Supreme Court, every step they took was for the children who never took one.
Friday, thousands of passionate pro-lifers converged on Washington, D.C., for the 49th annual March for Life. More than 62 million lives have been snuffed out since the 1973 Roe v. Wade ruling legalized abortion in all 50 states.
With the Washington monument as a backdrop for a pre-march rally, Cissie Graham Lynch prayed.
"Lord, we know you are the author and creator of all life, that you created us in your image. And we know as a nation that we have sinned. And we humble ourselves before you asking for forgiveness. …
"That we, the United States, sees value in every life and that we stand for all life."
On his Facebook page, Franklin Graham encouraged supporters to watch the March for Life and to pray along with his daughter, Cissie Graham Lynch.
My daughter Cissie Graham Lynch is at the 49th Annual March for Life in Washington, D.C., today, along with tens of thousands of people who care about defending the unborn. Cissie led in prayer at today's rally. Watch and join us in prayer…

More than 62 million babies have been killed through abortion in our nation since the 1973 Roe v Wade decision.

Posted by Franklin Graham on Friday, January 21, 2022
The mother of two stayed in D.C. after the march to speak at Saturday's second annual National Pro-Life Summit, a one-day training event for grassroots pro-life activists of all ages.
Another mother, Erin, brought 10-month-old Madeline along. "I think it's very special to bring her," Erin noted. "She's very precious to us, and we want to show how precious all babies are."
"Let's see those signs, come on, come on!" Christian artist Jordan St. Cyr called out during a pre-rally concert. Holding them high, students' signs read "I am the Post-Roe generation." Others' read "Equality Begins in the Womb," the theme for this year's March for Life.
This march is especially anticipatory, considering the pending Supreme Court case Dobbs v. Jackson Women's Health Organization could overturn Roe v. Wade, and also Planned Parenthood v. Casey. 
>>Read what happened in December's Supreme Court hearing for a potential landmark abortion case.
A recent pro-life victory in Texas that has encouraged pro-life advocates is a new law prohibiting mail-order abortion drugs.
March for Life rally speaker Kirk Cameron encouraged the crowd, which stood bundled up in layers, hats, scarves and hope. Known by many for his role in the 1980s sitcom "Growing Pains," the issue of life is personal to Cameron. His wife, Chelsea, and four of his children are adopted.
Cameron noted this wasn't just a one-day thing. "After this day is over, I want us all to remember to continue our marching orders that have been given to us by our Commander-in-Chief who lives in the heavenly places.
"And His executive orders trump all other executive orders. And the mandates from heaven remind us to do justly, to love mercy and walk humbly with our God."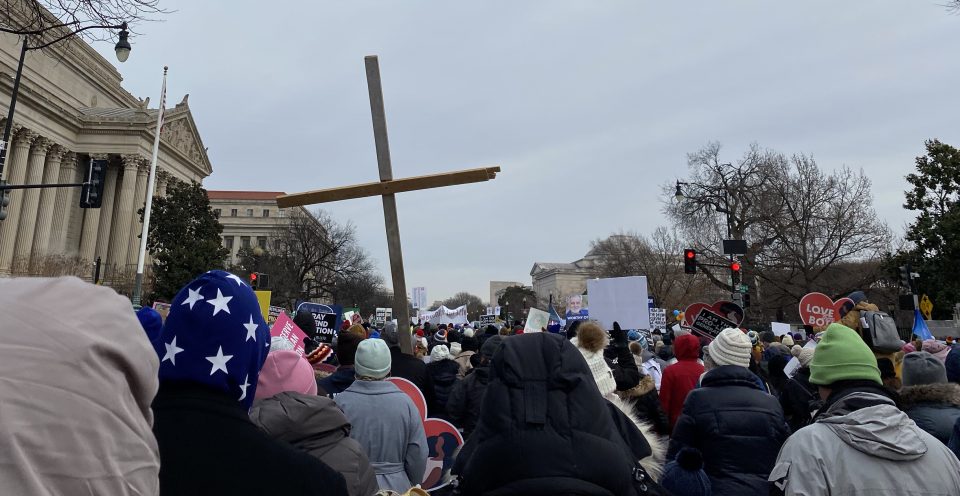 Katie Shaw has Down syndrome and spoke loud and clear as passionate students, moms, dads and others cheered her on.
"I believe equality for you, me and everyone started in the womb. It started the day of conception when God gave us our soul.
"Many people don't know that there's a waiting list for babies with Down syndrome to be adopted," she shared. "Yet, over 80 percent of babies with Down syndrome are not given the chance to be adopted. They are aborted and their equality ends."
This stat isn't the only disturbing one. Abortion was the leading cause of death worldwide last year, for the third year in a row, according to Worldometer. That's 42.6 million abortions in 2021.
As the largest human rights demonstration in the world ends today, will you continue praying with us for the upcoming Supreme Court decision expected this summer?
Do you know the Author of life? He loves you and will forgive you. Pray and trust Him with your heart and life.