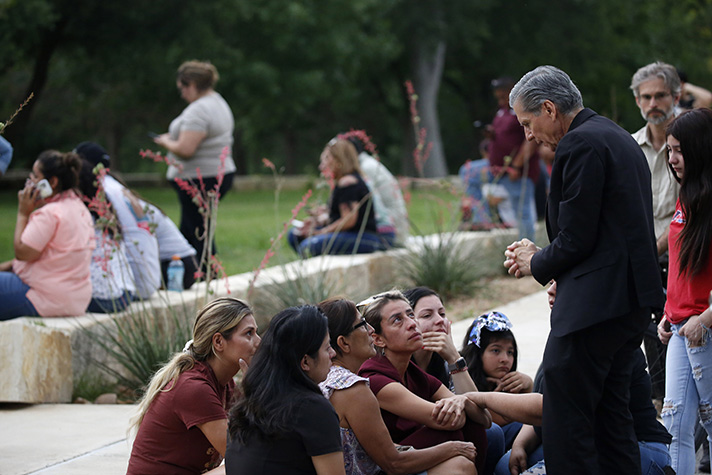 Billy Graham Rapid Response Team (BG-RRT) chaplains are in Uvalde, Texas, after a mass shooting at an elementary school. Uvalde is about 90 miles west of San Antonio, Texas.
According to the Texas Department of Public Safety, at least 19 children and two teachers are dead. Others—including two police officers—have been injured.
The suspect, a former student of the school, has also died. Texas Gov. Greg Abbott said the suspect shot his grandmother before the shooting rampage at Robb Elementary School.
"As a father of four young children, my heart is heavy to hear about this tragic mass shooting at an elementary school," said Josh Holland, international director of the BG-RRT. "We are sending our crisis-trained chaplains to comfort people, listen and cry with them, pray with them and share God's love with those who have been impacted by this horrific tragedy."
The BG-RRT's Mobile Ministry Center will be on hand as a quiet place where people can talk with chaplains.
"I have been to Uvalde and it is a wonderful community," Franklin Graham shared on social media. "Please continue to pray for all of the grieving families and this devastated city. … May God help, comfort, and sustain them as only He can."
It's been a busy season for chaplains both domestically and internationally. Teams recently deployed to Buffalo, New York, following a grocery store shooting—as well as South Dakota after a derecho devastated homes. Chaplains have shared the love of Christ in Oklahoma, North Carolina and Illinois following tornadoes. And dozens of chaplains are on the ground in Ukraine and Poland, ministering to those fleeing conflict.
Please join us in praying for the parents and family members of those killed and wounded in Uvalde, Texas.