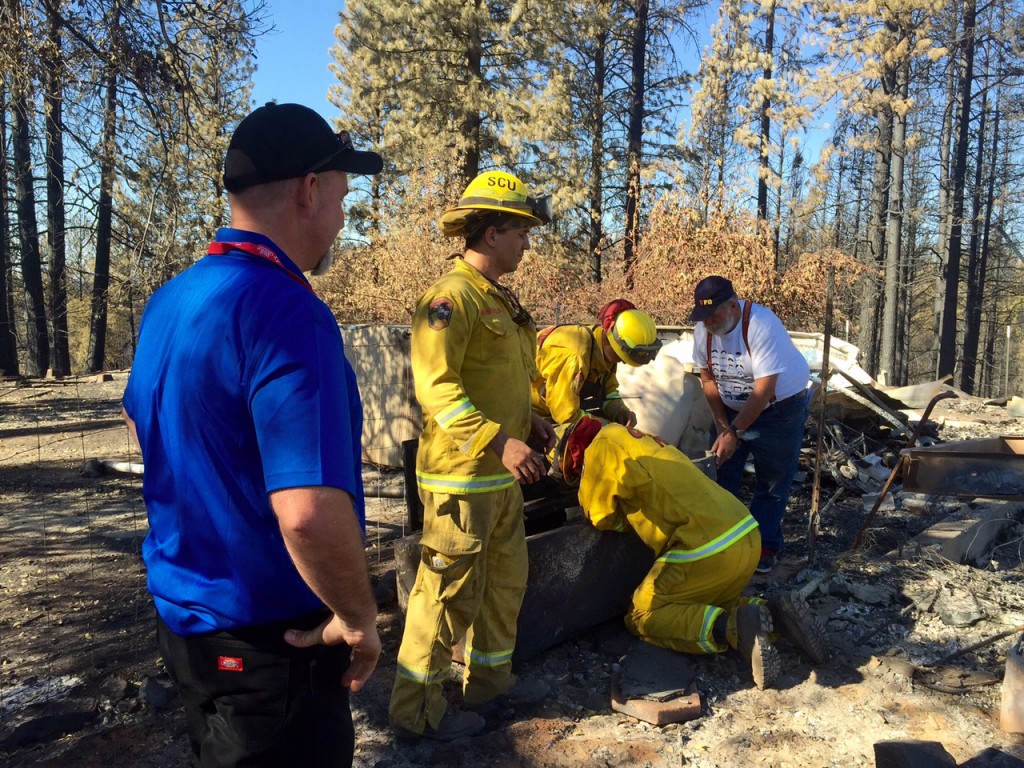 Two weeks after deadly wildfires broke out across central California, two teams of chaplains are ministering to residents, many of whom are newly homeless. The chaplains are asking believers to keep praying as people begin the difficult process of seeing their damaged or destroyed homes and figuring out what's next.
Valley Fire
When the Valley Fire broke out around 1:30 p.m. on Sept. 12, residents didn't know how little time they had to escape.
"By 4:00, that fire had spread, and people were fleeing for their lives just to keep ahead of the fire," Judy Tefft said. "It was really stuff that a movie is made of."
Judy and her husband Bob, who live in Michigan, are leading the team of Billy Graham Rapid Response Team chaplains ministering in and around Middletown, California.
Since the fire broke out, four people have died. Close to 2,000 structures, including hundreds of homes, have burned, making the Valley Fire the third most destructive in California history.
The Teffts have been in California almost a week, establishing a ministry of presence and prayer for displaced residents. A team of eight crisis-trained chaplains have been visiting shelters and resource centers to connect with people who are suffering. The next step is to work alongside sister ministry Samaritan's Purse at the sites of damaged homes.
"What they say is unusual here is the wind direction changed at the drop of a hat," Judy said. "It would curl around one way and then suddenly turn and go another way. It was just erratic.
"The residents could not predict where it was going next. You'll see home upon home just burned to ashes, and right next to it a house perfectly intact. There's no rhyme or reason to the residents of why some stand and some don't. These residents are standing and staring and saying, 'I don't get it.'"
The chaplains are praying God will use them to bring hope and peace into a situation that has been chaotic and difficult to understand.
"I want them so badly to find the Lord, because He's going to be moving in their lives in ways they would never expect," Judy said. "That's my cry for these folks. They're sheep without a shepherd."
How You Can Pray
For open hearts in an area where many are spiritually minded but don't know Christ
For word to spread about the free services Samaritan's Purse and Rapid Response Team chaplains can offer residents
For God's supernatural comfort and peace, especially for those who lost loved ones or homes
Butte Fire
About 150 miles southeast of the Valley Fire, the Butte Fire has killed two people and destroyed nearly 500 homes.
Jim and Sandy Giannestras traveled more than 400 miles from their Southern California home to lead a team of 11 chaplains ministering in the area of the Butte Fire.
So far, the crisis-trained chaplain team has prayed with more than 100 people.
"We have had tremendous ministry with people," Jim Giannestras said. "Even the strong believers here have been stunned by the magnitude of what's happened."
Jim said many residents have lost not only their homes but their livelihoods, as businesses, vineyards and small farms were destroyed alongside homes. Chaplains have also come across people who were already dealing with crises or major health issues before the fire.
"We've visited people in the hospital, and while they were in the hospital or having surgery they lost their home," Jim said.
One woman he and his wife Sandy prayed with has a long recovery ahead but said she takes comfort knowing Samaritan's Purse (SP) teams are working on her burned home while she's in the hospital.
"She said it gives her the ability to rest knowing things are taken care of at home with SP on the property. She said, 'I'm just not worried; I'm at peace,'" Sandy said.
"It's incredible to see God work in people who have lost so much, to be thanking us for coming alongside them just to spend time with them to hear their story," Jim said. "We can't do everything to make it all better, but our presence here in the community is touching lives, and—these are their words—giving them peace and rest to know they're not alone."
How You Can Pray
For hope and comfort for those who have lost homes and loved ones
For churches to take care of members who lost homes and to reach out to the community
For chaplains to have continued favor with local officials