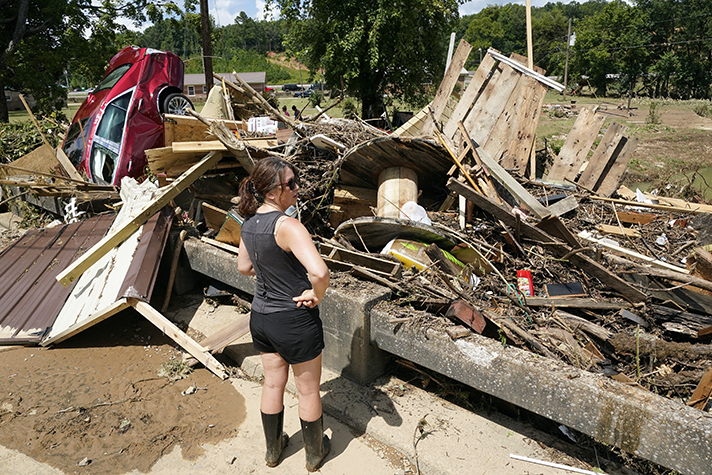 Catastrophic flooding over the weekend has left Middle Tennessee devastated. Now, Billy Graham Rapid Response Team (BG-RRT) chaplains are serving in the area to help comfort those affected.
News reports say at least 21 people were killed after more than a foot of rain fell in just hours on Saturday, causing a creek to overflow into the town of Waverly, Tennessee. With dozens missing across Humphreys County and surrounding areas, frantic search and rescue efforts are still underway.
Billy Graham Rapid Response Team (BG-RRT) chaplains started arriving yesterday to work alongside Samaritan's Purse in ministering to residents and helping them pick up the pieces. In addition, the BG-RRT Mobile Ministry Center will also be set up as a space people can come to and meet with chaplains.
"As we see the devastation and learn of the many lives lost due to flooding in Tennessee, our hearts are broken for those who have had great loss," said BG-RRT International Director Jack Munday. "Our crisis-trained chaplains will be there in the midst of this tragedy to provide emotional and spiritual care as the area grieves and begins the recovery process."
A major disaster declaration has been approved by President Joe Biden, offering federal aid to help with recovery efforts in Humphreys County.
Much of Middle Tennessee is made up of rural towns where infrastructure isn't as established as what you would typically see in bigger cities. This likely means a long recovery ahead. A state of emergency was issued for Dickson, Hickman, Houston and Humphreys counties.
Recovery will also go beyond physical rebuilding. To watch floodwaters rise outside your window is a daunting experience. One resident described it as a "tidal wave" coming over her yard.
No doubt, so many have lost so much. This is where BG-RRT chaplains will step in to offer the emotional care people will need in this difficult time. Please join in praying for all affected by these devastating flash floods, as well as for first responders now placing their attention on rescue efforts.