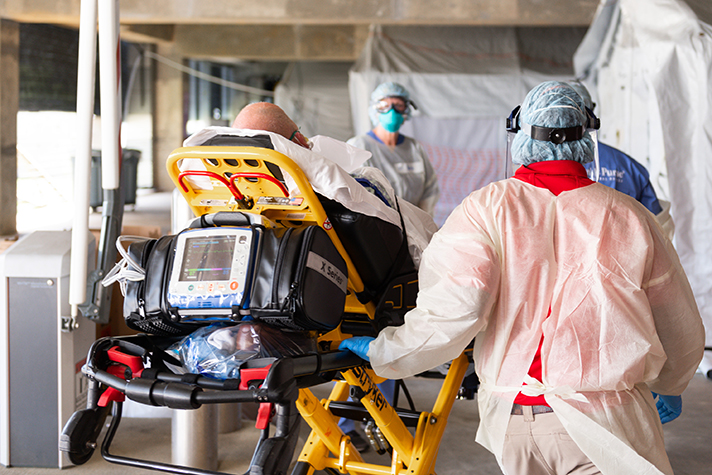 Crisis-trained chaplains from the Billy Graham Rapid Response Team (BG-RRT) are ministering in Jackson, Mississippi, after the state hit a record-breaking number of COVID cases.
With over 5,000 new cases being reported daily statewide—most from the Delta variant—much of Mississippi has been battling the virus. According to news reports, residents between the ages of 25 and 39 are most affected.
"In the state of Mississippi, they are getting hammered by the coronavirus," said Edward Graham, assistant to the vice president of Programs and Government Relations for Samaritan's Purse. "There are no ICU beds in the entire state. I ask that you pray for these patients as we provide the best medical care and also the love of Jesus Christ."
Billy Graham chaplains arrived Wednesday, August 18, at an emergency field hospital set up by Samaritan's Purse DART (Disaster Assistance Response Team) on the campus of the University of Mississippi Medical Center—the only Level 1 trauma center in the state. This hospital includes as many as five ICU patients and 27 non-ICU patients.
Available to offer comfort and prayer to isolated hospital patients and overwhelmed staff, Billy Graham chaplains are providing a hand to hold and a voice of encouragement.
"We are grateful for the opportunities that God has given us over the past year-and-a-half to minister to communities impacted by COVID-19," said Franklin Graham, president of Billy Graham Evangelistic Association and Samaritan's Purse.
"Please join me in praying for our medical team as they work to meet the physical needs of coronavirus patients in Mississippi and serve in Jesus' Name."
While the world has fought through the pandemic, the Rapid Response Team has been involved in ministry alongside Samaritan's Purse to minister at field hospitals in Italy, New York, California, the Bahamas and North Carolina since last spring.
Please be in prayer for all those battling the Delta variant, worried families and weary hospital staff.