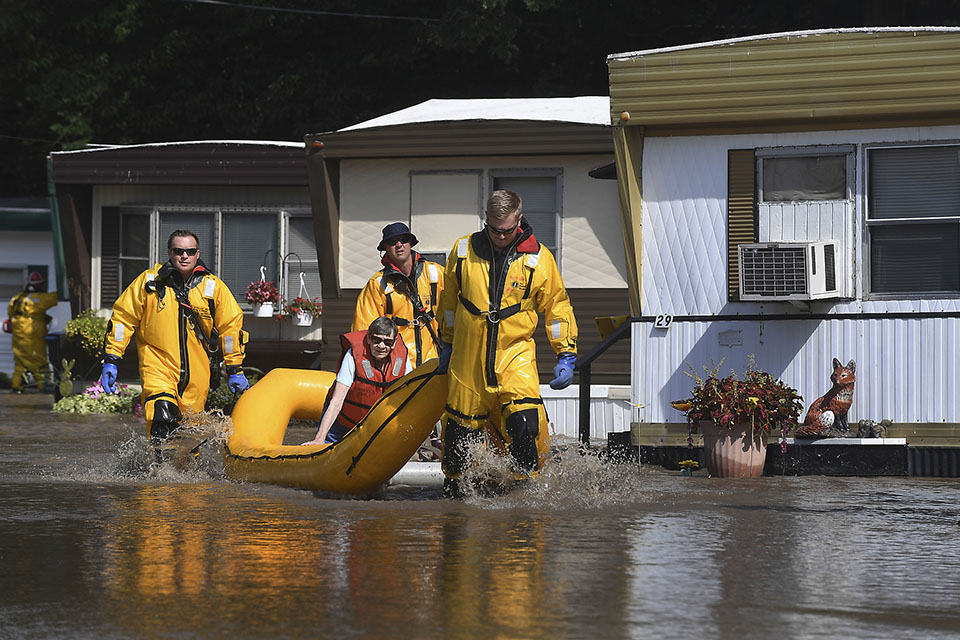 The Billy Graham Rapid Response Team has deployed to Southeastern Wisconsin, where devastating flooding has washed out roads in Kenosha, Racine and Walworth counties.
Crisis-trained chaplains are ministering alongside Samaritan's Purse volunteers and brought the Rapid Response Team's Mobile Ministry Center to the area.
"As the floodwaters rose, so did the levels of despair and hopelessness in the hearts of many families in the area," said Jack Munday, international director of the Billy Graham Rapid Response Team. "In the coming days, as they're allowed back into their homes, many will find themselves dragging everything they own to the curb—soggy, moldy and unsalvageable. Our desire is to offer God's hope and encouragement as they journey through this crisis."
Nearly eight inches of rain fell on the three neighboring Wisconsin counties on July 11 and 12, prompting the Fox River to crest to a new historic level of 16.1 feet. Official reports indicate the river is receding six inches daily, but a forecast of additional rain and thunderstorms leaves the area in a precarious place.
This is the second flood deployment for the Rapid Response Team in 2017 and the sixth time this year the chaplains have responded in the wake of natural disaster. Earlier this year, the team deployed to minister after tornadoes sliced through Albany, Georgia; Durant, Mississippi, Forrest City, Mississippi; and New Orleans, Louisiana. Chaplains also ministered in Ripley County, Missouri, after devastating flooding in May.
The Billy Graham Rapid Response Team is an international ministry of crisis-trained chaplains ready to deploy at a moment's notice to natural and man-made disasters. Since its inception in the wake of 9/11, hundreds of chaplains have had the honor of praying with hundreds of thousands of people worldwide, all in the name of Jesus.
Please keep all affected by the flooding in your prayers, particularly the first responders and the volunteers who are responding.
Want to partner with the Rapid Response Team? Your gift will help send crisis-trained chaplains to share God's love when tragedy strikes.