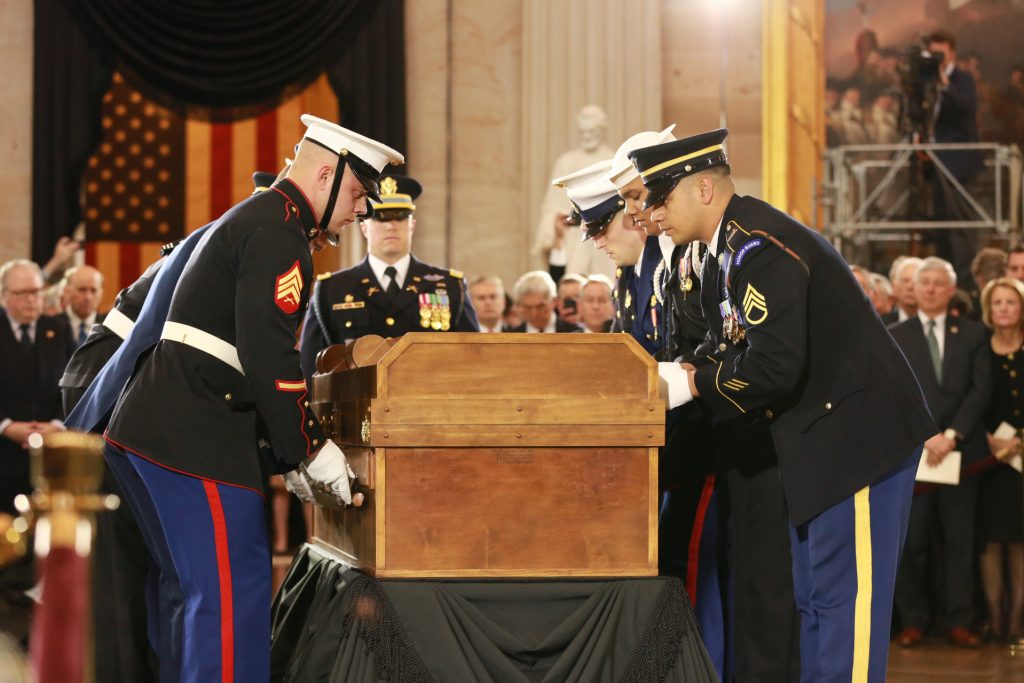 A little over 24 hours after Billy Graham's death, the U.S. Speaker of the House announced Mr. Graham's body will lie in honor in the Capitol Rotunda.
Today, the Capitol Rotunda is open to the public from approximately 1 p.m. to 8 p.m. The lying in honor period will end at 10 a.m. on Thursday, March 1.
>> Read more details about Billy Graham's memorial events, including lying in honor in Washington.
>> Can't make it to the Capitol? Watch live on Billy Graham's memorial website.
House Speaker Paul Ryan and Senate Majority Leader Mitch McConnell sent a letter to Billy Graham's oldest son, Franklin Graham, formally asking for his approval of this rare honor.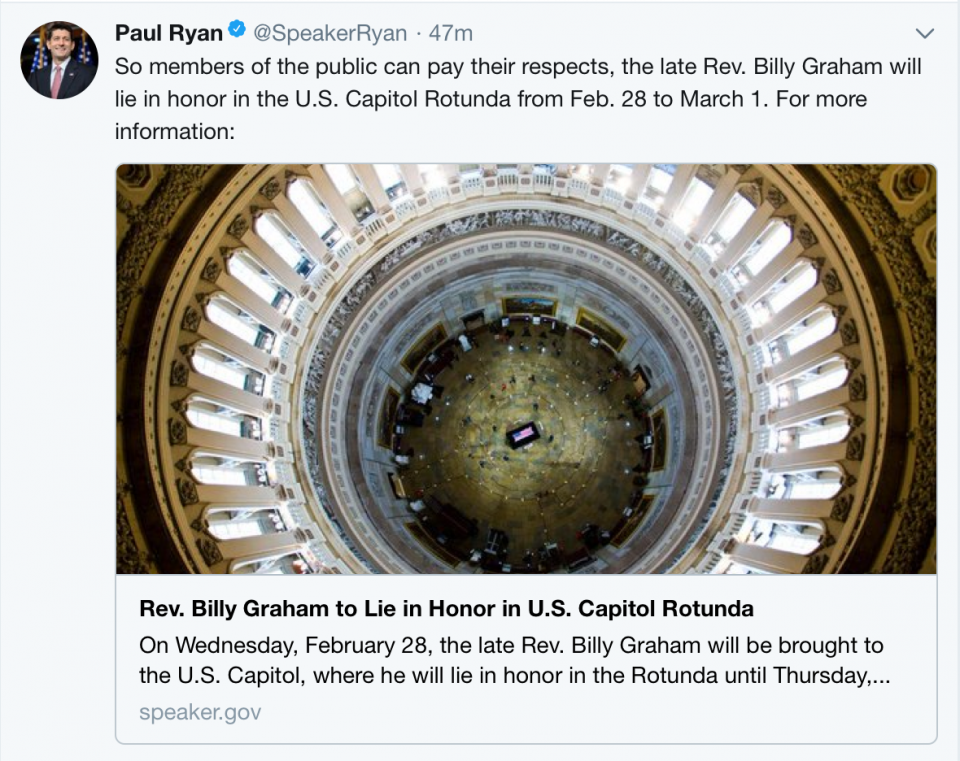 "Congress joins the American people in expressing our sincerest condolences to you on the passing of the Rev. Billy Graham," they wrote.
"In recognition of Rev. Graham's long and distinguished service to the nation, it is our intention to ask the House of Representatives and the Senate to permit that his remains lie in honor in the Rotunda of the Capitol. With your approval, we will move forward with these arrangements, so that Americans have this opportunity to pay their respects to Rev. Graham before he is laid to rest."
The tradition of lying in honor (in the case of private citizens) and lying in state (for members of the government) dates back to 1852. Since then, only 31 individuals, including 11 U.S. presidents, have been chosen to be honored in such a way. Billy Graham became the 34th overall, and only the fourth private citizen to receive this distinction. He joined a legendary list that includes Abraham Lincoln, John F. Kennedy and Rosa Parks.
Those who visit the Capitol Rotunda to honor Mr. Graham today and March 1 will see a simple pine plywood casket made by inmates at the Louisiana State Penitentiary at Angola, Louisiana. The casket has a wooden cross nailed on top.
It seems appropriate that Mr. Graham's pine plywood casket is supported catafalque (platform) draped with a black cloth.
Speaker Ryan's statement about the plans to honor Mr. Graham in Washington, D.C., included the following description of his life:
Rev. Billy Graham was an American evangelist and minister, internationally known for his devout faith, inherent humility, and inclusive nature.
Born in 1918, he spread the gospel in 185 countries during his 99 years on Earth, touching the lives of many and forever changing the course of the world's spiritual health.
He served as an advisor to 12 consecutive U.S. presidents and reached millions more through radio, television, and film. Rev. Graham is survived by his five children and multiple grand- and great-grandchildren, fellow North Carolinians, and brothers and sisters in Jesus Christ.
>> Visit Billy Graham's memorial website for continuous streaming coverage, updates on memorial events and to express your memories and condolences.