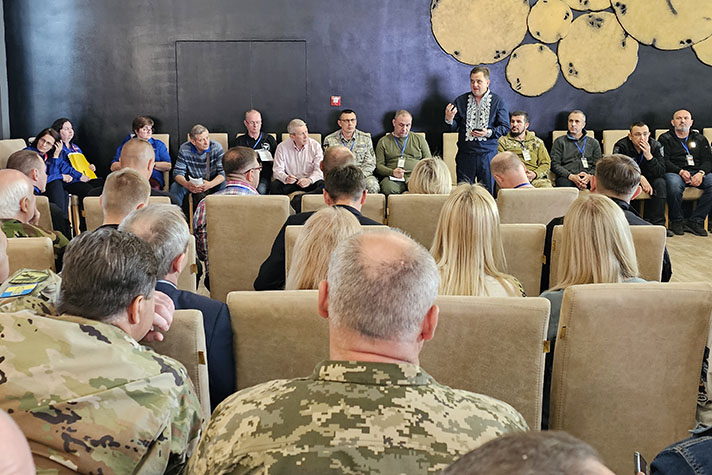 The solemnness and reality of war is evident in Ukraine.
Church bells haven't rung in over a year. Lights flash silently as emergency vehicles drive through the streets, their sirens hushed to avoid falsely alarming tense citizens of incoming fire. With no aircraft except fighter jets allowed in the air space, travel into and within the country is difficult.
Earlier this month, a group of Billy Graham Rapid Response Team (BG-RRT) chaplains helped lead a conference—aptly named You Are Not Alone—in western Ukraine, drawing hundreds of chaplains from around the country for a three-day training on ministering to their hurting, war-weary communities.
On the last leg of their trip—a 12-hour ride from Kraków, Poland, to the conference destination—BG-RRT chaplains encountered multiple military checkpoints, reminding them that these are not normal times.
Scott Holmquist, BG-RRT's deputy director of chaplain development and support, remembers being abruptly awakened at 2:20 a.m. one morning in Ukraine by the roar of a drone strike.
There's always anticipation of a future attack, leaving people mentally exhausted and on high alert. Vitaliy, a BG-RRT coordinator in Ukraine, and his wife, Maria, take turns sleeping at night so that one of them is ready in case of an attack. He said their children are stressed from having to evacuate to the basement when sirens go off at school.
"Everybody in the country has been impacted," explained Josh Holland, international director for BG-RRT, after returning from the You Are Not Alone conference. "It's very somber there."
Government officials who would normally wear a suit and tie have been wearing military uniforms, signaling a time of war in their country. At various checkpoints, Ukrainian men ages 18-60 could be drafted into the military and unable to leave the country.
BG-RRT chaplain Jo Rozier served as a U.S. Marine and is hyperaware of his surroundings while ministering in Ukraine. In one area, he was close enough to hear the fighting.
His wife, Susan, an Air Force veteran, said some parts of the country may look untouched by conflict, but there's always a threat. "While it looks on the surface that everything is normal, it's not," she said.
During the conference, one young Ukrainian chaplain shared that he and his wife lived close to the front lines. They were forced to leave the area, and now soldiers are housed in the apartment they were renting. The couple doesn't know if they'll ever get to return home.
Yet, in the midst of this darkness, God is moving.
BG-RRT chaplains agree that bringing hundreds of fellow chaplains from various organizations safely to the same destination in Ukraine is evidence of the Lord at work.
"To have a chaplain conference in a country at war is pretty unusual," said Holland.
Over three days, more than 350 chaplains were encouraged and spiritually refreshed, and many expressed time after time their gratitude for a training like this.
Realizing the positive impact of these sessions, some officials have asked for more chaplain training in their respective government departments.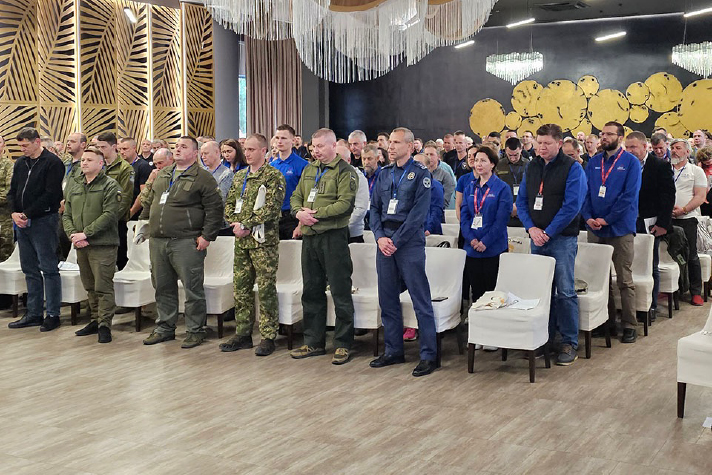 The recent training sessions focused on the truth of 1 Corinthians 15:58, which says, "Therefore, my beloved brethren, be steadfast, immovable, always abounding in the work of the Lord, knowing that your labor is not in vain in the Lord" (NKJV).
Vitaliy said he's thankful that chaplains who attended the conference can now "join forces and will be able to help others even more effectively."
Another chaplain, Mykhailo, made the trip all the way across the country to attend the conference, which ended one day before his wedding. He said it's helpful for chaplains like himself to know "they are not just by themselves [doing ministry]" and that he's "blown away" by all the people in the United States who are praying for his country.
One conference speaker, Diana, spoke of how she lost her husband, Anatoly, who was killed in an explosion while helping people evacuate out of Kyiv. She talked about the Lord's faithfulness, even in loss, and shared the most helpful ways that other people supported her in her grief.
During his time in Ukraine, one BGEA chaplain accompanied another chaplain to the home of Olena,* a recently widowed mother of seven. Her husband was killed while trying to get civilians out of a dangerous area of Ukraine. His vehicle was riddled with bullets and set on fire by enemy forces.
"He always kept his word, and if he could, he would help the whole world," Olena shared in an online post. "Now the duties of the main man in our family have been taken over by the eldest son."
Chaplains spent time with this devastated family, prayed with them, and simply let them know they are not alone.
As you pray for Ukraine, please remember these specific requests:
Pray for strength, stamina, and protection as people live in the midst of pain, suffering, and sleepless nights, under constant threat of attack.
Pray that chaplains would not grow weary in ministry, but would persevere in the joy and peace of Christ.
Pray that God will draw many to faith in Jesus Christ as the chaplains minister.
*Names changed for privacy