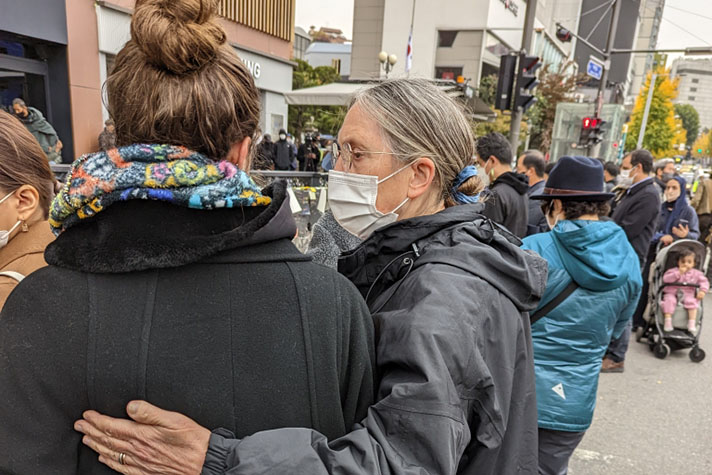 Billy Graham Rapid Response Team (BG-RRT) chaplains are ministering in Seoul after more than 150 people were killed in a crowd crush during Halloween festivities Saturday night. The catastrophe made international headlines and is one of the deadliest accidents in South Korea's recent history.
"This is such a horrible tragedy," said Josh Holland, international director of the BG-RRT. "Our hearts are heavy to hear about what happened. … We are sending our crisis-trained chaplains to comfort, pray with, and share God's love with those who have been impacted by this horrific disaster."
In recent years, the trendy, multicultural Itaewon neighborhood has become known for its massive Halloween celebration, drawing tens of thousands of young people, most in their 20s and 30s. On Saturday, partygoers flooded the narrow streets and alleyways, crushing hundreds of people who couldn't escape the pressing crowd. According to reports, at least 130 people were also injured. South Korean President Yoon Suk-yeol declared a period of national mourning through Nov. 5.
Two chaplains from Australia who are currently living in Seoul are offering a listening ear and prayer to shocked and grieving people in the Itaewon neighborhood, an area that's normally one of the most colorful and vibrant in the city, but is now marked by striking silence. The vast majority of the dozens at a memorial site are young people clearly in distress, wiping silent tears and with heads bowed in grief.
One chaplain had a long conversation with a young, German tourist who was at the scene of the tragedy. As a nurse he tried desperately to save lives, only to fail. "I still hear them screaming," he said. "I couldn't do anything."
Nearby, another young man was weeping uncontrollably. In conversation, the chaplain learned he was a student who lost three friends right in front of him. He could not speak of what he saw and heard. The chaplain offered tissues and stayed alongside for conversation and a prayer. The next morning, the young man texted, "Thanks to you, I slept well last night…."
In the coming days, the chaplains will continue to offer a ministry of presence to those in the Itaewon neighborhood.
Please pray for the thousands of people impacted by this crisis over the weekend, as well as chaplains who are offering emotional and spiritual care amid deep pain and loss.