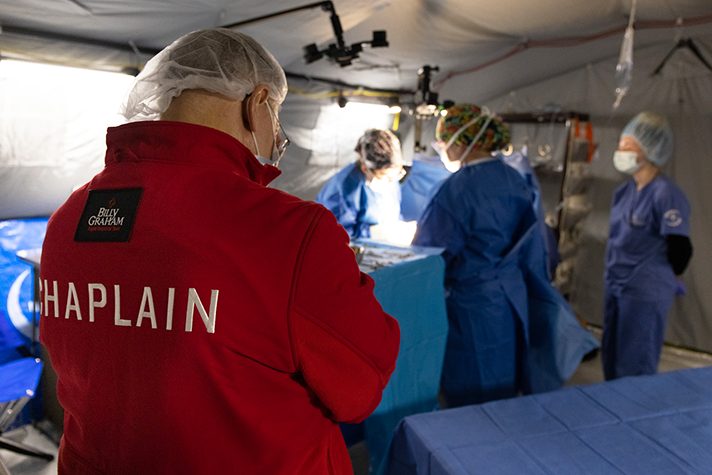 With more than 3 million Ukrainians residing in Poland after fleeing their homeland, crisis-trained chaplains from the Billy Graham Rapid Response Team (BG-RRT) are at a refugee camp near Warsaw to help those facing conflict.
"The refugees who are coming over to Poland are traumatized. After being there in Ukraine, I don't think I'll ever be the same after seeing how desperate and broken people are," said BG-RRT's International Director Josh Holland, who helped with relief efforts in Lviv in early March.
>> Get an inside look at chaplains' ministry in Ukraine.
"I came back with a passion that God could use the BG-RRT ministry to reach more refugees. We are sending chaplains to Poland to cry with them, comfort them, pray with them and let them know God loves them and has not forgotten about them."
Billy Graham chaplains are working alongside sister ministry Samaritan's Purse at the refugee camp.
Shortly after the conflict began, dozens of BG-RRT chaplains began ministering in three cities in Ukraine, including at a Samaritan's Purse Emergency Field Hospital and medical clinics. Our U.S. chaplains have not just shared the loved of Christ with locals, but also have trained over 100 Ukrainians to become chaplains.
The Billy Graham Evangelistic Association recently launched a free, online video series called "God's Hope in Crisis" to help Ukrainians navigate trauma.
As chaplains continue to serve in Ukraine, the BG-RRT is eager to help those who may be outside of danger in Poland but are still processing all they've faced—and grieving the loss of loved ones.
Please be in prayer for Ukraine and Billy Graham chaplains serving in Eastern Europe.