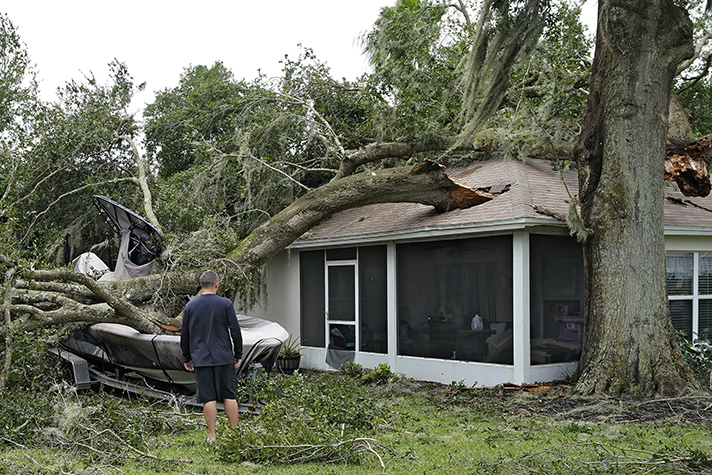 The Billy Graham Rapid Response Team (BG-RRT) is headed to Florida to minister to residents in areas devastated by Hurricane Ian on Wednesday.
Ian came ashore as a Category 4 storm in Florida's Cayo Costa, a barrier island west of Ft. Myers. The massive hurricane brought 150-mph winds; a historic, life-threatening storm surge and heavy rain, which left many areas flooded.
Entire neighborhoods in the Florida peninsula are underwater from storm surges as high as 18 feet. Many people have had to be rescued from deep water, according to news reports.
Josh Holland, international director of the BG-RRT, calls it a "tragic, catastrophic situation," with many Floridians anxious about losing their lives and property.
"As we send chaplains to listen to people, to pray with people, to just be a shoulder people can cry on as they're processing their loss, we want to be prepared to give an answer for the hope we have in Jesus Christ," Holland said.
Two BG-RRT Mobile Ministry Centers (MMCs) left early Thursday for Florida. Chaplains are expected to be on the ground by Friday, with a full team of 20 chaplains in place by Monday. Mobile Ministry Centers—40-ft. custom trucks that the BG-RRT deploys to disaster and emergency scenes across America, which have their purpose printed on them: "Sharing Hope in Crisis"—will provide a safe space for chaplains to comfort and help people.
In addition to the widespread damage, millions in the Sunshine State have lost power. Trees and downed power lines are strewn across communities, with high winds causing numerous transformers to explode.
Five thousand members of the Florida National Guard are responding and up to 2,000 more Guardsmen from Tennessee, Georgia, and North Carolina are being activated.
"We know that Hurricane Ian is one of the strongest storms in Florida's history," said Holland. "As we learn of its magnitude, our hearts are heavy and we are earnestly praying for the people in the path of this hurricane."
Hundreds of crisis-trained chaplains are on standby to help in the days, weeks, and months to come.
Most recently, chaplains deployed to Florida after hurricanes Callahan and Dorian, and to Panama City, for nearly five months following Hurricane Michael.
Please keep the people of Florida and our BG-RRT chaplains in your prayers.