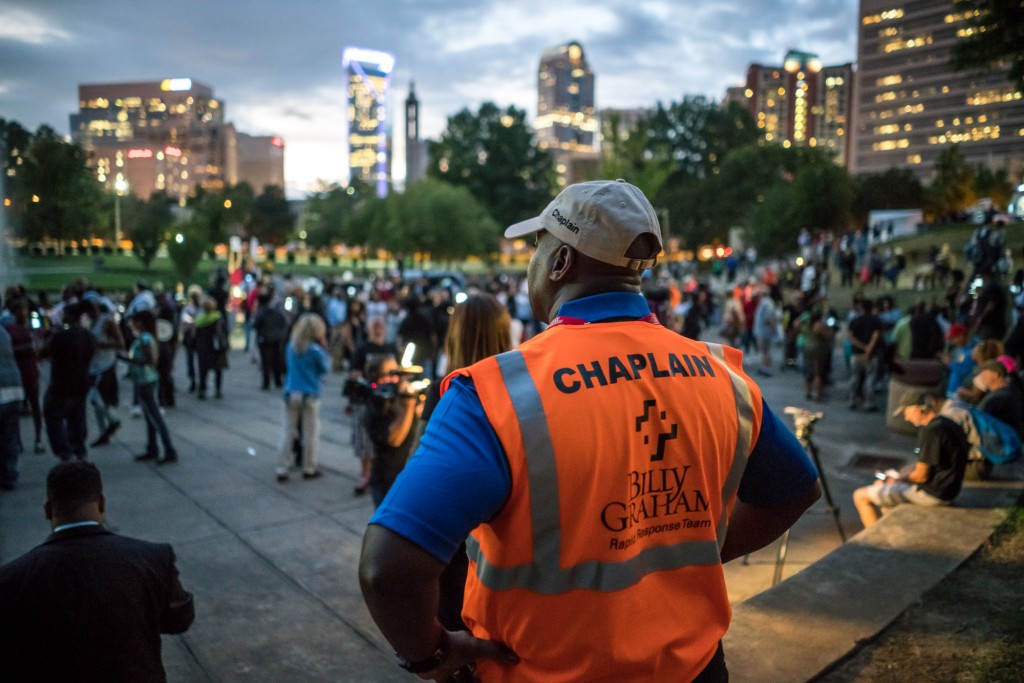 "The light shines in the darkness, and the darkness has not overcome it."
—John 1:5
A saying popped into Kelly Burke's mind late Wednesday night.
Standing in the Billy Graham Evangelistic Association headquarters after a night of outreach in the ministry's backyard of Charlotte, North Carolina, he said, "Never doubt in the dark what God has shown you in the light."
Burke, a manager with the Billy Graham Rapid Response Team (RRT), will readily admit he's paraphrasing, but the words attributed to late Pastor Adrian Rogers did bring some comfort after a challenging evening. Crisis-trained chaplains with the RRT deployed on Wednesday to Uptown Charlotte in the aftermath of violent civil unrest triggered by a fatal officer-involved shooting on Tuesday.
The incident happened near the University of North Carolina at Charlotte campus, and in the hours that followed, violence ensued. Protesters threw rocks and bottles at police officers. Many officers and residents were injured, some sent to the hospital.
That violence on Tuesday night prompted Dr. Leon Threatt to organize a group of local pastors to come together and call for peace. The former Charlotte police officer invited the media, along with other local clergy, imploring residents to respond peacefully, and to pray.
"Our city is a good city," said Threatt, pastor of Christian Faith Assembly and a Rapid Response Team chaplain who deployed with the ministry to Baltimore in 2015. "Our people are good people. I don't know how we've gotten to this point. I know that we've had the tragedy, the death of a young man, and it's tragic for all of us.
"We cannot take this route of terrorizing our community."
During the daylight, peace wasn't far from the minds of those in uptown Charlotte Wednesday. Chaplains prayed with many in the area, and two people made decisions to commit their lives to Christ. The RRT's Mobile Ministry Center was parked in front of First Baptist Church, where many stopped by. Two asked for prayer within minutes of the RRT pulling into the parking spot.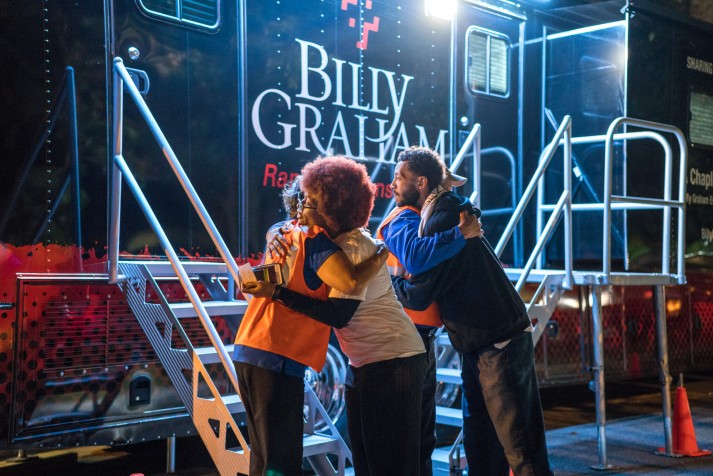 "The ones we were able to pray with, we could tell the Holy Spirit was stirring their hearts," chaplain Pookie Mattingly said after walking the area with fellow chaplain Suzanne Galvin.
Jeanne LeGall spread out a mat near Marshall Park, site of the evening Rally for Justice, with her own agenda for peace. A member of the Million Youth March of Charlotte, she planned to pray for the city, just as the group did when civil unrest erupted in Ferguson, Missouri, in 2014.
"We never wanted that to happen to Charlotte," Jeanne said, sitting on her mat. "We didn't want to be on CNN with the name Charlotte and riot in the same sentence.
"Our forefathers did not die for us to be acting foolish like this," continued the grandmother of 19. "They turned to the churches. They went inside the sanctuaries and they unified and they did something peaceful. They didn't go out into the community and do all this foolishness you see today."
Emmanuel Threatt, Leon Threatt's son and a patrol officer with the Charlotte-Mecklenburg Police Department, turned the spotlight back on the body of Christian believers.
"We have to have a bigger role [as a church]," said Emmanuel, who's also a minister at Christian Faith Assembly in Charlotte. "That's the only way to get this resolved really, is that we are examples to the community of unity as a church. There's no other place. They're not going to get that anywhere else.
"I don't expect for the community to understand," he added. "They don't understand hope. But we [as Christians] do. We should be the beacons of hope that shine so bright that it takes the scales right off their eyes because they're seeing exactly what we're about."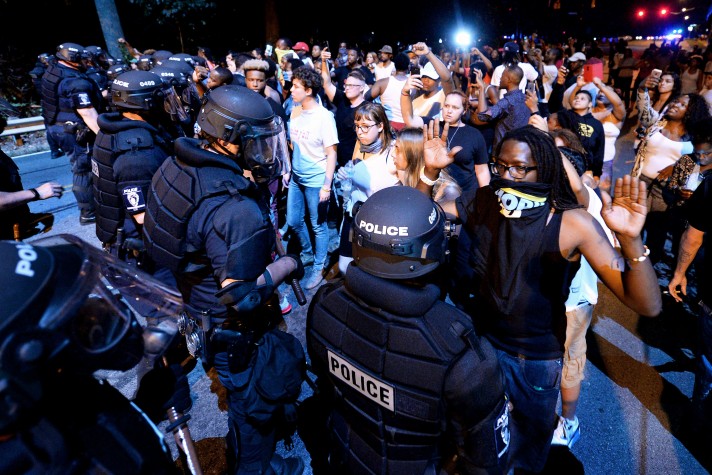 Hundreds gathered peacefully in Marshall Park for what they called a Rally for Justice for Keith Lamont Scott, the man killed Tuesday in Charlotte. Chaplains offered emotional and spiritual care, praying with people who wanted to do so. When the rally concluded, the chaplains exercised a ministry of presence while safely shadowing the protesters.
"The main focus of our ministry tonight was a ministry of presence and just praying for calm, praying for peace and praying for God's spirit to overrule and override any spirit of darkness and just for His light to shine," RRT manager Kelly Burke said.
The scene was peaceful—for a moment. Then everything changed.
"We were close enough to hear the shot," Burke said, talking about the gunshot that reportedly left one person in critical condition. The victim died Thursday night in the hospital. "Darkness fell, and the atmosphere totally changed."
Police started putting on their riot gear, complete with gas masks, as the violence escalated and looting began. People on motorcycles, quads and dirt bikes zoomed aggressively, revving their motors through the streets.
During this time, North Carolina Gov. Pat McCrory declared a state of emergency and called upon the National Guard. All the while, the chaplains were praying, albeit from a distance as the violence escalated. Still, Burke knows better than to discount the power of the light in the darkness.
"It's easy to go out sometimes and think, 'They're still burning and looting,' and say it was a failure," Burke said.
"But we have no idea what God did tonight."