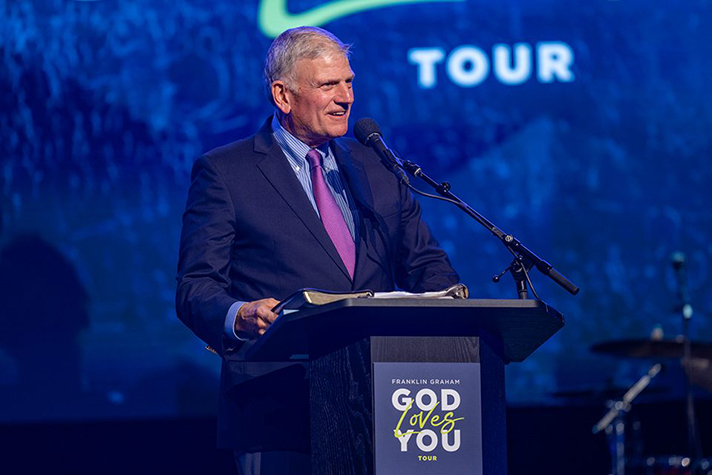 Following last year's four-city God Loves You Tour in the United Kingdom, Franklin Graham is returning to London, England, this month to preach the Good News—and he will share the same message of hope in Scotland next June.
"We are excited to return to London again this year and to have an opportunity to preach the Gospel in Glasgow," said Franklin Graham, president and CEO of the Billy Graham Evangelistic Association (BGEA).
"We are grateful for the thousands of Christians and hundreds of churches that have stood alongside us in recent years and continued praying for this tour to come to their cities," said Franklin Graham.
>> See photos from last summer's London tour stop.
The one-night evangelistic events will take place August 26 at ExCeL London and June 22, 2024, at the OVO Hydro.
All events are free and family-friendly and will feature musical artists such as CeCe Winans, Michael W. Smith, and Newsboys.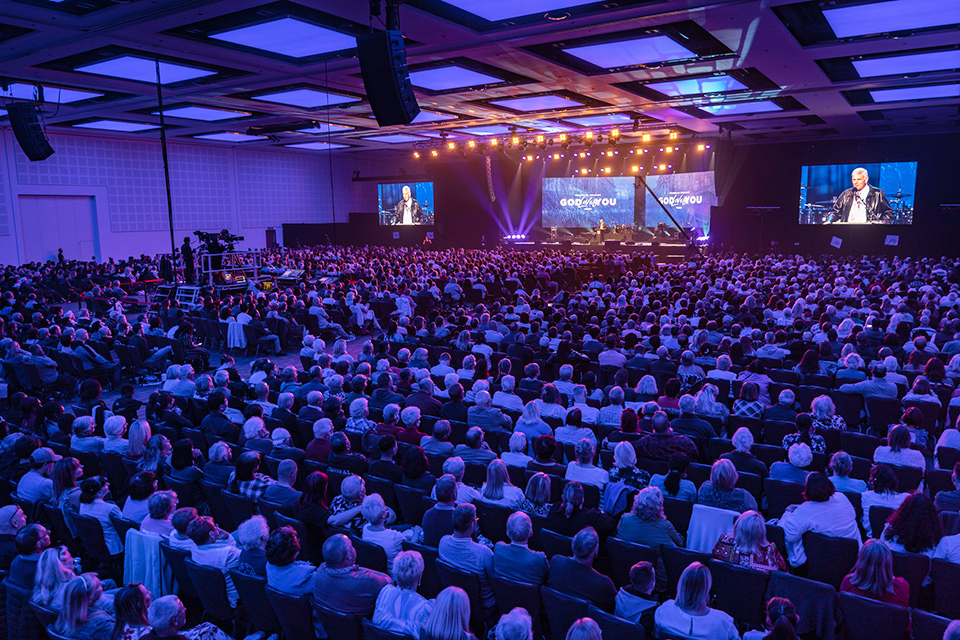 In 2020, Franklin Graham had originally planned to share a message of hope across eight cities in the United Kingdom through an evangelistic tour.
The events were postponed for two years due to a legal battle involving religious freedom, after seven venues cancelled their legally-binding contracts with the BGEA. To date, five of those cases have been resolved favorably.
The rescheduled God Loves You Tour took place in May and July of last year, with stops in Liverpool, South Wales, Sheffield, and London.
Christians from more than 2,000 churches across the U.K. partnered with the tour, and nearly 20,000 people attended the events across all four cities. Altogether, over 1,400 people made a decision for Jesus Christ.
For the upcoming London stop, nearly 1,000 churches across the city—and all of southern England—are joining with BGEA as members invite family members, friends, and neighbors to hear about God's love for them.
Pastors and church leaders see a continued need to share the hope-filled message of the Bible within their communities.
"Last year's God Loves You Tour was a blessing to many people in London," said Rev. Hany Abdelmasih, a local minister. "Churches across this city united together to invite people to hear about Jesus Christ's love and forgiveness for them and the eternal hope available in Him.
"London is the place where you find the world, and it is also a place that needs the Good News of Christ proclaimed again and again."
Billy Graham had a profound love and appreciation for the U.K., and in 1954, he established BGEA's U.K. office in London. The evangelist would go on to preach in the U.K. more than any other place outside of the United States.
As BGEA president, Franklin Graham is continuing the legacy of proclaiming the Gospel established by his father and the ministry's early team members.
"We saw hundreds of people turn to Jesus Christ in faith last year," said Franklin Graham.
"We believe this is God's timing for many more people in London and Glasgow to hear the message of God's great love for them."
For more information about the tour, visit GodLovesYouTour.org.uk.