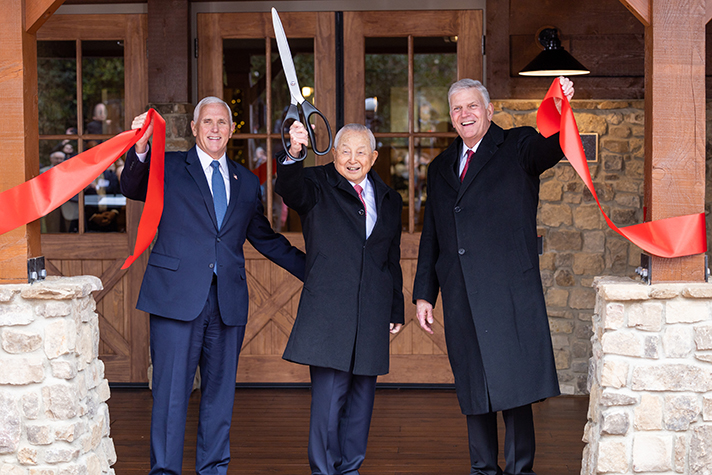 Shortly before cutting a big red ribbon to dedicate the new Billy Kim Hall at the Billy Graham Library, Rev. Billy Kim took the microphone to address the media and other special guests huddled together on a brisk day.
"I'll make this brief," said Rev. Kim, who interpreted for Billy Graham during the Southern evangelist's largest Crusade in Seoul. "I almost froze to death at Billy Graham's funeral," he continued, drawing a chorus of laughs.
It was a historic and emotional day on the grounds of the Billy Graham Library with the dedication of the new training room—and also with Vice President Mike Pence, the 48th vice president, on hand to take part in the Billy Kim Hall ceremony and then hold a two-hour book signing.
"His book is an incredible read and historic," Franklin Graham said of Pence's book, "So Help Me God."
"This is his testimony of what God has done in his life. God is faithful."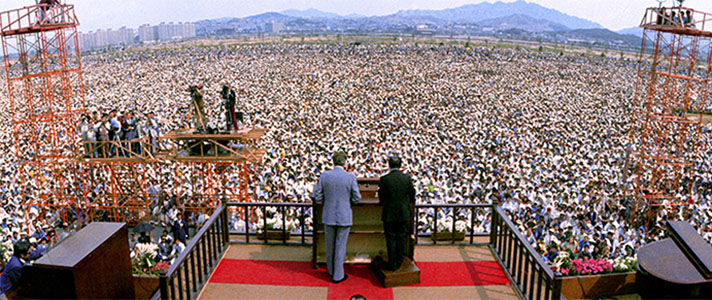 Interpreter for Millions
Billy Kim has a distinguished career in South Korea and was notably Billy Graham's interpreter at his largest Crusade meeting ever. On June 3, 1973, 1.1 million people traveled to the final service—mostly by foot—on the airstrip at Yoido Plaza in Seoul.
"It was the largest attendance my father ever preached to," Franklin Graham said of the South Korea Crusade that drew a total of 3.2 million people. "When my father made a mistake, Billy had to correct it."
Once, Billy Graham incorrectly commented that South Korea doesn't have any sheep, but Rev. Kim knew that wasn't the case.
"Only 5% of the people could understand what Dr. Graham said," Rev. Kim explains. "I had to say, South Korea has lots of sheep," he said.
More than 72,000 people made commitments to Christ during the 1973 Crusade. And the lasting impact on the South Korean church has been immeasurable, much like Rev. Kim's legacy.
Known as "The Billy Graham of Asia," the 83-year-old was the pastor of Central Baptist Church in Suwon, South Korea, for 45 years. He's the chairman of the Far East Broadcasting Company in South Korea and was the first Asian to be elected to the Baptist World Alliance. He helped start the Korean Children's Choir and was responsible for bringing Youth for Christ to South Korea.
"I'm humbled," Rev. Kim said at the ribbon cutting on Tuesday. "And I want to thank Franklin and Jane and the Graham family."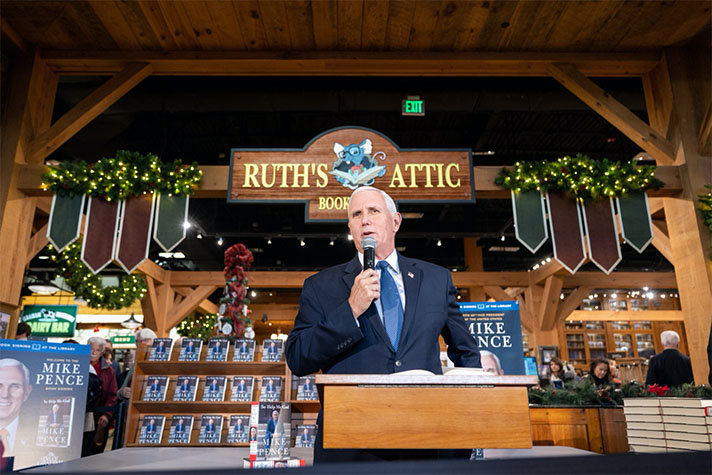 'Blessed'
Welcoming a large Library crowd, Pence said: "Let me say to each and every one of you, thank you for being here today. And thanks to many of you for the prayers that have sustained our family through the years of our service."
He also took a few minutes to read an excerpt from his book, in a chapter titled, "Blessed":
On Feb. 21, 2018, Billy Graham, the towering evangelical whose ministry of the Gospel of Jesus Christ has changed so many lives, died at the age of 99. What an incredible life.
I never met Rev. Graham. Graham had first preached in Indiana in 1959, the year I was born. Karen and I had attended his last Crusade in the Hoosier Dome in Indianapolis in 1999. And we took our son Michael along.
When Graham made his altar call with the hymn "Just As I Am" filling the stadium, thousands began streaming down the aisle. "Just you get up and come," he said in that Tar Heel accent. At that, Karen nudged me and asked, "Where's Michael?"
We looked around and spotted our 8-year-old boy halfway down the steps to the floor of the stadium. I ran after him and caught up and explained to him, "This is for those who want to make a decision to receive Lord Jesus Christ."
With those big brown eyes, Michael looked up at me and said, "Dad, I want to go down."
It was one of the sweetest moments of my life. I grabbed his hand and down we walked. Like millions of others around the world, my family owes an incalculable debt to Billy Graham.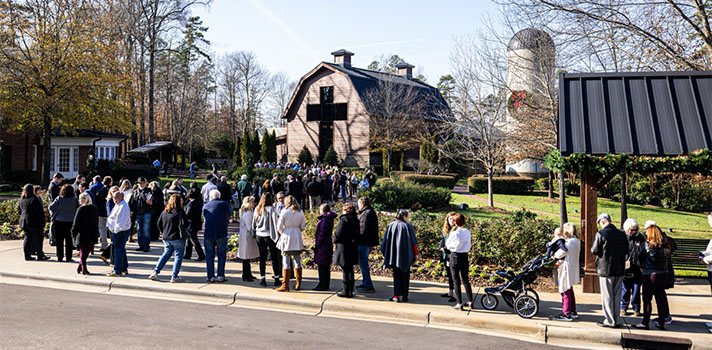 'A Man of God'
With an hourlong drive from Monroe, North Carolina, to the Billy Graham Library, Clifford didn't want to risk being late. So he arrived over two-and-a-half hours early and found himself first in line for the book signing.
"A chance to meet the former vice president, to meet a man of God," Clifford said about why he made the trip. "We need to put God back in this country. That's what we need.
"I think he would be someone who could lead this country back to God and to where we should be morally."
Right behind Clifford, second in line, was Gary, also from Monroe. Turns out, the two are originally from the same area in Pennsylvania.
"I always have a hard time deciding what to get my father for Christmas," Gary said. "He's a military vet. This was the perfect opportunity for a Christmas gift."
Candy brought her 1-year-old grandson from Gastonia to get a book signed and was toward the back of the line that wrapped outside, down the sidewalk.
"We were very pleased to have a conservative Christian as vice president," she said.
Kevin, who is from Indian Land, South Carolina, grew up in Indiana and went to the same college (Hanover) as Pence. He went inside to buy a book and heard the Vice President reading an excerpt. The story of Pence's son Michael accepting Christ as an 8-year-old at the 1999 Indianapolis Billy Graham Crusade in Indianapolis moved this former Hoosier.
"To me, it was very touching, very emotional, very inspiring," Kevin said. "To see that kind of witness is wonderful."