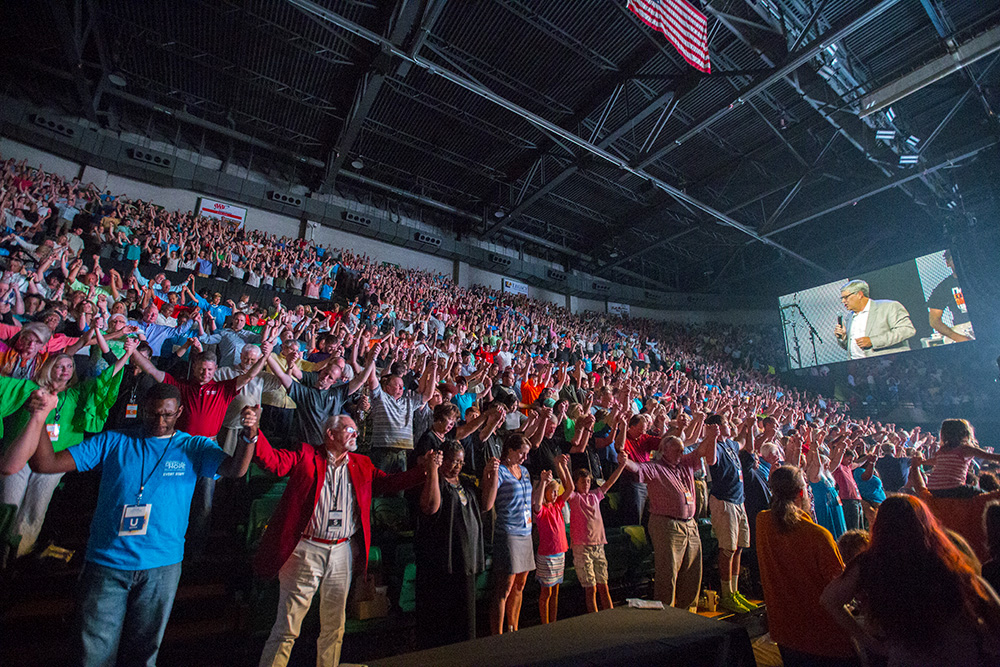 When talk of the Festival of Hope first surfaced in Birmingham, Alabama, local church leaders had one primary goal in mind—to break barriers in their city with God's Word.
And as thousands sang "Break Every Chain" in unison at the Bartow Arena Sunday night, it was clear many had taken a step in the right direction to tear down walls of every kind.
The final night of the three-day Franklin Graham Festival drew more than 9,800 people. Another 16,000 from 100 countries watched online.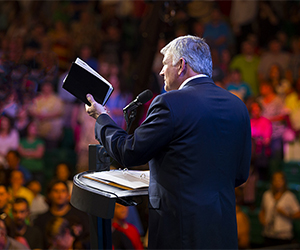 "Wow, what a night," Franklin Graham said shortly after taking the stage.
Speaking of plans to visit his father, Billy Graham, next week, he added, "I know he'll be thrilled to hear what God has done and will be continuing to do in Birmingham."
The final night was full of worship, with performances by Kari Jobe, Tasha Cobbs, and Michael W. Smith.
Each night, Franklin Graham's message spoke to current events. Sunday, he urged the crowd to put away facades and the troubles of this world for a true relationship with Christ.
"In public you've got a smile on your face and then when you get home you realize your life is falling apart," he said. "Whatever your problems, I want you to know tonight that God loves you and that Jesus Christ is the answer."
Richard German, an 87-year-old from Guntersville, Alabama, traveled about 100 miles with his wife to counsel at the Greater Birmingham Festival of Hope.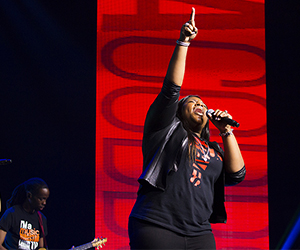 He, too, noticed a theme of people seeking answers to life's problems.
"We felt this was something we needed to do to be a help in any way we can for people that are going through problems in their lives," he said.
German recalled praying with a 34-year-old.
"He was struggling in life and needed some direction," German said. "I told him that the greatest thing he can do is accept Christ because Christ is the only One that's going to help you.
"He needed help—like we all do."
Once the three-day Festival was all said and done, more than 1,600 people had responded to the invitation to accept Christ.
"As crazy as the world is, God is on the move," Michael W. Smith told the crowd.
'God Did It'
While counselors went to work after Franklin Graham's message Sunday, Kellie King watched from the stands. Chatting with her friend, Peggy, about what they'd witnessed, the message on her church fan seemed fitting: "God Did It."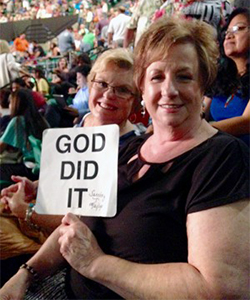 Kellie remembered being at the 1985 Billy Graham Crusade in Anaheim, California, and seeing from her nosebleed seats what looked like "little ants of people" walking forward.
Now, the memory had come full circle.
"You just cry because you know those are now my brothers and sisters," Kellie said, referring to the crowd in Birmingham.
Pastor Kevin Hamm of Gardendale First Baptist was a counselor supervisor for the Festival. Turns out, one of the new believers that night had visited his church before.
"You've made the greatest decision tonight. I'll be praying for you," Hamm told him after being called over by a fellow counselor and church member.
As the man walked away, Hamm stopped a volunteer breezing by with counseling slips in his hand. The pastor pointed up in the stands at the man he'd just prayed for, with a "Go talk to that guy," look in his eye and a smile.
Another counselor, also a member at Hamm's church, prayed with an 8th- and 10th-grader. Afterward, she asked them if they had a place in mind to go to church.
"When they said no, (the counselor) pointed in my direction, saying, 'There's my pastor over there,'" Hamm said.
And again, Hamm went to work.
That was a recurring theme throughout the Greater Birmingham Festival of Hope—people of different races, backgrounds and denominations tag teaming to make sure no one was left behind after responding to the invitation to accept Christ.
At times, the venue roared like it would during a University of Alabama Blazers basketball game at the arena. But these cheers weren't for a three-pointer at the buzzer. They were for new souls.
"Rev. Graham's message touched my heart this evening," Yevette, an online viewer, commented. "I have loved Jesus for years, though I've always kept the guilt of an abortion I had when I was 16. I'm now 58. I'm now free of guilt, thank God!"
A trained counselor will follow up with Yevette—and the others who made a decision for Christ this weekend—to make sure they have the discipleship resources needed to stay on track.
"All the promises of God are true. Hallelujah!" Michael W. Smith said. "He said He would never leave us or forsake us."
Amen.