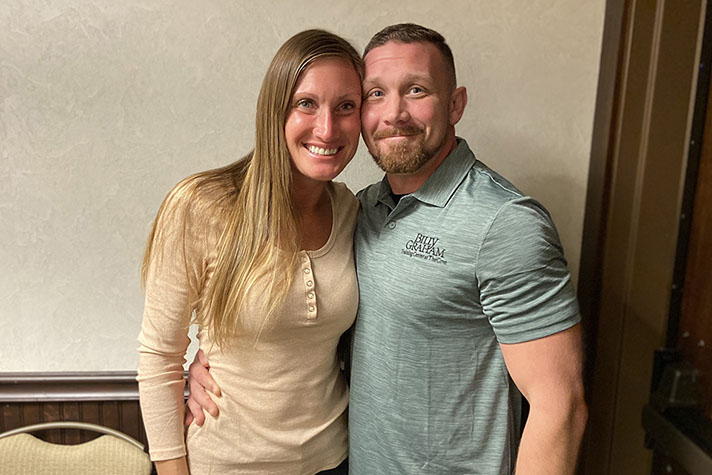 This week, more than 150 law enforcement officers and their spouses attended a Law Enforcement Appreciation Retreat hosted by the Billy Graham Rapid Response Team (BG-RRT). The event spoke to unique emotional and spiritual needs officers and their families face. Attendees heard from God's Word and enjoyed fellowship with other couples going through similar challenges. 
Two years ago, Keith attended his first Law Enforcement Appreciation Retreat alone after his wife Angela separated from him just weeks before the conference in Asheville, North Carolina.
"I was so caught up in self and what I was dealing with, I didn't care about how I was treating her," recalled Keith, who serves as a school resource officer in South Carolina. "She encouraged me to still come [to the retreat]."
There, God opened his eyes and helped him surrender his life to God.
>>Learn more about the Rapid Response Team's National Law Enforcement Ministry
"I personally had fallen away," Keith shared. "I wasn't living for the Lord as He directs us to as husbands and fathers. I was angry, frustrated, resentful."
Right after he arrived, he met two couples from Maryland. "Those two men and their wives pulled me in like I had known them forever and treated me like family."
He immediately felt some of his anger and frustration from the pain he'd caused start to ease.
During his first session at that retreat, he said, "It was instant freedom from hearing the Word and worship. What God did inside of me was only something He can do. I can't even remember why I was so angry. Every session, I could feel His presence stronger and stronger. I just couldn't get enough."
An altar call later that week left him on his knees sobbing.
"Usually I can't go up front; I'm too embarrassed or shy. [But] my feet were moving before the rest of me was. … Years of everything bad came out of me in tears.
"It's been a process but He's been completely faithful in healing the damage I caused my wife and my children. I can truly say I am a new person because of God," Keith said.
Fast forward two years to this week's retreat. Tuesday night, Angela sat next to him on a high-back couch, smiling as she dabbed her tears with a tissue. God had saved their marriage, and they referred to the retreat as the "turning point."
"To know that I've been given a second chance not just in my walk with Him, but in my marriage is priceless," Keith paused, choking up.
Darryl Strawberry Encourages Law Enforcement to Open Hearts to God
Four-time World Series champion and eight-time Major League Baseball all-star Darryl Strawberry was just one of the speakers Keith and Angela heard at this week's retreat.
Though not an officer himself, Strawberry connected with attendees through the idea of finding one's identity in a career. After all, both officers and baseball players wear a uniform.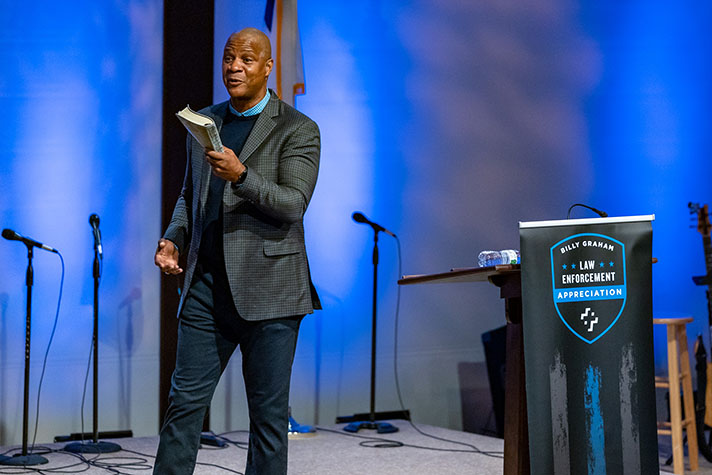 "I was an alcoholic, drug addict, womanizer, rich, famous and privileged. I had everything, but I had nothing," Strawberry admitted, sharing his own turning point. His mother's ongoing prayers and encouragement from his wife helped him see there's a God who cares for him.
"[My wife] said, 'When are you going to take the uniform off and follow God?'"
"I had the wrong identity," Strawberry said. "That's what happens to so many of us as men. Our egos keep us stuck. It's a three letter word: Easing-God-Out."
Strawberry shared the need to saturate one's self with the Word of God. "[Satan's] purpose is to deceive you, make you think you're all that and a bag of chips," he said. "I couldn't see. I was blinded."
Quoting Matthew 23:12, he added, "Whoever exalts himself will be humbled, and whoever humbles himself will be exalted."
"God will do something mighty in your life if you can humble yourself," Strawberry said. "The goodness of God will take you further than you ever imagined. God will use every piece of our life."
>>See what God can do in your own life. Get to know Him today.