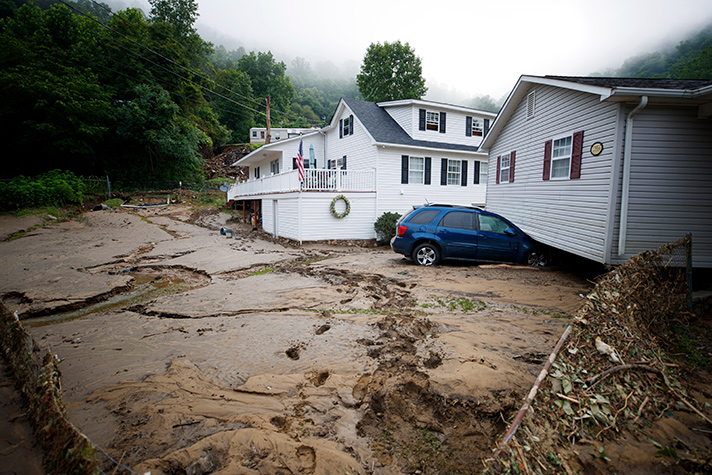 Since floodwaters have receded, residents in Buchanan County, Virginia, are surveying the damage left behind by heavy rain.
Mangled roads. Fallen trees. Wrecked cars. Homes swept away by the powerful waters.
Hundreds of families have been displaced or left without power, leading Virginia Gov. Glenn Youngkin to declare a state of emergency.
"As we see the many lives impacted because of this flooding in Buchanan County, Virginia, our hearts are heavy for those who have suffered great loss," said Richard Brown, senior manager of deployments and operations of the Billy Graham Rapid Response Team (BG-RRT). "Our crisis-trained chaplains will be there to provide emotional and spiritual care as the area begins the recovery process."
A team of Billy Graham chaplains are talking and praying with locals whose lives have turned upside down in a matter of days.
One couple told chaplains how the floodwaters rushed into their home when they tried to escape to a neighbor's house. They had no choice but to cling to their ceiling joists as the waters rose. The wife prayed for the waters to recede, and they said within minutes, God answered that prayer.
Directly after the flooding, many families had to wait and wonder as search and rescue teams located dozens left unaccounted for after the storm. No injuries or deaths have been reported.
"This was a monumental search effort," said Billy Chrimes, search and rescue specialist from the Virginia Department of Emergency Management. Eighteen teams from across the region worked long hours to find every single resident.
For the next couple weeks, Billy Graham chaplains are serving alongside Samaritan's Purse to offer God's love and comfort to this upended community.
Please keep the people of Buchanan County in your prayers.