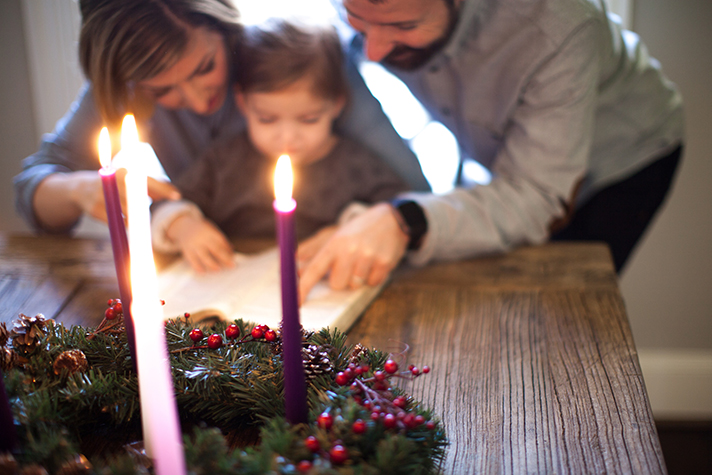 This is the third of a four-part series on Advent, meaning "arrival." The Advent season celebrates the coming of a Savior in the weeks leading up to Christmas. Below is a portion of Cissie Graham Lynch's Advent devotional, Born to You This Day. Read week 1: Christ the Conqueror, and week 2: Rejoice in a Promise Fulfilled.
During the Christmas season, some people wonder about Jesus. Maybe you have known Him for a long time, but you find yourself in a valley, struggling to understand who He really is.
In different chapters of my life, I have found my relationship with Jesus changes. According to what I am experiencing, He has been my Counselor, Prince of Peace, Deliverer, and Comforter. He continues to reveal Himself to me in different, yet more beautiful, ways through each stage of my life.
Throughout Scripture over 200 names are given for Christ. Some are titles for Jesus, while others are concepts or descriptions of Him.
The message and meaning of Christmas is spelled out in Isaiah 9:6. The Prophet Isaiah gives four awe-inspiring names of our Lord that encourage us, thrill us, and fill us with hope:
For to us a child is born, to us a son is given;
and the government shall be upon his shoulder, and his name shall be called Wonderful Counselor, Mighty God, Everlasting Father, Prince of Peace.
—Isaiah 9:6, ESV

Each of these descriptions of Christ is reinforced and expanded on through other Scriptures.
Wonderful Counselor: "If any of you lacks wisdom, let him ask God, who gives generously to all without reproach, and it will be given him" (James 1:5).
Mighty God: "But Jesus looked at them and said, 'With man this is impossible, but with God all things are possible'" (Matthew 19:26).
Everlasting Father: "Yet for us there is one God, the Father, from whom are all things and for whom we exist, and one Lord, Jesus Christ, through whom are all things and through whom we exist " (1 Corinthians 8:6).
Prince of Peace: "For in him all the fullness of God was pleased to dwell, and through him to reconcile to himself all things, whether on earth or in heaven, making peace by the blood of his cross" (Colossians 1:19–20).
The full meaning of these words from Isaiah should give us enough strength, hope, and joy to face any crisis, to endure any sorrow, and to meet any temptation.
How is God revealing Himself to you today?
PRAYER:
God, You are El Roi—the God who sees. Help me to see You today and every day. I pray this Christmas season You will reveal Yourself to me in new and amazing ways.
More Readings on God's Name for Week 3:
Psalm 25:5
Isaiah 54:5
Matthew 1:23
John 1:1
Hebrews 1:2–4
Hebrews 4:14–16
Revelation 19:11
Revelation 22:13
Cissie Graham Lynch is the daughter of Franklin Graham and granddaughter of Billy Graham.