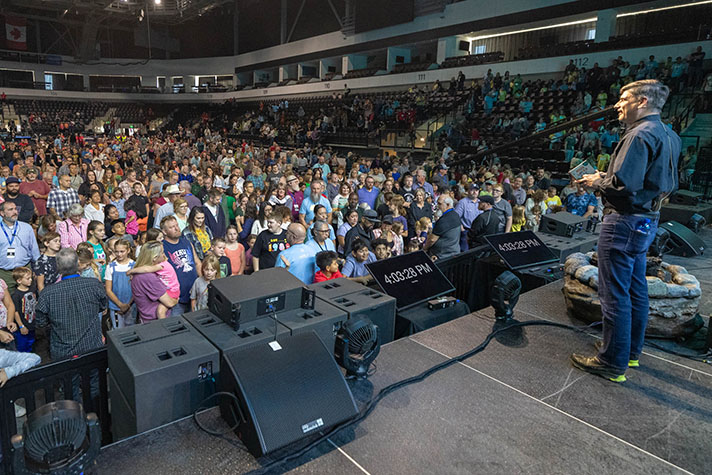 The stadium was energized with families clapping, smiling, and jumping, singing about "the joy the world can't steal."
The first day of Will Graham's Look Up Tour in Idaho Falls kicked off with two youth-focused evangelistic events and music by lively Irish Christian band Rend Collective.
Combined, more than 2,300 Idahoans heard the Gospel. Hundreds made life-changing decisions to follow Jesus Christ, including a father and his 6-year-old son at KidzFest, the first event of the day geared toward younger children.
Thomas* recently left a non-Christian church, frustrated that it doesn't use the Bible as the authoritative Word of God. He's been visiting other churches for months, trying to find out who the true God is.
Prayer counselor Casey White was familiar with Thomas' experience given his own family background. He took out a Living in Christ booklet—a Billy Graham Evangelistic Association discipleship resource given to new believers—and opened to the gospel of John. White explained to Thomas who Jesus is: God, the Creator of the universe, and the Way of salvation.
"That's what I want," said Thomas—finally finding the Truth he was searching for—and he prayed to accept Jesus as his Savior, moments after his son did the same.
Siblings Start Journey With God Together
Karma Phillips served as a prayer counselor for three sisters ages 4, 8, and 10. All three of them decided to follow Jesus Christ in response to Will Graham's invitation at KidzFest.
Phillips prayed with the girls and gave them materials to help them grow closer to God. She noted their excitement, particularly the 8-year-old. "She was just ecstatic," Phillips said. "I think this was God's timing."
Later that evening, another pair of siblings also committed their lives to Christ—12-year-old Savannah* and her teenage brother.
Their father had been praying for all three of his children to accept Jesus Christ for years and witnessed two of those prayers answered before his eyes. He then prayed with one of our counselors, Kylee Gardner, for his oldest child to come to know Christ as well.
"After all those years of their father praying for them," Gardner said, "watching it come to fruition is the best thing."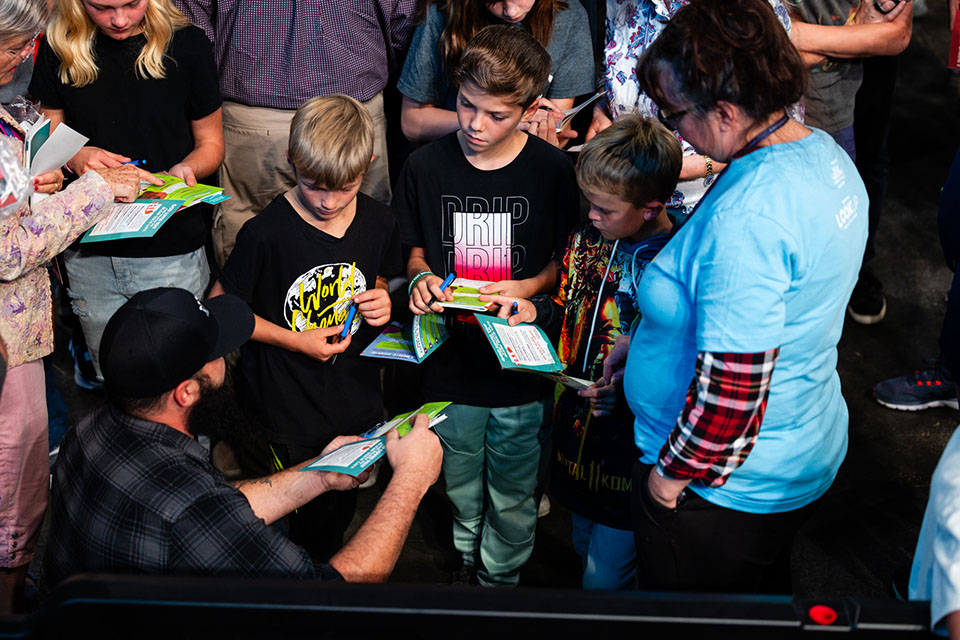 A 'Weight Lifted'
Kayley,* a 15-year-old from a local Christian high school, also gave her life to Christ on Saturday night. Her prayer counselor, Hannah Carr, 20, was grateful to be a part of that important moment, reflecting back to her own experience accepting Christ at age 14.
"You could see the joy on her face," Carr said. "You could tell that there was a weight lifted.
"There is rejoicing in Heaven right now. That makes me happy."
Pray as the Idaho Falls Look Up Tour continues at 5 p.m. MT (7 p.m. ET) this evening with musical guests David Crowder and Christine D'Clario. Watch the livestream.
*Names changed to protect privacy.