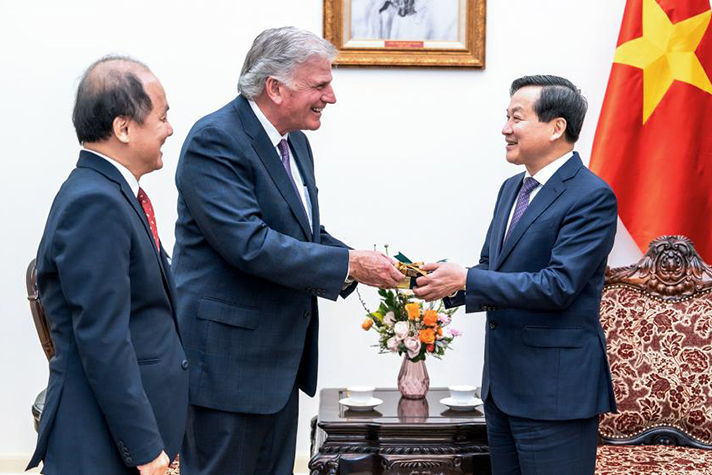 In a historic first, great strides were made for religious freedom in Vietnam.
Earlier this week, Franklin Graham was welcomed to the country by government officials in Hanoi, who granted permission for this weekend's Spring Love Festival in Ho Chi Minh City.
This is the first time the Vietnamese government has given permission for an evangelistic outreach with a foreign speaker to be held outside of a religious holiday.
Until now, this type of event was only permitted during the Easter and Christmas seasons.
Wednesday, after meeting with Deputy Prime Minister Lê Minh Khái and a distinguished delegation, Franklin Graham expressed his gratitude.
"The Deputy Prime Minister and I discussed Vietnam's diversity of religions and their open support of religious freedom," said Franklin Graham. "I am deeply grateful for this and thankful to the Deputy Prime Minister and the government for allowing me to come and preach in Vietnam a second time."
Franklin Graham previously shared the Gospel in Vietnam at the Love Hanoi Festival in December 2017, the first evangelistic outreach of its size in that nation. More than 4,500 people made life-changing decisions for Jesus Christ.
In continued meetings on Thursday, government officials expressed to Franklin Graham their appreciation for the impact that churches and people of faith make in their communities across the country. They especially noted how helpful churches in their region were during COVID-19.
At a welcome luncheon Friday, the evangelist spoke to church leaders and government officials.
"We're thankful to God that we're here this week," Franklin Graham said. "There are many religions in this world, and people have many belief systems. But we have not come this week to preach religion.
"We've come to share with the people of Vietnam how they can have a relationship with God—a relationship with God through His Son Jesus Christ."
At the luncheon, Viktor Hamm, vice president of Crusade Ministries for the Billy Graham Evangelistic Association (BGEA), shared about the importance of cooperation.
"We are so honored to serve together with the churches of Vietnam," he said. "It is so wonderful to know that the churches are caring about those who have need and helping and working together with the government of Vietnam."
After thanking church leaders and the government for inviting BGEA to preach the Gospel, Franklin Graham had one last prayer request.
"I hope and pray that we'll have the chance to come back soon," Franklin Graham said.