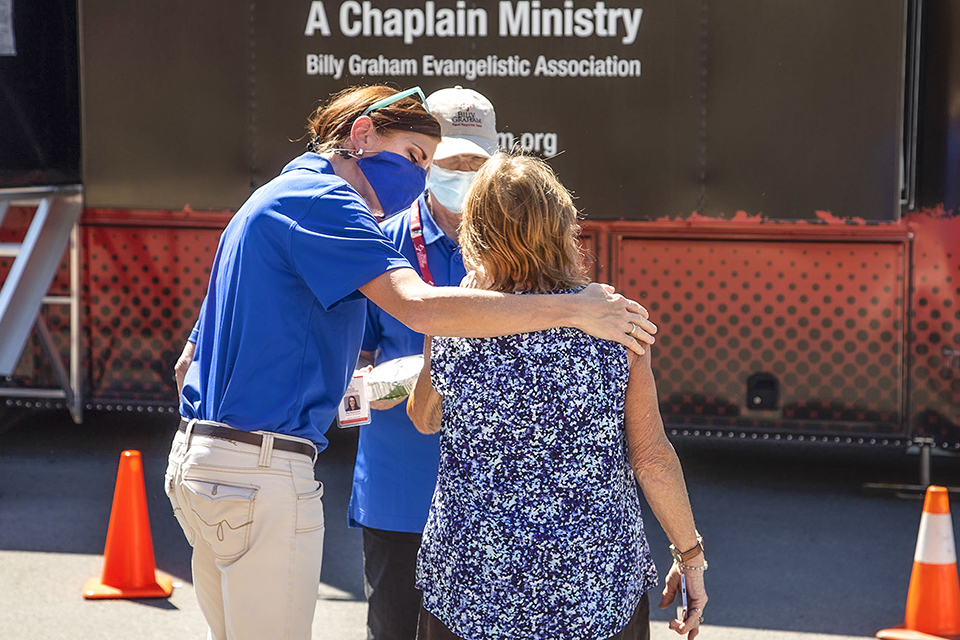 This fall, the Billy Graham Rapid Response Team (BG-RRT) has prayed with thousands while ministering to people's spiritual and emotional needs during times of crisis.
Below are just a few short stories from the many who have decided to put their faith and hope in Jesus Christ.
From Bitterness to Joy
"I'm on my way to hell," said Sam,* a New Orleans homeowner. Billy Graham Rapid Response Team chaplains recently deployed to three areas of Louisiana following Hurricane Ida, a Category 4 storm which caused catastrophic damage.
The chaplains had started a conversation with him at his home that led to spiritual matters. Sam shared some personal and financial challenges related to his ex-wife, and he said his bitterness toward her caused him much grief.
Our chaplains used Scripture to explain the Gospel, sharing the wages of our sin and God's gift of salvation. When they asked him if he would like to spend eternity with Jesus Christ and grow in joy and peace, he tearfully replied, "Yes!" Sam prayed to repent of his sins and invite Christ into his life, and he also prayed for God to enable him to forgive his ex-wife. The chaplains prayed with him, that the Lord would bless his ex-wife and bring her to salvation.
'I've Never Heard that Jesus Wants a Relationship With Me'
In metro Detroit, Stephen,* one of our chaplains, encountered Brad,* a homeowner in his late 40s distressed over the effects of recent torrential rains that caused widespread flooding. When the chaplain asked if he had a relationship with Jesus Christ, he said he did not but needed spiritual help. "I've never heard that Jesus wants a relationship with me." Stephen then shared the Gospel with Brad, who followed along intently. Brad indicated he wanted to begin a relationship with the Lord, and he prayed to surrender his life to Christ.
Chaplains also met a homeowner named Arezo* who invited them into her house. She and her family were Muslim and had migrated to Pakistan and later to the United States. The chaplains guided the conversation to the Gospel. Arezo told them she was familiar with Jesus but did not have a relationship with Him. When they asked about the peace in her life, she responded that she had none. They shared how Jesus could give her His peace, and she could have the assurance of eternal life. Their discussion drew tears as Arezo acknowledged she needed that in her life. They shared the Good News with her, showing how Scripture points to the Lord Jesus Christ.
When confronted with her need for forgiveness, Arezo said she wanted to pray to accept Christ into her life as her Savior and Lord. Chaplains rejoiced with her, gave her a new Bible, and bookmarked it at the Gospel of John for her to begin reading.
A Break From the Heat
In Plumas County, California, the Dixie Fire is the largest single wildfire in the state's history, burning more than 740,000 acres across four counties. Billy Graham chaplains recently deployed to the area, and our mobile ministry center has been a haven for many community members who have come to meet with the chaplains to talk and receive encouragement.
Margaret* came to get a break from the heat and shared about the trauma and troubles she experienced evacuating from the fire. Chaplains began talking with her about how to find true peace, and she told them, "I really want that." They explained to her what the Bible says about our sin, God's love for us, and Christ's sacrifice on the cross.
When asked if she wanted to receive Jesus as her Lord and Savior, she gladly said yes. The chaplains gave her a Bible and prayed for God to provide for her.
Coming to Christ Out of Hopelessness
"I am at the end of my rope," said Mike,* a 78-year-old Vietnam veteran who stopped by the mobile ministry center in Houma, Louisiana, to ask for prayer. His wife was terminally ill, and he told his story of losses and how hopeless he felt. The chaplains believed the Lord was at work. They used Scriptures and the "Steps to Peace With God" booklet to share about sin and salvation, as well as the lasting hope and comfort found only in Jesus.
Mike broke down in tears and said he knew he needed Christ in his life. He prayed to repent of his sins and surrender his life to the Lord. Before he left, he asked the chaplains to visit his wife, so that she too could have eternal hope and peace.
Pray for Mike as he begins a new life with the Lord—and ask God to save his wife.
* Names changed for privacy.