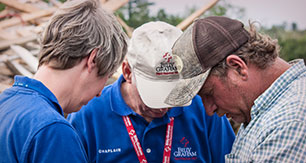 Man-made and natural disasters can happen at any time, but co-workers, neighbors and friends don't have to go through a hurricane to experience a personal storm or a shattered life. In these uncertain times, you can be confident that you can share God's love and comfort that He intends for all to know, in the midst of any circumstance.
The Billy Graham Rapid Response Team invites you to a one-day seminar, Sharing Hope in Crisis, that helps equip the Body of Christ to know how to engage in conversation and share the hope of Jesus Christ with others who suffer from the everyday tragedies of life.
Who Should Attend?
Sharing Hope in Crisis is intended for anyone and everyone in the church. All of us know a friend, neighbor, or co-worker who is struggling with a life crisis, and this seminar was developed to help you know what to say and to compassionately and appropriately share the love and hope of Jesus Christ. This training is also great for counselors, first responders, and church leaders who face suffering people on a more regular basis.
Seminar Topics:
Mission to Respond
Look at Suffering and Trauma
Message to Share
Communication to a Diverse Community
Ministry of Hope
Messenger to Serve
Sharing Hope In Crisis Training
Hosted By: First Baptist Church Ferguson
Date: Saturday, August 1, 2015
Location: First Baptist Church Ferguson
Address: 333 N. Florissant Rd., Ferguson MO 63135
Phone: (314) 521-1515
Cost: $40
Registration: 8:00 am
Time: 8:30 – 4:15 (Registration begins at 8:00 am)