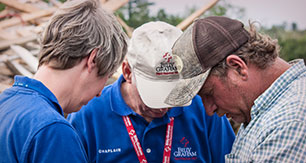 We welcome you to attend the Billy Graham Rapid Response Team (RRT) annual training conference at The Cove in Asheville, North Carolina. This 4-day conference will continue to equip you to minister to others in crisis situations. You will have the opportunity to engage in worship, be encouraged from scripture and complete one Critical Incident Stress Management (CISM) course. If you wish to complete 2 of the requirements for RRT Chaplaincy, consider coming early to attend the Sharing Hope in Crisis (SHIC) seminar.
Chaplain Conference
Hosted By: The Billy Graham Rapid Response Team
Date: June 12–15, 2017 (Registration begins mid November, 2016)
Location: The Cove
Address: 1 Porters Cove Rd, Asheville NC 28805

Chaplain Training Conference CISM course options
Assisting Individuals in Crisis
Emotional and Spiritual Care
Grief Following Trauma
Pastoral Crisis Intervention I
Spiritual and Psychological First Aid
Strategic Response to Crisis (Prerequisite:  Must have both Assisting Individuals in Crisis AND Group Crisis Intervention before taking this course.)
Additional Training
Additional training is available at the beginning of the RRT conference. We will hold our Sharing Hope in Crisis seminar on June 12, 2017.
Registration and Information
Registration begins mid November, 2016. Call The Cove at 1-800-950-2092 for registration and for additional details.