History
In the aftermath of 9/11, Franklin Graham arrived at New York City's Ground Zero to discover there wasn't enough counselors, chaplains or clergy to care for the emotional and spiritual needs of those who were suffering. At the request of churches for help, the Billy Graham Rapid Response Team (RRT) was founded to provide biblically based grief and trauma training.
"Right after 9/11, when responding to man-made and natural disasters, it became apparent that the community and the church had no problem meeting the physical needs of people," said Jack Munday, the RRT's international director. "There was plenty of food, bottled water and shelter being provided. Very few, however, were prepared to appropriately respond to the emotional and spiritual wounds that were ripped open."
Shortly thereafter, the RRT developed a network of volunteer crisis-trained chaplains prepared to deploy in a moment's notice anywhere in the world following man-made or natural disasters. Even today, church leaders continue to invite RRT chaplains to help meet the emotional and spiritual needs of people suffering in crisis locally and around the world, as well as provide training seminars to help equip God's people for grief ministry.
The nationwide network of RRT chaplains has grown to more than 2,500 chaplains in 48 states, including the U.S. territory of Puerto Rico, and also has an international presence in Australia, Canada and the United Kingdom. With the mission of "Sharing Hope in Crisis," the Billy Graham Rapid Response Team stands ready to deploy with the hope and love of Jesus Christ.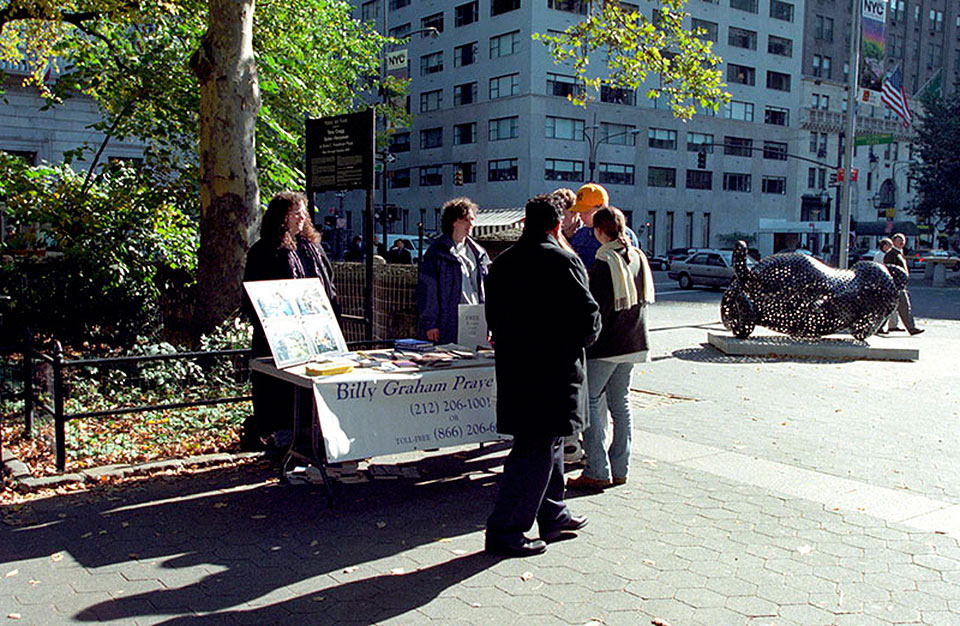 The Billy Graham Prayer center in New York City following the events of September 11, 2001. Soon after, the idea of a Rapid Response Team was conceived.