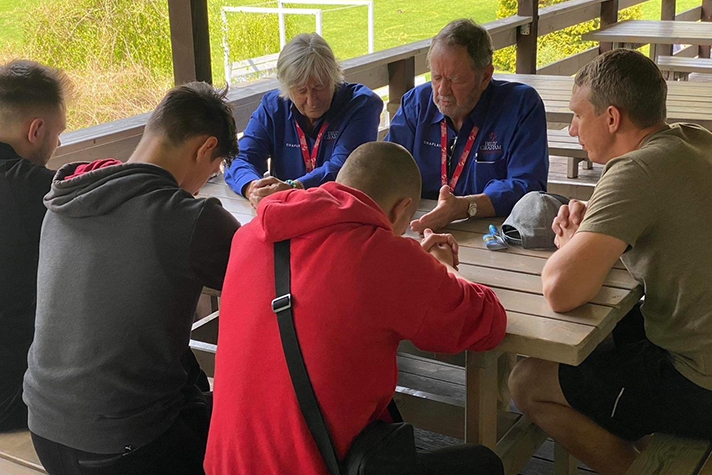 At a rural refugee camp near Warsaw, Poland, Ukrainian children run around playing basketball while their mothers sit, watching. It all appears peaceful, even serene.
Until a phone rings.
That's when every mother holds her breath, hoping it's not her phone buzzing.
Many of the women assume a phone call means they're about to hear their husband's last words. "It's very traumatic," said Anika Magwood, a crisis-trained chaplain from the Billy Graham Rapid Response Team (BG-RRT).
The 136 Ukrainians staying at the Christian campsite-turned-refugee-camp fled their homeland in the past three months due to the conflict. Recently, Anika flew from Jacksonville, Florida, with her husband, John, to minister to them. Dozens more BG-RRT chaplains served at a Samaritan's Purse Emergency Field Hospital and medical clinics in Ukraine.
>> Get an inside look at chaplains' ministry in Ukraine.
But, Anika has found in many cases, "It's so hard because there's nothing we can do to help them." In other words, she can't take away their grief.
The chaplain spends her days listening, praying and putting her nursing skills to use as needed. While she's responded to hurricanes and fires, she has never had a deployment involved with war—where life or death situations are constant.
Conversations can be hard, "because you don't want to bring conversation to something they don't want to share or talk about. Sometimes, I just sit there and talk about simple little things, hoping they will open up and something will happen. Eventually they do," she explained.
The children, who lovingly refer to her as their "babusya," or grandmother, tell her about "the rockets flying all the time" back home. She hears about their fathers, some of whom are fighting while others are pastors who stayed behind to minister to their congregations.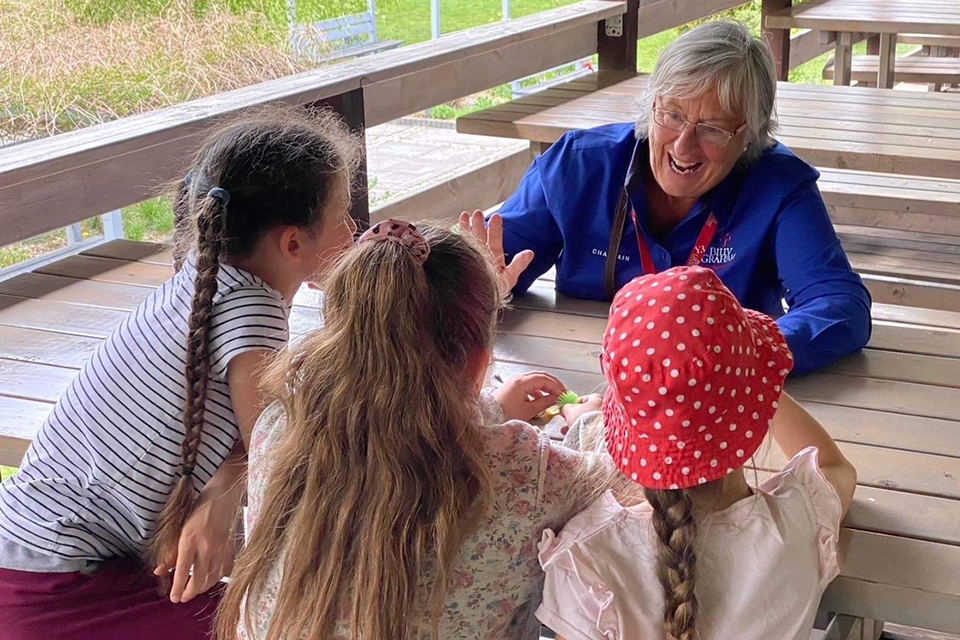 And while most of the camp's refugees are mothers and children, there are a few men in the mix.
That's how Anika and John sat down at a picnic table with 22-year-old twins Kuzma* and Dymtrus,* who still has a bullet in his shoulder, and their new 16-year-old friend, Antin*.
With the help of a translator, the chaplains learned these men have bonded over the grief of losing a mother and having an absent father who never took care of them.
Antin violently lost his mother right before the start of the conflict, and lived with his grandmother and younger sister. His home and entire village had been destroyed, and he arrived at the camp with no documentation. He was quiet and pensive with pain-filled eyes, a boy who became a man nearly overnight.
The twins told their story, too. When their hometown of Kherson was attacked, Kuzma left town, but Dymtrus planned to travel the next day with their mom, his dog, and an older man with his two small grandchildren.
While on their way to join Kuzma in a safer area, invading soldiers opened fire on their vehicle, killing the driver and the twins' mother. Dymtrus was hit by two bullets in his arm and hand while holding his dog, who died but protected Dymtrus from receiving bullets in his heart.
Dymtrus heard his mom call out to God as she was dying, but with soldiers still around, he didn't move toward her. The soldiers believed he was dead as they left. When it was finally safe, Dymtrus dug a grave for his mother with his uninjured arm. Even after he was reunited with Kuzma, he remained in shock for days.
"Why did my mom have to die?" Dymtrus asked Anika and John, showing them a beautiful photo of her.
Anika explained that's an answer only God can provide, encouraging them to focus on the fact their mom had faith. As a mom herself, she shared that she knew their mom's last prayer was for her two boys.
"Jesus will never leave or forsake you," Anika reminded them.
Anika felt the best thing she could do to honor their late mother was to "show them the hope she had." So, she asked Kuzma and Dymtrus how they talk to God—and what that looks like.
We've believed in Jesus, but haven't made time for God, they explained. But they wanted to grow stronger in faith. Antin nodded, too, silently listening.
The chaplains asked how they could pray specifically for each of them, and the twins said they want to live as followers of Jesus—just like their mother wanted. Antin said he had the same prayer request.
The chaplains prayed for each of them, resulting in smiles on their faces and a sense of relief. Antin finally began to open up about his life and desires. He especially bonded with his translator, who is a boxer like him—and is now looking to sponsor Antin and potentially give him a home.
"We give glory to Jesus for the beginning of healing in the hearts of these young men," Anika said.
"If I can say one thing of all deployments, I feel like really God wanted us here," Anika continued. "We later again prayed for the twin brother who had experienced this huge trauma, specifically asking the Lord to keep the memory of his mom alive but to remove the pain of the event. He had expressed that he did not want to forget what happened, but not feel the pain anymore."
Anika's Prayer Request
"Pray with us continually for the children and teens who have seen many things they should never see. As we interact with the moms, we realize they are unable to deal with their own pain as they are focusing on distracting their children from the traumas they all lived."
*Name changed for privacy.