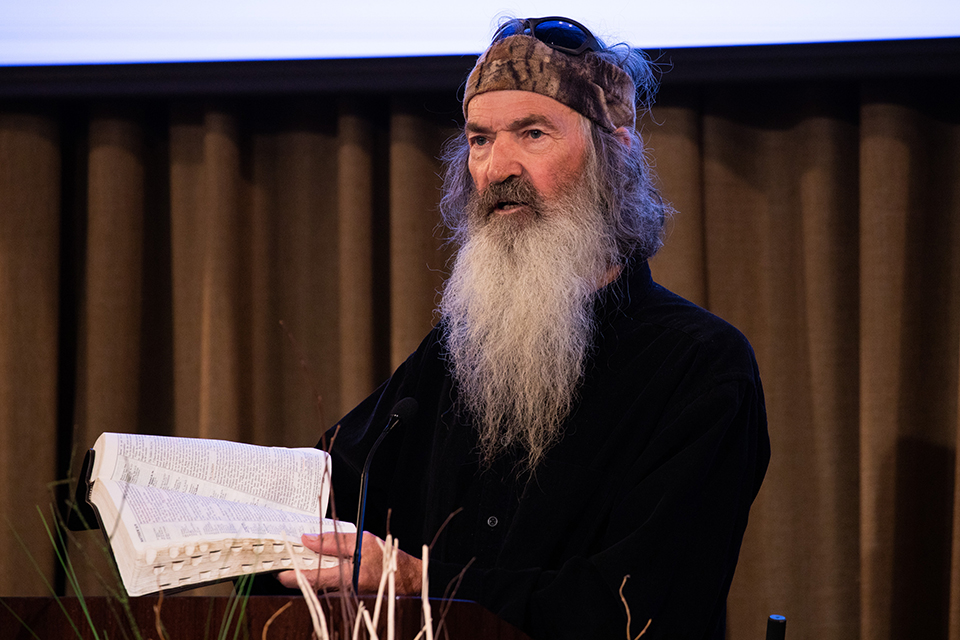 Phil Robertson didn't mince words during his message on Friday night at the Billy Graham Library Men's Dinner. The patriarch of the Duck Commander enterprise, best-selling author, and reality television star is known for his humorous candor. But even as the 'Duck Commander' cracked jokes along the way, he kept his sights on a serious, central message. It's a topic he shares with whoever crosses his path—even President Donald Trump.
"I told him the same thing I'm telling you," Robertson told the crowd and those watching on the Library's Facebook page. "You're going six-feet deep one of these days. Every last one of you. Or have yourself cremated. You say, 'What then?' If this Jesus didn't die for you and was buried for you and was raised for you, you ain't getting out of here ever. You got one shot. The one I'm now discussing.
"So I told Donald Trump this, and you know what he did? Listened. He listened very carefully."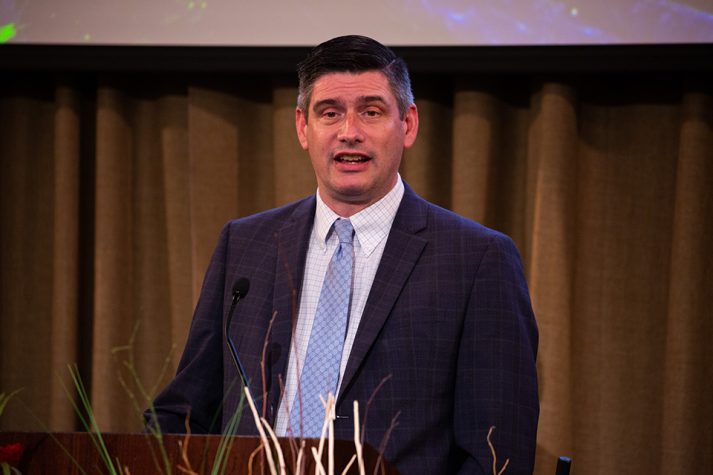 The crowd of grandfathers, fathers and sons listened intently as Robertson shared in the dining hall of the Billy Graham Evangelistic Association. The men sat together at small tables with close family or friends, observing the social distancing protocols in place.
Occasionally you'd hear a fork scrape up that last bite of banana pudding or the ice in a glass rattle after a quick sip. Every now and then attendees affirmed Robertson's message with a hearty "Amen." But for the most part, the crowd of all ages listened carefully as Robertson traced through the Bible from the Old Testament to the Gospels in the New Testament, talking plainly about the proven prophecies of Jesus' life on earth.
Mark Boyer, who traveled three hours from Virginia with members of his church, was especially glad his son Rhett was there to hear the message.
"I think it's important for young people to see men with godly character," Boyer said. "Today, it's really lacking in our country, and I think it's good for young people to see somebody brag on the Lord and live a life not ashamed of following Jesus."
Three generations of Ben Cagle's family got to hear Robertson's evangelical message. Cagle's son-in-law Chase Jordan surprised him and brother-in-law Joshua Hagans with tickets to the sold-out event. They brought along Jordan's sons Tyler and Brandon.
"It excited me when my son-in-law called me and invited me. It's a wonderful thing," Cagle said.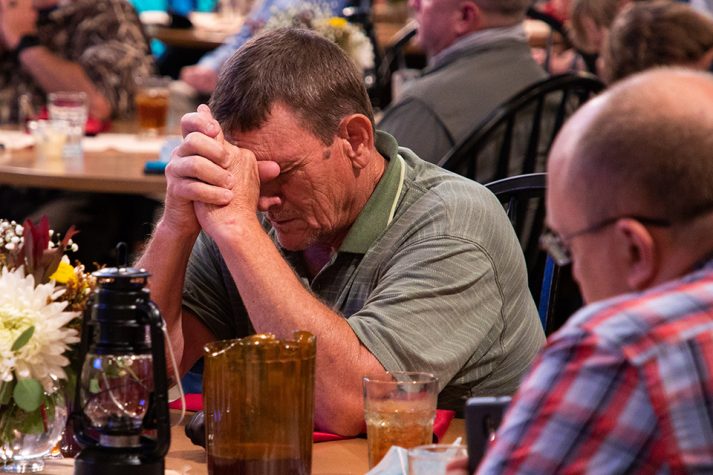 "[My grandsons] hear stuff from me all the time, but I like for them to hear from other people, too, about the Lord Jesus Christ."
Sixteen-year-old Tyler confirmed his grandfather does talk about Jesus all the time. But on this particular night, Tyler said he'll leave thinking about the reality that we all only get one shot.
"We're all going somewhere in the end," Tyler said. "Our job on this earth is to try and get as close to God as possible and get as many people as we can close to God because we're all going somewhere. I know where I'm going. I want to try as hard as I can to get anybody else to go with me (to Heaven)."
So what is the Good News? Robertson, a Louisiana man known for his simplicity, laid it out like this.
"If you look at this thing [the Gospel] realistically, you're saying it all happened within a three-day period. Your sin problem and your physical death problem —(Jesus) solved them both in three days. … I never even heard a story close to that. Have y'all? Three days! He wraps it up."
"That is called the Gospel of Jesus Christ," Robertson continued. "Since you're not getting out of here without it, why don't you just put your faith in it? … When Jesus made this deal with you, He'll remove your sin and raise you from the dead, give you immortality where you don't ever hurt again. And this time, with Jesus, it's free."
"Amen," many chimed in.
"It's the best deal you're ever gonna get," Robertson said. "Eternal health care. And it's free."