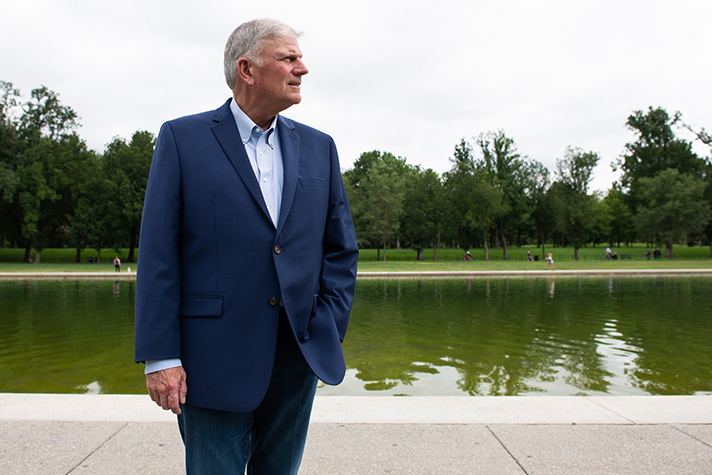 Nearly two weeks after the Uvalde school shooting, Franklin Graham addressed the issue at the core of the tragedy and other man-made disasters in the news lately. At the center of the problem, he said, is the human heart.
"It's shocking to see what happened in Uvalde and other shootings we've seen," he said during an interview with Tony Perkins, president of the Family Research Council based in Washington, D.C. "There's evil in the world, there's no question. … Only God can change hearts."
From violence in entertainment to taking God out of schools, he said, "We've turned our back on God."
He proposed two ways for parents, pastors and any other interested party to have a voice and help turn the tide of godlessness.
'Get Back in the Game'—and on the School Board
First, he said, "I would encourage Christians to run for school boards. … We need Christian men and women—evangelical, God-fearing men and women who believe the Bible, trust the Bible—to get on the school board."
It's at the school-age level that so many young people are influenced by the powers that be, and some of the decisions made higher up can trickle down to mislead and misinform the next generation. That can ultimately drive them further away from God.
Christians might say they're afraid or too busy to run for positions in their community, Franklin Graham said, but, "If we don't, we're going to lose this country. … We've got a chance, an opportunity maybe, to get back in the game. But if we don't have Christians running, it's not going to work."
Communicate a Clear Gospel—and Invite Others to Respond
Second, Franklin Graham urges pastors not to shy away from preaching a clear Gospel message. The timeless Gospel can penetrate and transform hearts with truth.
"You say, 'Well what's that going to do?'" Franklin Graham continued. "[The Apostle] Paul said, 'I am not ashamed of the Gospel for it's the power of God unto salvation.' Every Gospel message, the Holy Spirit will take the message and pierce people's hearts. … God uses it, and it does work."
But don't stop there, he said. Take the next step and give people a moment—invite them—to respond.
"A lot of pastors don't want to give an invitation because they're afraid they'll be standing at the pulpit and nobody will come," Franklin Graham said. "Well nobody will come if you don't give the Gospel. … But if you give the Gospel, the Holy Spirit will start touching people's hearts."
Read more: 4 ways to share your faith with others
Know someone searching for peace? Share the Gospel in a simple way using this interactive site.