It's difficult to process.
A heaping pile of rubble now sits where a 12-story building used to be filled with family dinners and laughter against the backdrop of the ocean in Surfside, Florida.
At least 97 people lost their lives when the condominium suddenly crashed down in the middle of the night on June 24. With a handful of people still missing, recovery efforts are wrapping up their search.
Crisis-trained chaplains from the Billy Graham Rapid Response Team (BG-RRT) are offering emotional and spiritual care to grieving residents in this tight-knit community, along with first responders enduring second-hand trauma and long hours.
"I've been to a lot of deployments … hurricanes, fires, [etc.], but this is different," said Josh Holland, BG-RRT's assistant director. "It's a very tragic one in a way I haven't seen before."
>> Find out how you can pray for those in the aftermath of the condo collapse.
Recently, Holland drove around the Miami suburb with another chaplain looking for an area to park the team's Mobile Ministry Center, a vehicle used as an air-conditioned safe haven for conversations during deployments. He talked and prayed with several first responders the day before.
"[Many of them are] exhausted mentally and physically," said Holland, who described his firsthand view of the collapsed condominium site "like something from a movie."
The 40-year-old building was completely torn down Sunday, July 4, due to safety concerns as a storm approached the region.
Local food trucks have been giving away free meals to the devastated community, and Billy Graham chaplains have been available to talk and offer prayer with those eating. In addition, chaplains are stationed at a nearby memorial site that's piled with flowers and mementos.
That's where Holland says he met a Jewish woman whose son was waiting to hear about two of his friends who had been in the building at the time of the collapse. She also goes to a synagogue where at least 12 of its members were killed or are missing from the collapse.
>> See photos of the chaplains' ministry in Miami.
"Everybody seems to be a few degrees of separation from someone who knew someone [in the condominium]," Holland said.
Consequently, much of the community has been affected—and some have been asking questions about faith and eternity, realizing there's no promise of tomorrow.
Holland said although architectural reports may eventually give some kind of closure, "there's nothing to say that would explain things from a logical standpoint. There are things we won't fully understand till heaven."
So what do Billy Graham chaplains say during a tragedy like this? 
"We let people know God in heaven loves them. That was revealed ultimately through Jesus Christ," Holland said. "Christ can help, but we're never promised we won't have trials, deep pain or darkness. He heals and helps in the toughest times in life. We want to offer that hope to whoever is open to listening and receiving that."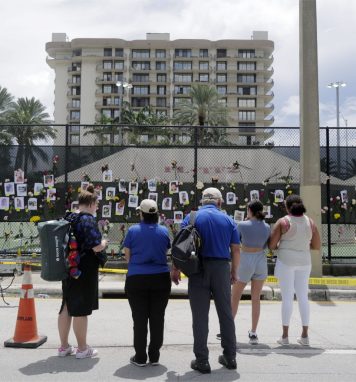 The following are four short stories of people drawing near to Jesus after the collapse.
'I Need Jesus'
A woman who recently started her own counseling service stopped to talk with Billy Graham chaplains. She repeatedly asked them how they dealt with working at a disaster site—and requested prayer. The chaplains shared they get their strength from Jesus Christ.
Although the counselor said she was raised in a Christian home and gave her life to Jesus at age 21, she felt unsure of her salvation. The chaplains shared the Gospel with her through a "Steps to Peace With God" booklet, and she teared up. She prayed with the chaplains and told them, "It's so easy. All I needed to know is that I need Jesus. He is the only way."
When Life Doesn't Make Sense
At the memorial site, two ladies spotted the Billy Graham chaplains and went up to talk with them. Teary-eyed, they were trying to make sense of the tragedy and talked about how devastating it was to so many people.
Sharing Scripture, the chaplains told them about the hope of Christ and the assurance of eternal life through a personal relationship with Him. One of the women expressed a desire to know Jesus and prayed to accept Him as her Savior.
A Ministry of Presence
A police officer stopped to talk to a group of chaplains, thanking them for being at the site since the beginning. She said their presence gave officers and rescue workers a sense of comfort each day.
Opening up about her feelings and those of her fellow workers, she explained they'd been working 14-hour days with no scheduled days off. They were exhausted from the heat, sleep deprived and stressed. The officer, who is also a young mother, was comforted by the chaplains who prayed with her.
'I Do Not Know'
Billy Graham chaplains met an elderly Jewish man who lost four family members in the collapse. Pointing to a photograph of his deceased relatives, the man explained he'd been visiting them the day before the collapse. He reminisced about his family members and shared how he was struggling with the tragedy.
Emotional, he kept commenting, "I do not know."
A chaplain asked if they could pray for him, and the man graciously accepted.
Please join us in praying for these people and others in the tight-knit Surfside community.